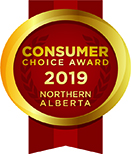 Lock Surgeon Consumers Choice
Since 1989, Lock Surgeon's locksmith and door service has successfully raised the standards of quality, value, and dependability in our industry. Today and every day, with a promise of individual attention and great value for all our customers, we remain committed to offering services that raise those standards even higher. Lock Surgeon has been awarded the Consumers Choice Award every year since 2002.
Residential and Commercial Locksmith Calgary
We provide locksmith services in Calgary for residential and commercial clients. If you're looking for door hardware such as door handles, deadbolts, door closers, panic bars, doors, safes, electric strikes, access control, hinges, pivots, security hardware or security keys, or master keys, Lock Surgeon has the answer to your residential and commercial locksmiths and door repair needs.
Mobile Locksmith Calgary
Our mobile licensed locksmith service technicians servicing Calgary provide on site service such as key cutting, lock rekeys, master key systems, security key systems, automotive open ups, home open ups, door repair & door reinforcement, and a variety of home and commercial door hardware repair and replacement.
Lock Rekey Calgary
Need your locks changed? No need to replace them. Our locksmiths in Calgary can come to your home or business, rekey them to a new key and provide you with as many keys as you may need.
How do we rekey your lock? The locksmith will remove your existing locks, take the internal lock cylinder components apart, remove the current bottom lock pins (combination that matches your key), inspect the cylinder walls, top pins and springs for wear, replace them if needed, install new bottom locking pins to match the new keys we will be providing you, reassemble the internal lock cylinder components, install the lock back on your door and test that it is working correctly.
Door Repair Calgary
Doors are gateways to your home and business and therefore door and lock maintenance are extremely important but quite often overlooked. Lock Surgeon has full trained locksmiths, door repair and new door installation technicians who can take care of all your Calgary door repair needs. Our professional locksmiths can service all makes and models of doors and locks. We offer a wide range of expertise in our service department for aluminum storefronts, steel and wood man doors of all types, handles, deadbolts, panic bars, security bars, door closers, door hinges, security gates, sliding grilles, etc. For door repair in Calgary, it's got to be Lock Sugeon mobile door repair.
Lock Repair Calgary
The environmental conditions in Calgary can be extreme and cause locks to break. Our team of professional locksmiths in Calgary can come to your home or business and repair your broken lock. If your lock can not be repaired, our trucks are fully stocked with new handles, deadbolts, cam locks, mail box locks, file cabinet locks, desk locks and much more. For all your lock repair needs throughout Calgary, trust Lock Surgeon - Consumer's Choice Award winners from 2002 to 2020.
Door Handle Calgary
Need a new door handle for your home in Calgary? We have the largest selection of residential and commercial door handles in Calgary, Alberta. Most come in many different finishes, such as Brass, stainless steel, nickel, oil rubbed bronze and more. You can purchase the door handle and install it yourself or have one of our Calgary locksmiths install it for you. They can also make keys to your existing Calgary door handle if you have lost them. Day or night, Lock Surgeon is here to help you.
Deadbolt Calgary
The main security on your Calgary home or business is the deadbolt. The one installed by the builder will most likely be a cost effective product. If you would like to upgrade your deadbolt or have a high security deadbolt installed on your home or business please call us. One of our Calgary locksmiths will come to your home or business, show you the different deadbolt options, explain the positives and negatives of them all and also be able to install the deadbolt of your choice. They can also make keys to your existing deadbolt if you have lost them.
Open Up Calgary
Need a car, truck, home or business open up? Our locksmiths in Calgary can rescue you from this unhappy event. We always strive to have your home, business, truck or car opened up within 5 to 10 minutes. For the best in open up service Calgary call Lock Surgeon Calgary.
Unlock Calgary
Locked out of your car, truck, home or business? Let us unlock it for you. We can also unlock file cabinets, desks, mail box and almost anything else. Please let us help you with unlock needs throughout Calgary.
Make Keys Calgary
If you have lost your keys, we can help! All our Calgary locksmiths make keys to locks. If it's a file cabinet lock, desk lock, cam lock, tool box lock, house lock or business lock, we have the ability to make keys to it. With over 25 years in business we can make keys to some of the most complex locks Calgary has.
Window Bars Calgary
Glass is one of the weakest points of our business or home security. Secure your window with window bars from Lock Surgeon. Professional installation by our Calgary locksmith ensures that they are installed correctly, and meet fire code regulations. We have a few different options for window bars in Calgary. Most houses have our steel explandable expert window bar that come in white installaed on their basement windows. While businesses tend to choose the elite line of aluminum window bars that come in white, silver and brown. There are also door grills and expandable gate options that can help solve other Calgary window bar needs.
Weather Stripping Calgary
Old Man Winter! Need we say more? Leaks in the exterior envelope of a home or business is one of the largest causes of heat loss and energy costs. Weather stripping can get old, brittle and break or get ripped over time. Let us come replace yor weather stripping in Calgary. Home or business, we have the correct type to make sure your doors are sealed and reducing any chance of a leak. Sometimes your weather stripping is in great shape but your door is not closing and latching in the correct position. We can adjust your door and latch so that your weather stripping is pressed up against your door correctly. You can also have our locksmith in Calgary install a new door sweep to stop drafts from coming in under the door.
Break In Repair Calgary
A break in event can be devastating. Our team of locksmiths throughout Calgary and Alberta are trained in break in repair and door frame repair. We also stock parts on our service trucks to reinforce your door and frame. If your door or frame is too damaged from the break in and cannot be repaired, our Calgary locksmith will secure your entrance and order you a new door and frame.
Door Closer Repair Calgary
Door closers that are not adjusted correctly can slam or hold a door open for too long. This can cause the door and lock to get damaged by the repeated slamming, or the door getting ripped open by the wind and breaking the hinges or door closer. Let us adjust your door closer in Calgary so this does not happen or if it already has, our locksmith in Calgary can repair your door closer.
Need a new door closer? We stock all shapes, sizes and brands. Door closers have the option to come with all season hydraulic fluid, hold open arms, speed and latch adjustments, size adjustable and delay action. The wind can also be an issue in Calgary. It rips doors open and causes the door closer arm to break. Ask our locksmith for a door closer that has a back check adjustment to reduce the chances of this happening. They also come with many different mounting options. This is why we always recommend having your door closer professionally installed.
Calgary
The economy of Calgary is vast and Lock Surgeon provides locksmith service to all sectors of business, including but not limited to the energy industry, financial services, film & television, transportation & logistics, technology, manufacturing, aerospace, health & wellness, retail, and tourism sectors. The Calgary CMA is home to the second-most corporate head offices in Canada among the country's 800 largest corporations.
With rolling hills, lots of large parks and an extensive walking and bike path system throughout Calgary, you are sure to be impressed. In addition, from almost any hill top in Calgary you are sure to get a view of the mountains and an upstanding sunset.
What is a Locksmith?
Locksmiths fix, repair and make keys to locks, rekey locks, doors, hinges, electronic locks, open up and unlock vehicles, unlock and open up homes and businesses. For more information on the locksmith trade, click this link.
How do I become a Calgary locksmith?
Lock Surgeon is always looking for people to join our team. Please call us at 780-448-9243 and ask to talk with Josh Frick about applying to become a locksmith.
Locksmith Fraud / Locksmith Scam
With the latest technology at our fingertips and the growth of the internet, how we choose a service company is changing and consumers need to be more aware than ever of scams and fraud. In recent years there has been several fraudulent organizations trying to take advantage of customers needing a locksmith in Calgary.
Lock Surgeon would like to inform customers to use caution when choosing a locksmith company via the internet. Make sure the company you choose has a valid business license to operate in Calgary, locksmith license, insurance and up to date WCB, and service trucks should be clearly marked with a company name. If at any point you feel uncomfortable with the service you are receiving, take action to prevent being scammed. Lock Surgeon - A World of Security.
WARRANTY
Sometimes Things Happen
No one likes it when things go wrong, no one more than us, but if it does check out our Warranty
Lock Surgeon Follows the A.L.O.A. Code of Ethics:
That the dignity of our chosen profession may be perpetuated, it is the duty of all members of the ALOA;
To practice their profession in the spirit of fairness to their clients, with fidelity to security in conformance with appropriatness, and with high ideals of personal honor;
To properly and impartially analyze security problems, and to advance the best possible solution for the protection of their clients.
To conduct themseles in a dignified manner;
To abide by applicable licensing and business regulations;
To abstain from using improper or questionable methods of soliciting patronage, and to decline to accept such incompatible patronage;
To refrain from associating themselves with or allowing the use of their names by any enterprise of questionable character, or in any manner countenancing misrepresentation;
To cooperate in advancing the best interest of the locksmithing industry by interchange of general information and experience with fellow locksmiths.
To encourage and promote loyalty to the profession, always ready to apply their special knowledge, skill and training for the use and betterment of our industry.
All members of the A.L.O.A. by acceptance therin, shall be deemed to have subscribed to this code of ethics.
We look forward to helping you with your future needs.
Always mobile - Same day emergency service
20 service trucks stocked with a variety of products, tools and equipment
All mobile technicians have Police Security Clearance
Work-site liability insurance
Members of the Alberta Association for Safety Partnerships
On-site mobile payment system
Account billing OAC
Trusted name operating in the Edmonton area since 1989
Largest group of product and service providers
Award winning service - Consumers' Choice Award for business excellence 2002 through 2020
Extensive service area - Greater Calgary including Balzac, Bears Paw, Chestermere, Priddis, Bragg Creek, Cochrane, Airdrie and beyond.
Locksmith & Door Service in Calgary
Mobile locksmith services provided to Calgary and area:
Northeast Calgary, Northwest Calgary, Southeast Calgary, Southwest Calgary as well as surrounding areas: Airdrie, Strathmore, Okotoks, Chestermere & Cochrane
Calgary and Area Mobile Locksmith, Repair & Installation Services
Lock Surgeon
Calgary North East Locksmith Sales and Service Centre
Find us in Calgary: - Located South-side of 32 Ave. - East of the Deerfoot Trail. - West of Barlow Trail. - South of Calgary International Airport.
Calgary Locksmith Sales and Service Centre Parts Counter
Two Other Convenient Sales and Service Centres Locations
Locksmith shop west Edmonton 17812 118 Ave
Locksmith shop south Edmonton 5738 75 Street
Calgary Locksmith Sales and Service Centre Parts Counter
Derrick
Apprentice locksmith with over 3yrs experience, has worked in a shop environment and has also provided on-site locksmith solutions. Derrick is now registered in his second year in the Locksmith apprenticeship program. Derrick is currently the lead service provider for Lock Surgeon's Calgary shop location. He is responsible to meet customers needs as well as maintaining the store inventory, tools and cleanliness. It's truly a pleasure to have Derrick work with our Locksmith team. Derrick works under the supervision of a journeyman locksmith and has a number of coworkers to call on for a variety of lock, door, safe and security issues.