Residential Swing Doors Calgary
Replacement parts for residential swing doors
Lock Surgeon residential swing door parts and replacements can be viewed and purchased at one of our Locksmith sales and service centres.
With Lock Surgeon's committment to quality and 30yrs experience in the residential door hardware industry we have learned what products are necessary to be kept in stock and/or on our service trucks.
---
Can be purchased and viewed at Lock Surgeon's Locksmith Sales and Service Parts Centres at the following addresses.
---
Push for Map Directions
Lock Surgeon Residential Swing Doors Sales &
Service Centre
Lock Surgeon Residential Swing Doors Shop Unit D, 2020 32 Ave NE, Calgary, Alberta,
T2E 9A7
Find us in Calgary: Located South-side of 32 Ave, East of the Deerfoot Trail,
West of Barlow Trail, South of Calgary International Airport.
Unit D, 2020 32 Avenue NE, Calgary, Alberta, T2E 9A7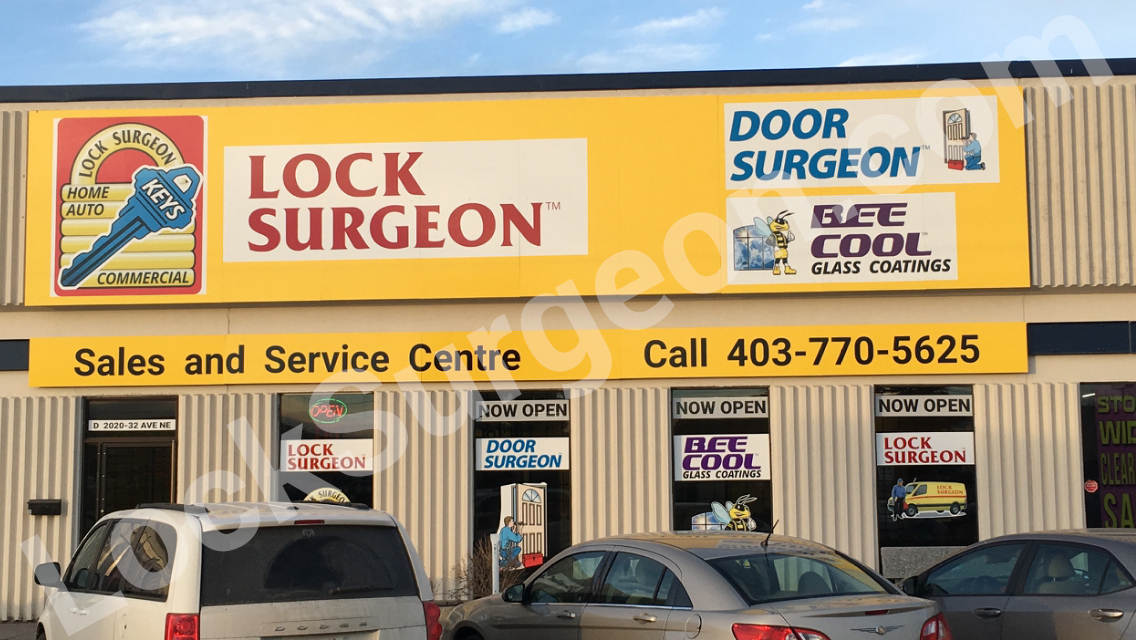 ---
Mobile Residential Swing Doors Services Calgary:
Northeast Calgary, Northwest Calgary, Southeast Calgary, Southwest Calgary,
Rocky Ridge, Arbour Lake, Edgemont, Huntington Hills, Taradale, Springbank Hill,
Altadore, Forest Lawn - Forest Heights, Acadia, Lake Bonavista, Shawnessy,
Midnapore, McKenzie Town and surrounding areas.
Also providing mobile service to surrounding areas of Calgary: Rocky View County,
Wheatland County, Foothills County
---
Calgary Locksmith Sales and Service Centre Parts Counter
Unit D, 2020 32 Avenue NE, Calgary, Alberta, T2E 9A7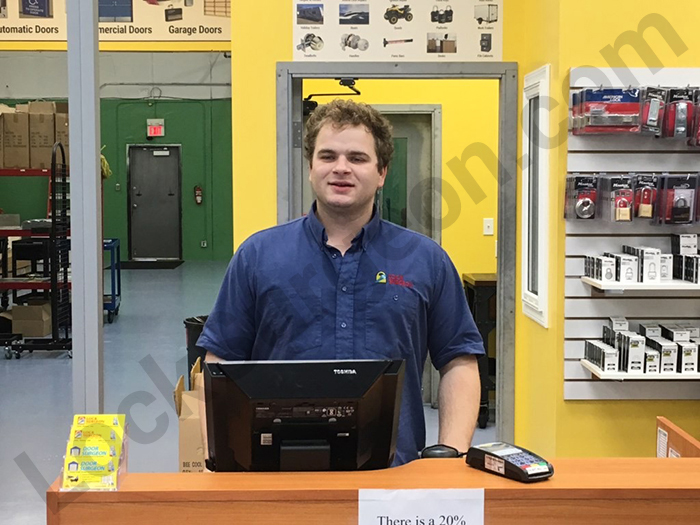 Derrick
Apprentice locksmith with over 3yrs experience, has worked in a shop environment and has also provided on-site locksmith solutions. Derrick is now registered in his second year in the Locksmith apprenticeship program. Derrick is currently the lead service provider for Lock Surgeon's Calgary shop location. He is responsible to meet customers needs as well as maintaining the store inventory, tools and cleanliness. It's truly a pleasure to have Derrick work with our Locksmith team. Derrick works under the supervision of a journeyman locksmith and has a number of coworkers to call on for a variety of lock, door, safe and security issues.
---
Click the link to find a location nearest you:
---
Click the links below to view other Windows, Screens & Patio Door Parts and Replacements
---
Continue Scrolling for Residential Swing Door Replacement Parts
---
Hinges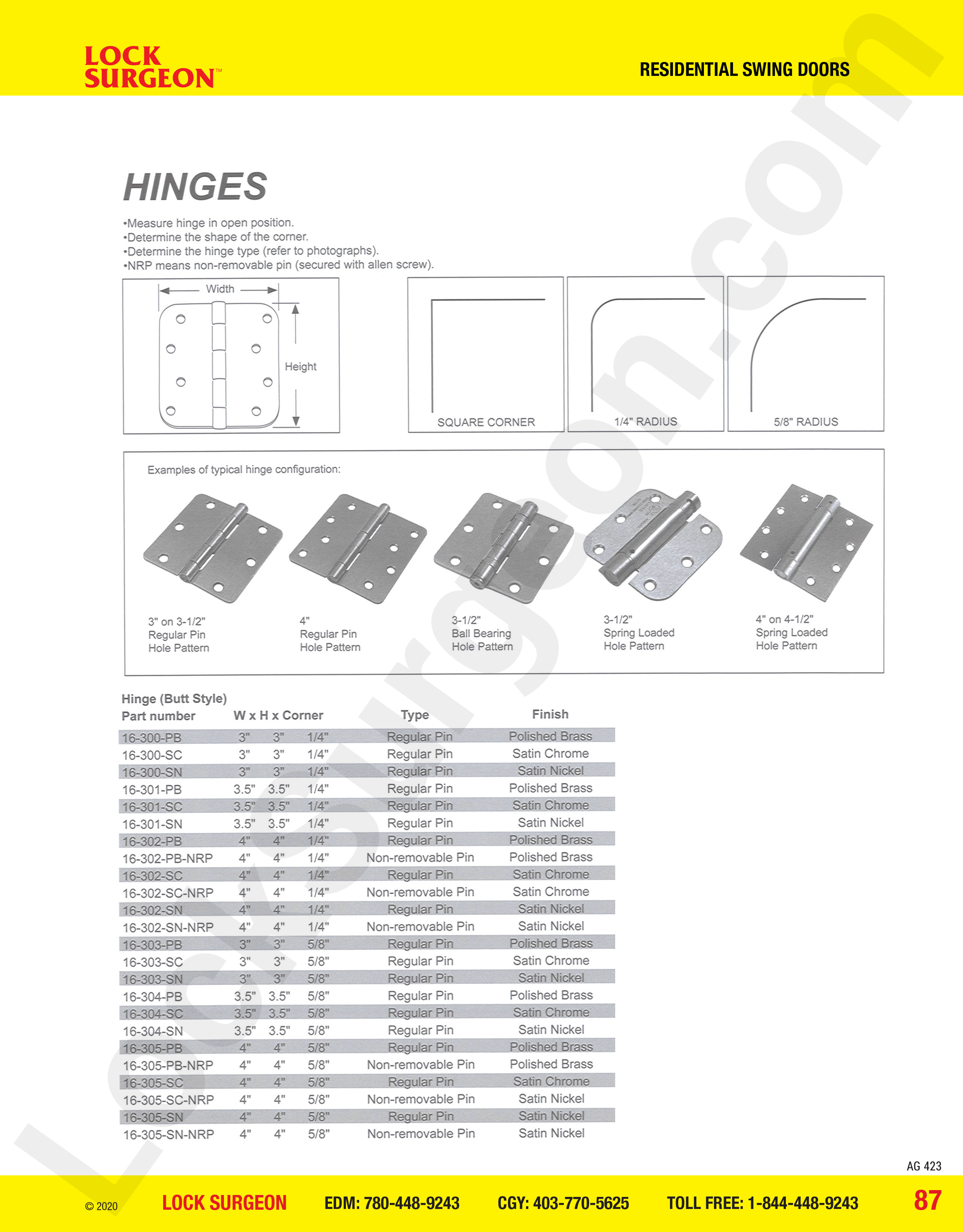 Hinges for:
hinge butt style - 3", 3.5", 4", 4.5" with square, 1/4" or 5/8" radius
---
Double Action Hinges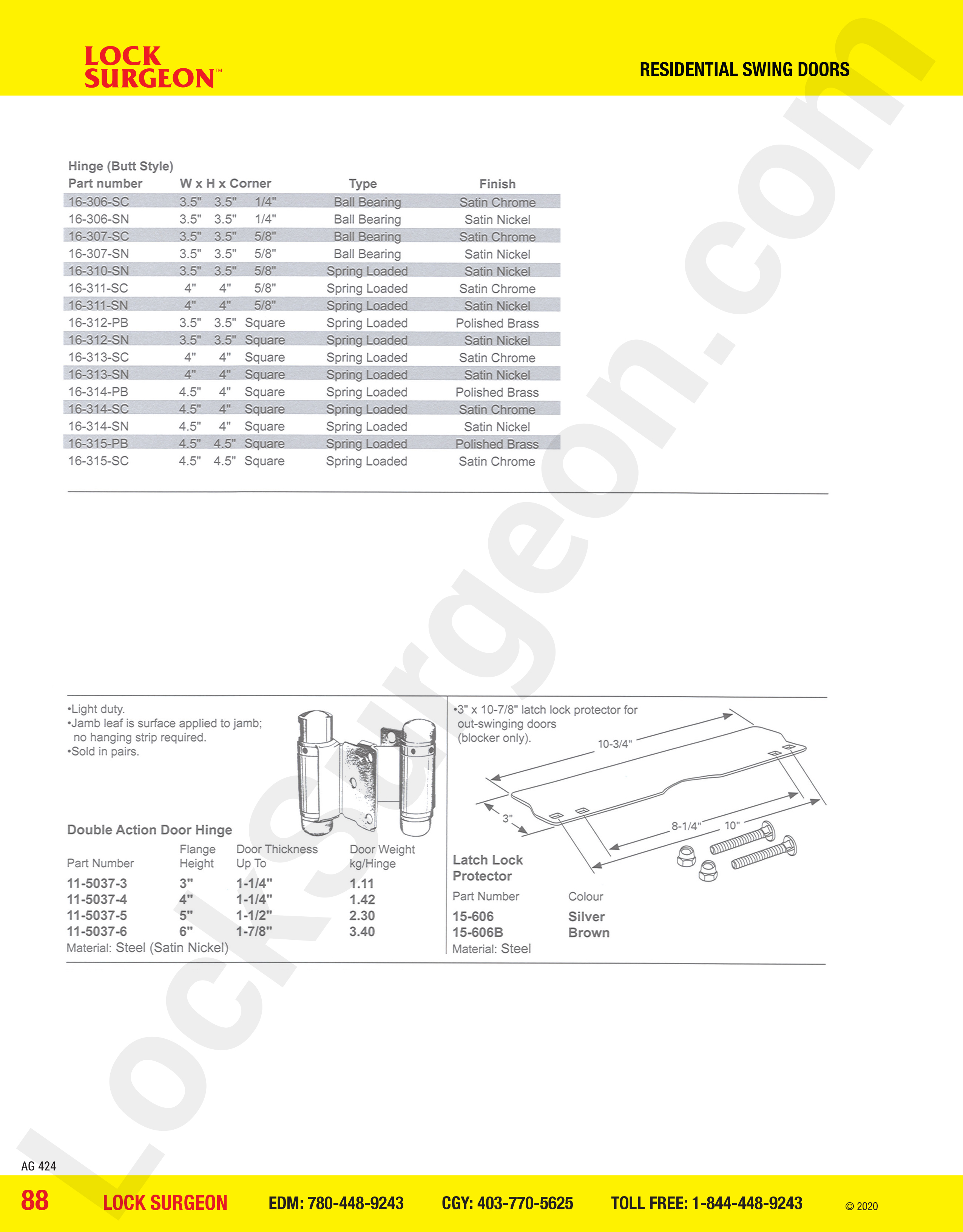 Hinges for:
hinge butt style 3.5" to 4.5", double action door hinge, latch lock protector
---
Locks & Guards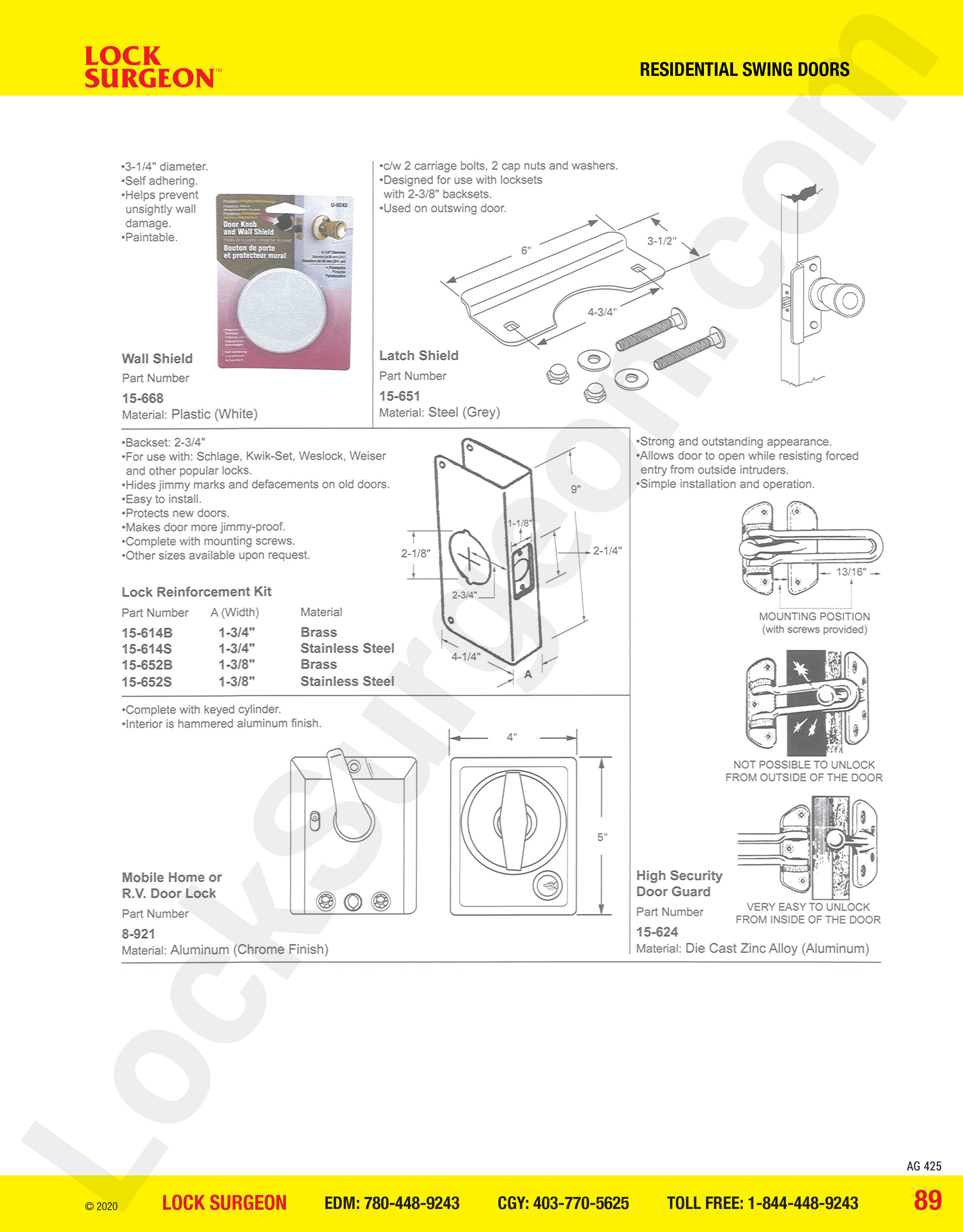 Locks and Guards for:
wall shields - plasic, latch shield - steel, lock reinforcement kits, mobile home or RV door locks, high security door guard
---
Miscellaneous Parts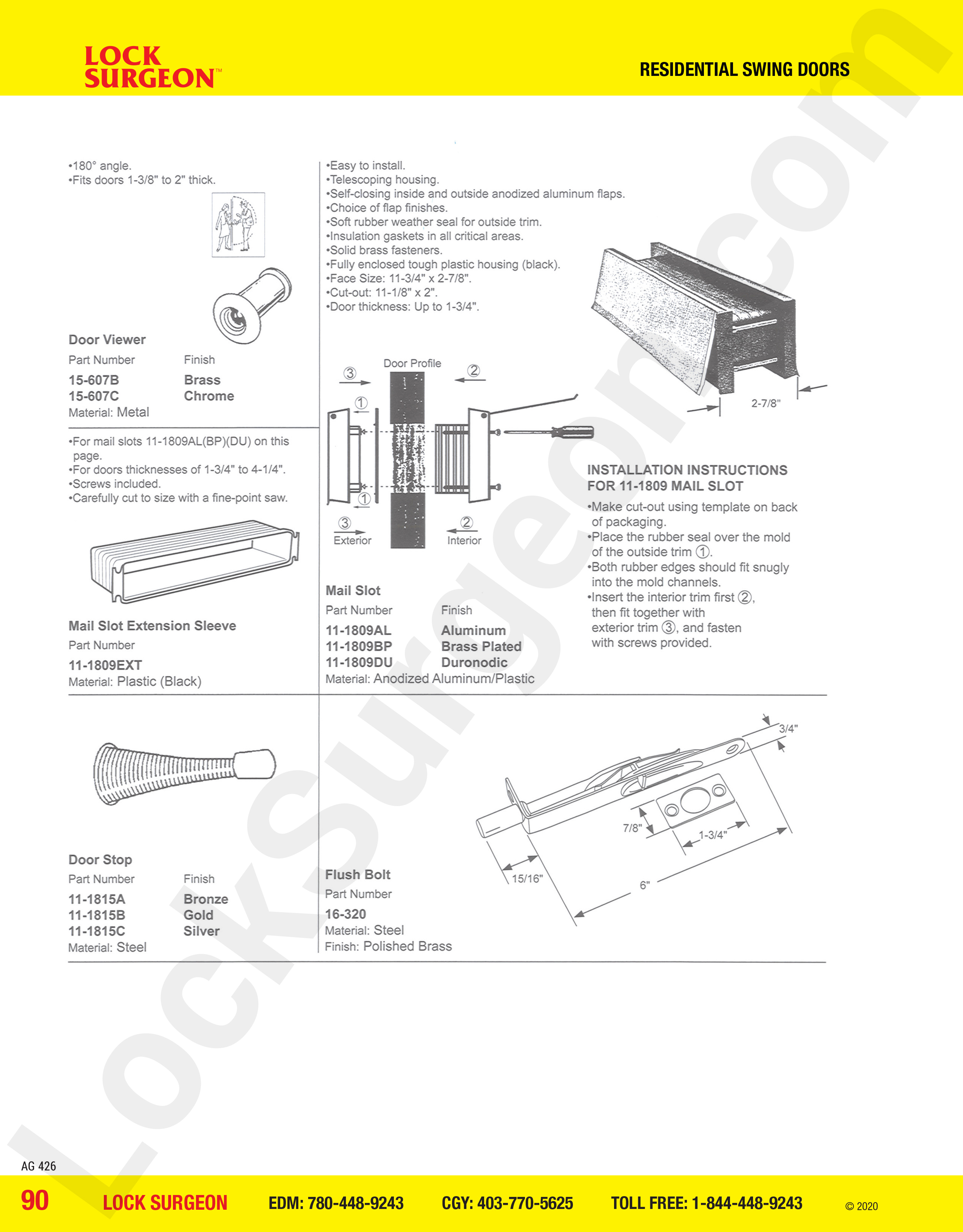 Parts for:
door viewers, mail slot extension sleeves, mail slots, door stops, flush bolts
---
Strike Plates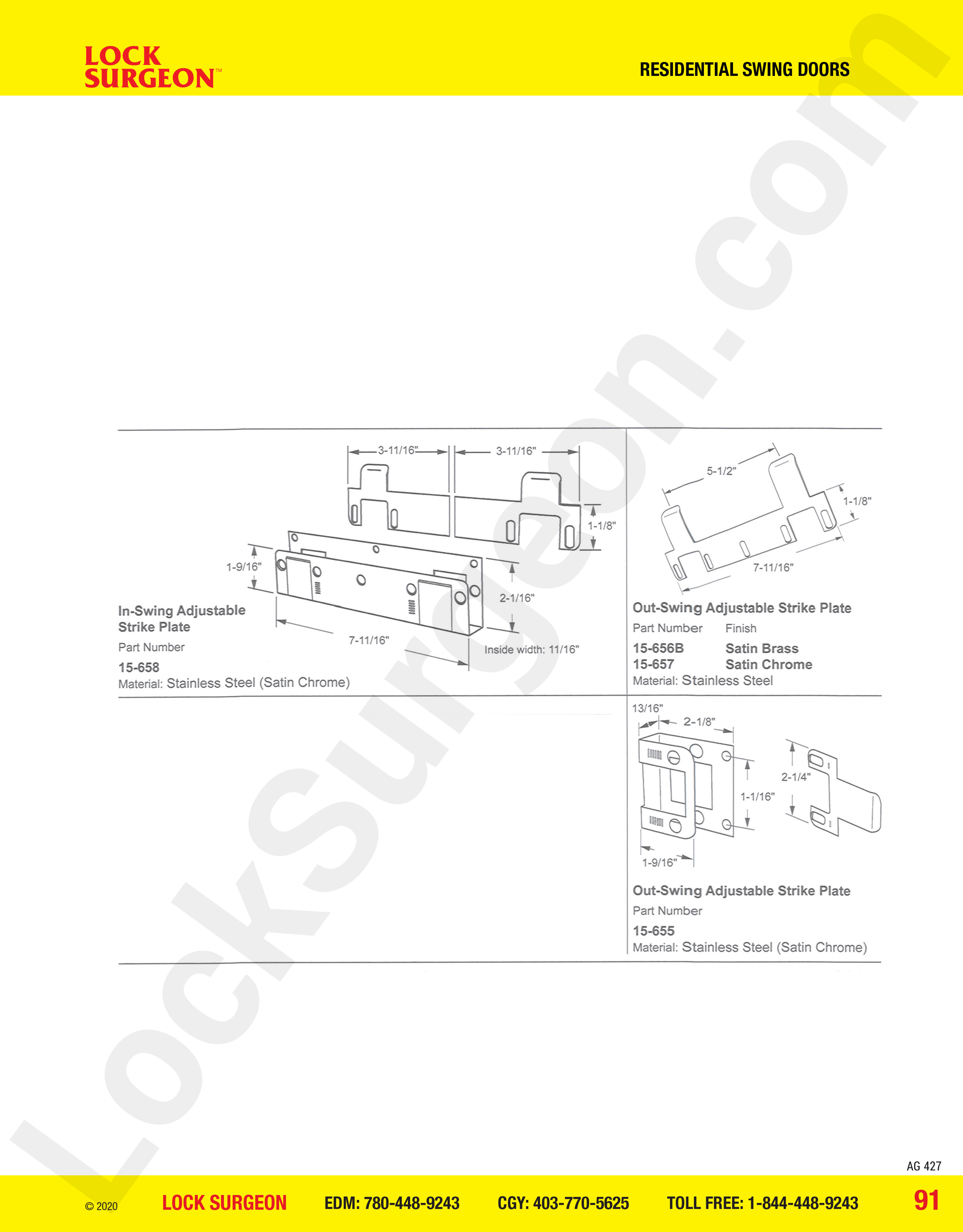 Strike Plates for:
in-swing adjustable strike plate, out-swing adjustable strike plate 5-1/2", out-swing adjustable strike plate 2-1/4"
---
A World of Security™
Home of the Giant Padlock!
---