Lock Surgeon Commercial Alarm Systems Calgary
Calgary Commercial Alarms and Security
For over 30 years Lock Surgeon has been offering retail, industrial, and commercial security solutions to the Calgary and Alberta market. Lock Surgeon has built a solid reputation for reliable state-of-art technology systems that are customizable and easy to use, integrate and upgrade. We have also solidified this reputation with second-to-none service by a team of caring hard working, and intelligent long term employees. Lock Surgeon commercial alarm systems Calgary.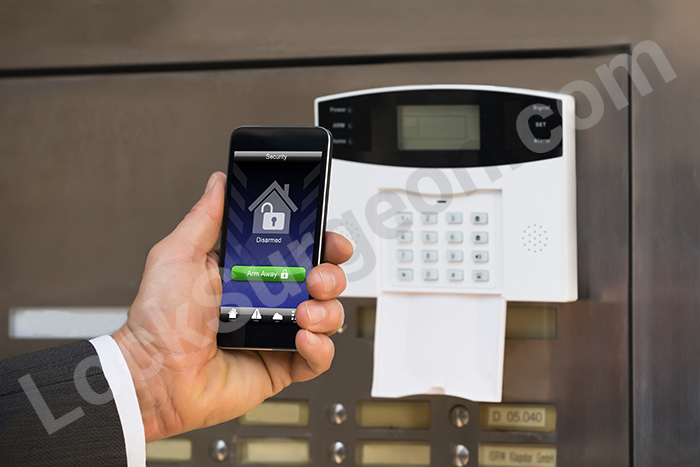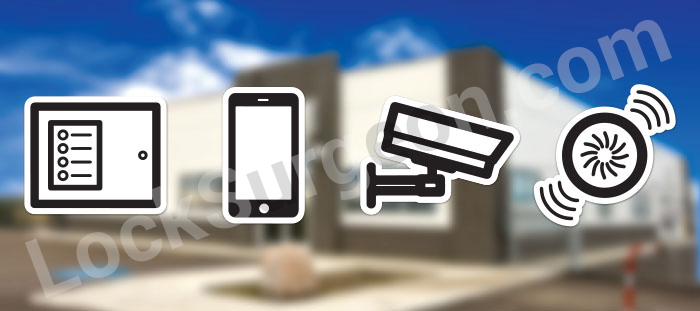 Lock Surgeon Calgary recognizes that the security needs of every business owner are unique. This is why Lock Surgeon offers customized design security, with the largest security offering in Calgary. Lock Surgeon offers alarms, camera systems, access control, smart locks, intercoms, high security locks, locksmith service, window bars, security film, blast mitigation, garage door repair, residential and commercial doors and frames, glass replacement, residential home door repair, automatic door repair, safe service and sales, energy auditing, Life and Personal Safety, home automation, and personalized service that is unparalleled in the security industry.
Lock Surgeon continue to embrace the values that have allowed the Lock Surgeon company to grow, while also fully embracing the technology that is changing the locksmith industry. With the introduction of Interactive Security, Lock Surgeon Calgary can keep you protected and connected like never before. Arm or Disarm your home security system or commercial security system from anywhere with a smartphone, get notifications when your business alarm is armed or disarmed or log in to delete a user code instantly. Lock Surgeon Calgary looks forward to helping you keep your business secure and connected 24/7.
Monitored Alarm Systems Calgary
With Lock Surgeon security alarm systems you can choose to self monitor or joint monitor with a ULC listed station that can dispatch police or guard services quickly. These systems protect your business against break-ins, robberies, intruders and vandalism. The starting point for any security solution is a professionally designed and installed alarm system.
Lock Surgeon Calgary security systems can be armed and disarmed over the internet from a cell phone and mobile devices. They provide many other features that can help lower operating costs, including all the latest in remote access to on-site lighting, heating, and other building operations. Also ask about Lock Surgeon's total security packages that include security bars, high security locks, security cameras, access control and security hardware.
Calgary Security Camera Experts
Surveillance Camera Systems Easy to use apps allow you to view your Web-enabled remote access video surveillance system from home, the office, the airport, on vacation or anywhere else your connected to the internet. You can check in to make sure your business is secure and protected against theft, burglary, vandalism and injury liabilities. Lock Surgeon Calgary security camera systems can also aid in monitoring theft, inventory, staff, til transactions, manufacturing, assembly lines, service yard, and false damage claims of clients property. Lock Surgeon's leading-edge IP 4K video technology provides crisp clear video that can be viewed on-site or over the internet. With your permission, Lock Surgeon's Calgary IT specialists can dial into your password protected device to retrieve recorded images, perform real-time online retraining, or simply assist during an unnerving time after a break-in and the authorities require images or video clips.
Access Control Systems Calgary
Card access keeps track of who goes where, when. This door and gate technology allows you to regain facility security by eliminating the risk of keys being duplicated or retained by previous users. This will also eliminate the high cost of replacing or re-keying locks as well as the purchase of new keys.
Access control, commonly known as a card key system, can also be used to restrict areas during or after working hours. Cleaning staff, temporary workers, and delivery people can have access to your yard or building at only certain preprogrammed hours during the day, week, or even monthly. Delete lost, stolen or old user cards from the system immediately. Remotely activate doors or yard gates remotely with phone app.
Calgary Gate, Condo and Apartment Intercoms
Lock Surgeon supplies and installs gate, condominium and apartment intercoms. You no longer need to be at home to buzz the door open or at work to open the gate. Have full time control of your door and gates through your cell phone, tablet or computer. Intercoms can be standalone or networked back to a property manager's office for multi-site programming. We also offer intercom systems for industrial yard gates that can activate entry points from the building site or cell phone. All models are also available with video intercom options.
---
Follow These links for Related Pages.
---
Mobile Commercial Alarm Serving Calgary Including These Areas:
Northeast Calgary, Northwest Calgary, Southeast Calgary, Southwest Calgary, Rocky Ridge, Arbour Lake, Edgemont, Huntington Hills, Taradale, Springbank Hill, Altadore, Forest Lawn - Forest Heights, Acadia, Lake Bonavista, Shawnessy, Midnapore, McKenzie Town and surrounding areas.
Also providing mobile commercial alarm service to surrounding areas of Calgary:
Rocky View County, Wheatland County, Foothills County
---
Lock Surgeon Commercial Alarms Calgary Service Centre Shop
Calgary commercial alarms Store Location: Unit D, 2020 32 Ave NE, Calgary, Alberta, T2E 9A7
Find us in Calgary:
Located South-side of 32 Ave, East of the Deerfoot Trail, West of Barlow Trail, South of Calgary International Airport.
Unit D, 2020 32 Avenue NE, Calgary, Alberta, T2E 9A7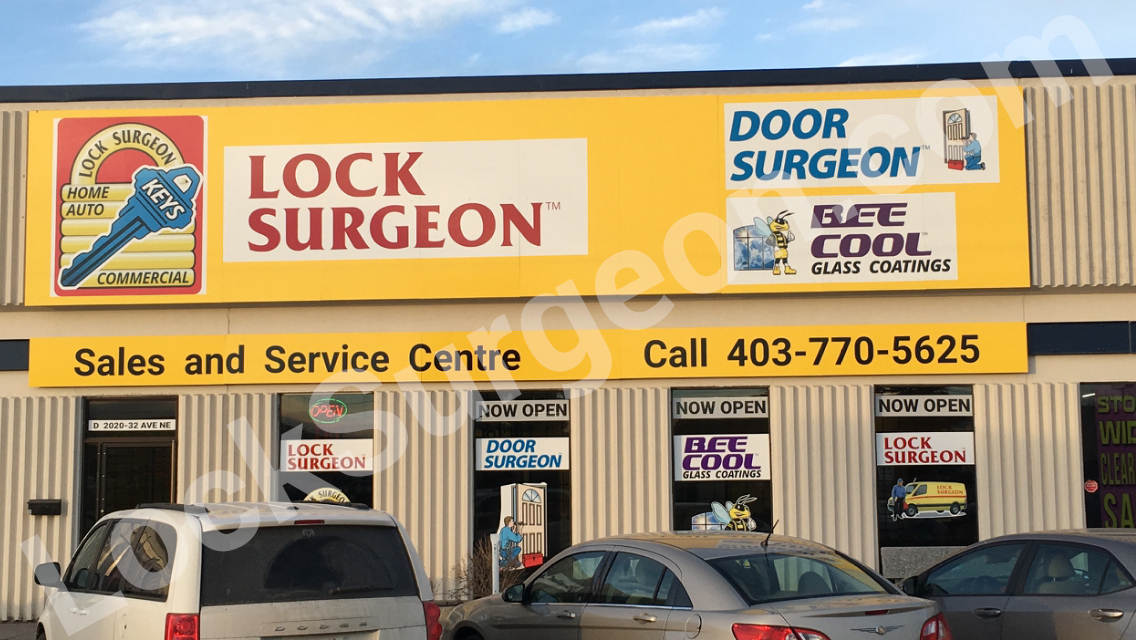 Unit D, 2020 32 Avenue NE, Calgary, Alberta, T2E 9A7
---
Calgary Locksmith Sales and Service Centre Parts Counter
Unit D, 2020 32 Avenue NE, Calgary, Alberta, T2E 9A7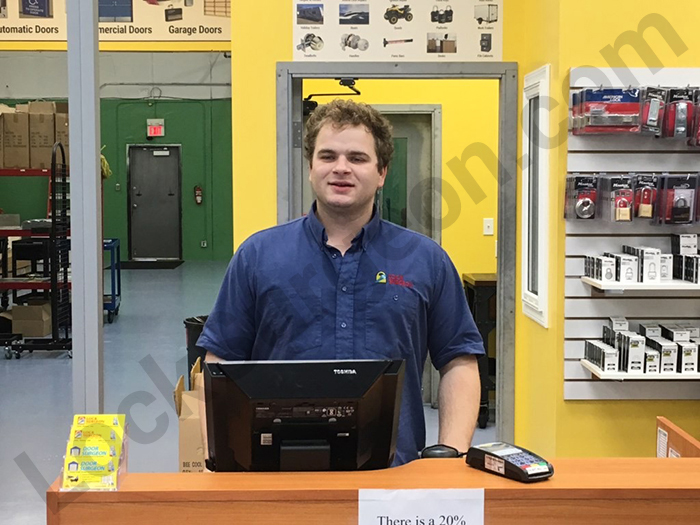 Derrick
Apprentice locksmith with over 3yrs experience, has worked in a shop environment and has also provided on-site locksmith solutions. Derrick is now registered in his second year in the Locksmith apprenticeship program. Derrick is currently the lead service provider for Lock Surgeon's Calgary shop location. He is responsible to meet customers needs as well as maintaining the store inventory, tools and cleanliness. It's truly a pleasure to have Derrick work with our Locksmith team. Derrick works under the supervision of a journeyman locksmith and has a number of coworkers to call on for a variety of lock, door, safe and security issues.
---
WARRANTY
Sometimes Things Happen
No one likes it when things go wrong, no one more than us, but if it does check out our Warranty
---
A World of Security™
Home of the Giant Padlock!
---