About Lock Surgeon Company Calgary
North East Locksmith Sales and Service Centre
Find us in Calgary:
- Located South-side of 32 Ave.
- East of the Deerfoot Trail.
- West of Barlow Trail.
- South of Calgary International Airport.
Mobile locksmith services provided to all areas of Calgary:
Northeast Calgary, Northwest Calgary, Southeast Calgary, Southwest Calgary as well as surrounding areas: Airdrie, Strathmore, Okotoks, Chestermere & Cochrane
---
Calgary Locksmith Sales and Service Centre Parts Counter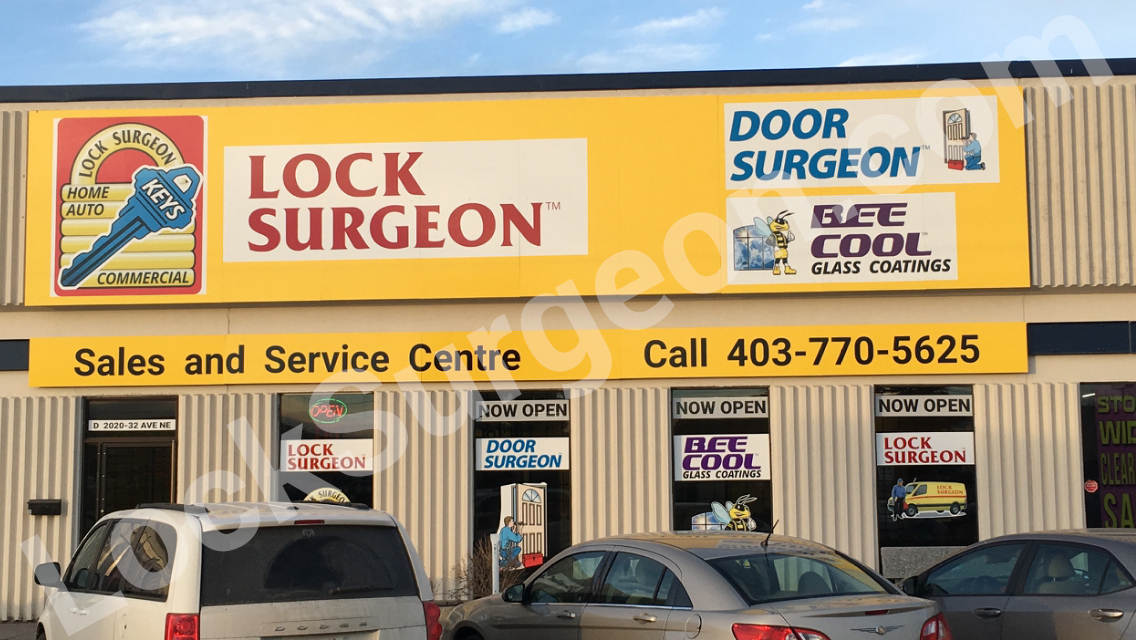 Found at: Unit D, 2020 32 AVE NE Calgary, AB, T2E 9A7
---
Two Other Convenient Sales and Service Centres Locations
Push for Map Directions
Locksmith shop west Edmonton 17812 118 Ave
Locksmith shop south Edmonton 5738 75 Street
---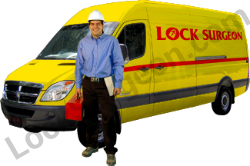 Always Mobile - Lock, Security & Door Solutions
Learn about Lock Surgeon company Calgary, celebrating over 30 years of service in Alberta. In 1989, Pat built his first company service van's cabinets in the basement and assembled the van's inventory, tools and signage in the driveway of his house. A few years later, 2 more vans were built and Pat opened his first 700 sqft service centre in Mayfield Square. By 1997, the fleet grew to 5 service trucks and the shop expanded to a 1900 sqft space. With an ever growing customer base and service area, it wasn't long before the fleet included 10 service trucks and a staff of 15, which meant it was time to grow again.
In 2008, Lock Surgeon moved into their own 8000 sqft building at 17812 - 118 Ave with an even larger variety of quality products and professional service offerings. In 2015, Lock Surgeon grew again due to customer demand. Calgary clients requested service and five more locksmith company trucks were added to the fleet, servicing Calgary. In December 2018 Lock Surgeon opened it's first Calgary shop, at 2020 - 32 Ave NE
Always mobile service, we are where you are 24/7.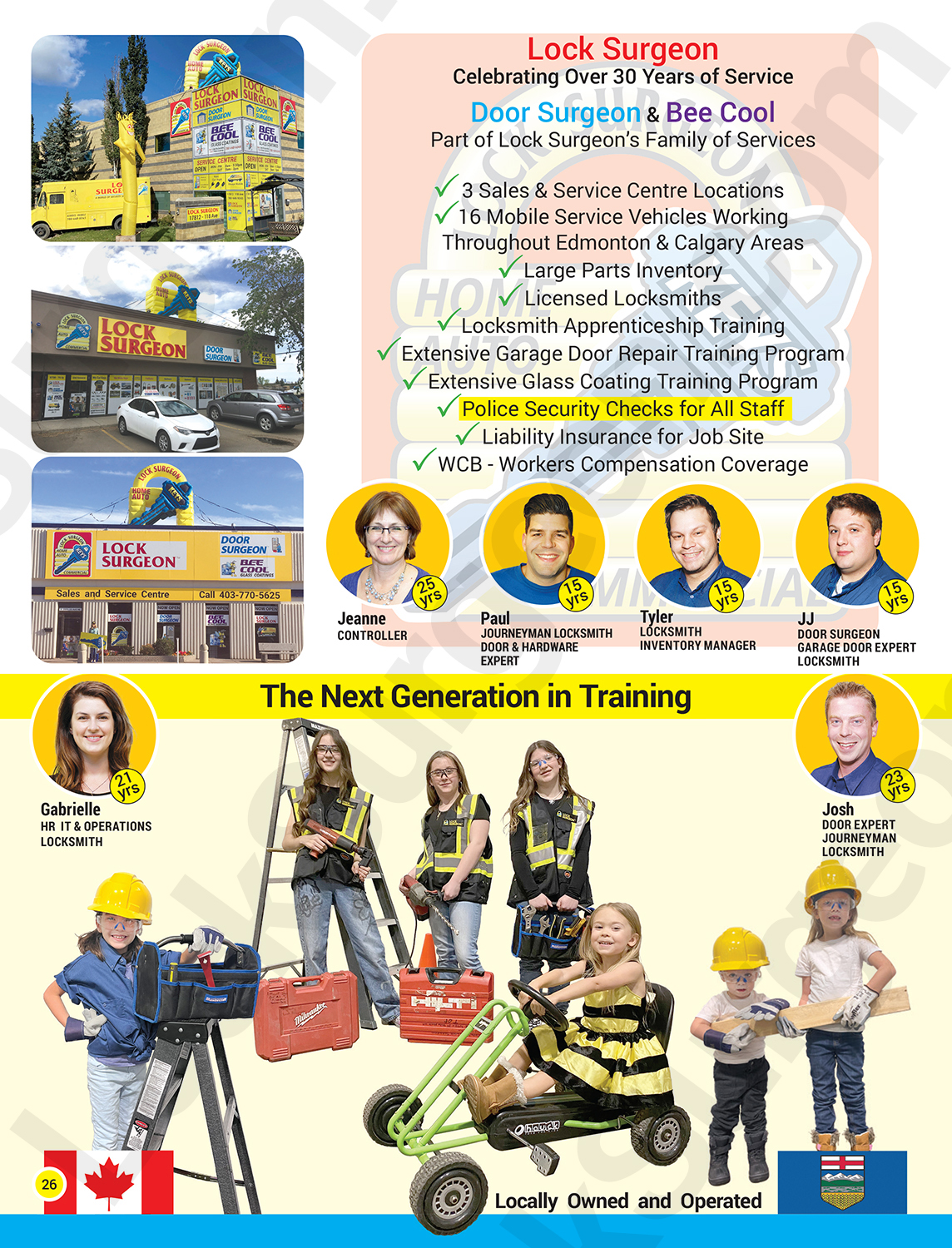 Our Philosophy
Since 1989, we have successfully raised the standards of quality, value, and dependability in our industry. Today, with the same promise of individual attention and great value for all our customers, we remain committed to offering products and services that raise those standards even higher.
Security is what Lock Surgeon does.
Lock Surgeon's company fleet of yellow service trucks are stocked and ready to meet your on-site needs. Deadbolts, handles or digital entry systems are not a problem. Lock rekeys and master key systems - Lock Surgeon does that too. Lock Surgeon is working for home owners, property managers and business owners throughout Alberta. Lock Surgeon's Service Centre is located at Unit D, 2020 - 32 Ave NE, Calgary. Stocked with thousands of keys and the best in key duplicating equipment, deadbolts, handles, digital entry systems, safes, displays, 100's of padlocks and many other security items. It's time to get Lock Surgeon working for you.
Over 30yrs in operation and 35 experienced team members bring a large variety of professional solutions to each and every project. Installation and repair is where Lock Surgeon excels. Lock Surgeon technicians come to your door with truck, tools, inventory and manpower ready to take on your project needs. Home or business, it's all part of the Lock Surgeon superior service. For safety and security hardware in Calgary, it's got to be Lock Surgeon.
Because of Lock Surgeon's deep community commitment and over 30 years of service in Alberta, Lock Surgeon has grown to include new brands and services. On account services provided by all the companies in the Lock Surgeon family group are available on approved credit. Lock Surgeon looks forward to helping you with your future needs.
Always mobile - Same day emergency service
20 service trucks stocked with a variety of products, tools and equipment
All mobile technicians have Police Security Clearance
Work-site liability insurance
Members of the Alberta Association for Safety Partnerships
On-site mobile payment system
Account billing OAC
Trusted name operating in Alberta since 1989
Largest group of product and service providers
Award winning service - Consumers' Choice Award for business excellence 2002 through 2023
Extensive service area - Calgary, Airdrie, Cochrane, Chestermere, Okotoks and beyond
Working hard to be part of your Maintenance, Safety & Security Team!
Awards & Memberships
Home or Business, it's all part of our superior service