Push for Map Directions
Lock Surgeon Locksmith Shop Store Service Centre Edmonton
Lock Surgeon's Edmonton Locksmith Shop is packed with trained shop service personnel that can repair, adjust or recommend replacement hardware for Edmonton home or business applications.
Lock Surgeon's Edmonton Locksmith service centre is equipped with the latest tools to be able to help with your in-shop service centre key, lock, safe and hardware repair and replacement needs.
The Lock Surgeon Edmonton Locksmith Store is conveniently located, and stocked with a large variety of lock parts and door hardware parts.
---
Lock Surgeon Locksmith Store Shop Service Centre Edmonton
Edmonton Locksmith Shop Store Service Centre Location: 17812 118 Ave NW, Edmonton, Alberta, T5S2W3
Locksmith Shop Store Service Centre Location:
We are located North of the Whitemud Freeway, south of the Yellowhead Freeway, west of 149th Street, east of the Anthony Henday, on the northwest corner of 118 ave. and 178 st. @ 17812 118 Ave NW, Edmonton, AB, T5S2W3 We are easy to find by driving on 118 ave. as our building is on the north side of 118 ave. and has a giant padlock on the roof.
17812 118 Ave NW, Edmonton, Alberta, T5S2W3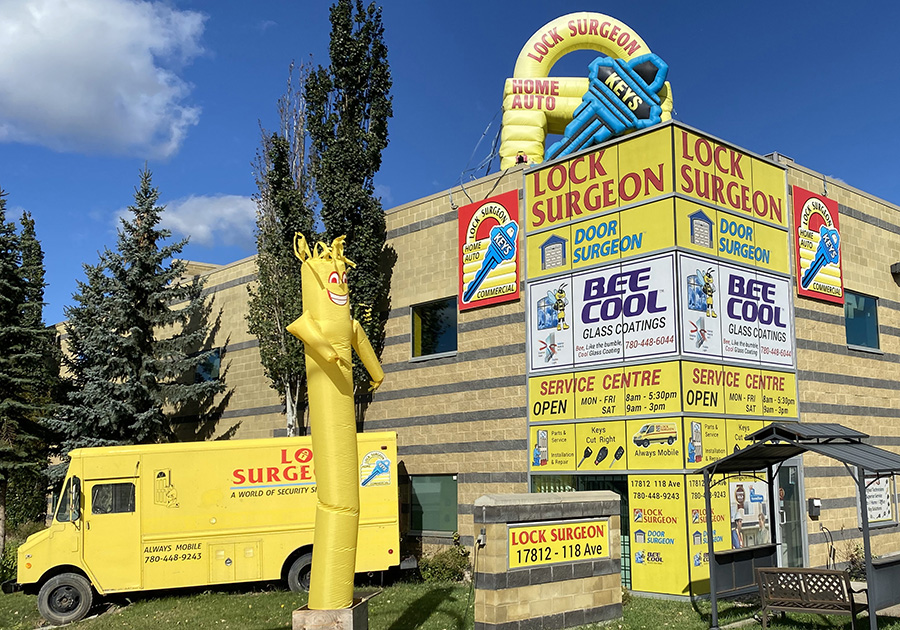 Shop Address: 17812 118 Avenue NW, Edmonton, Alberta, T5S2W3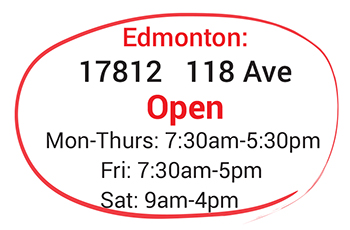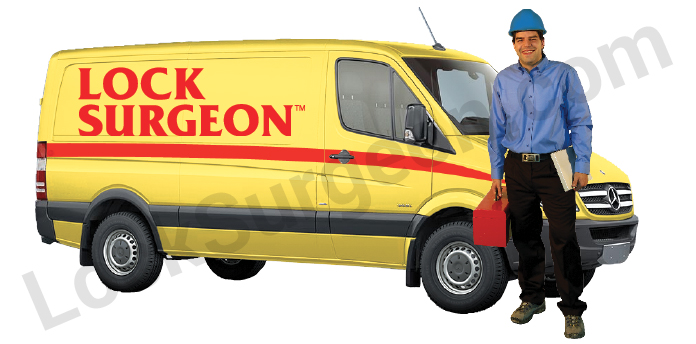 780-448-9243
---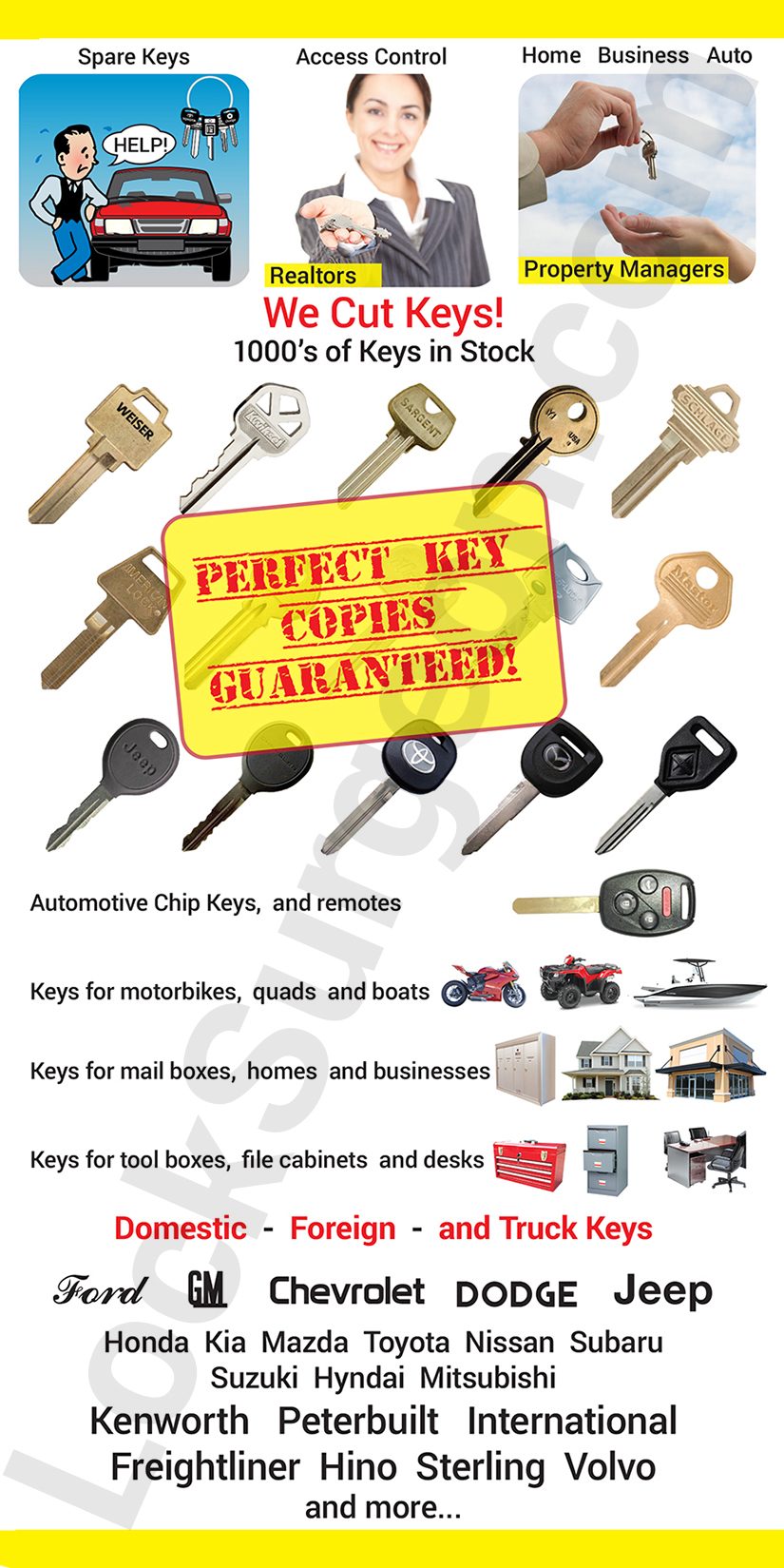 Lock Surgeon Edmonton counter sales and services: Spare keys, Access Control, Home Business Auto keys. Automotive chip keys and remotes. Keys for motorbikes, quads and boats. Keys for mailboxes homes and businesses. Keys for toolboxes file cabinets and desks. Domestic and foreign vehicle keys. 1000's of keys in stock, cut and programmed by Lock Surgeon Edmonton Locksmiths.
---

Smart Keys designed to reduce car theft. Smart keys provide an extra level of security for your car. They contain a very small computer chip inside them that the car uses to authenticate the key. When the key is inserted into the ignition the engine control unit sends a coded message to the key. If the key is an original (or newly programmed), it will recieve the coded message and will respond back to the engine control unit allowing your car to start.
---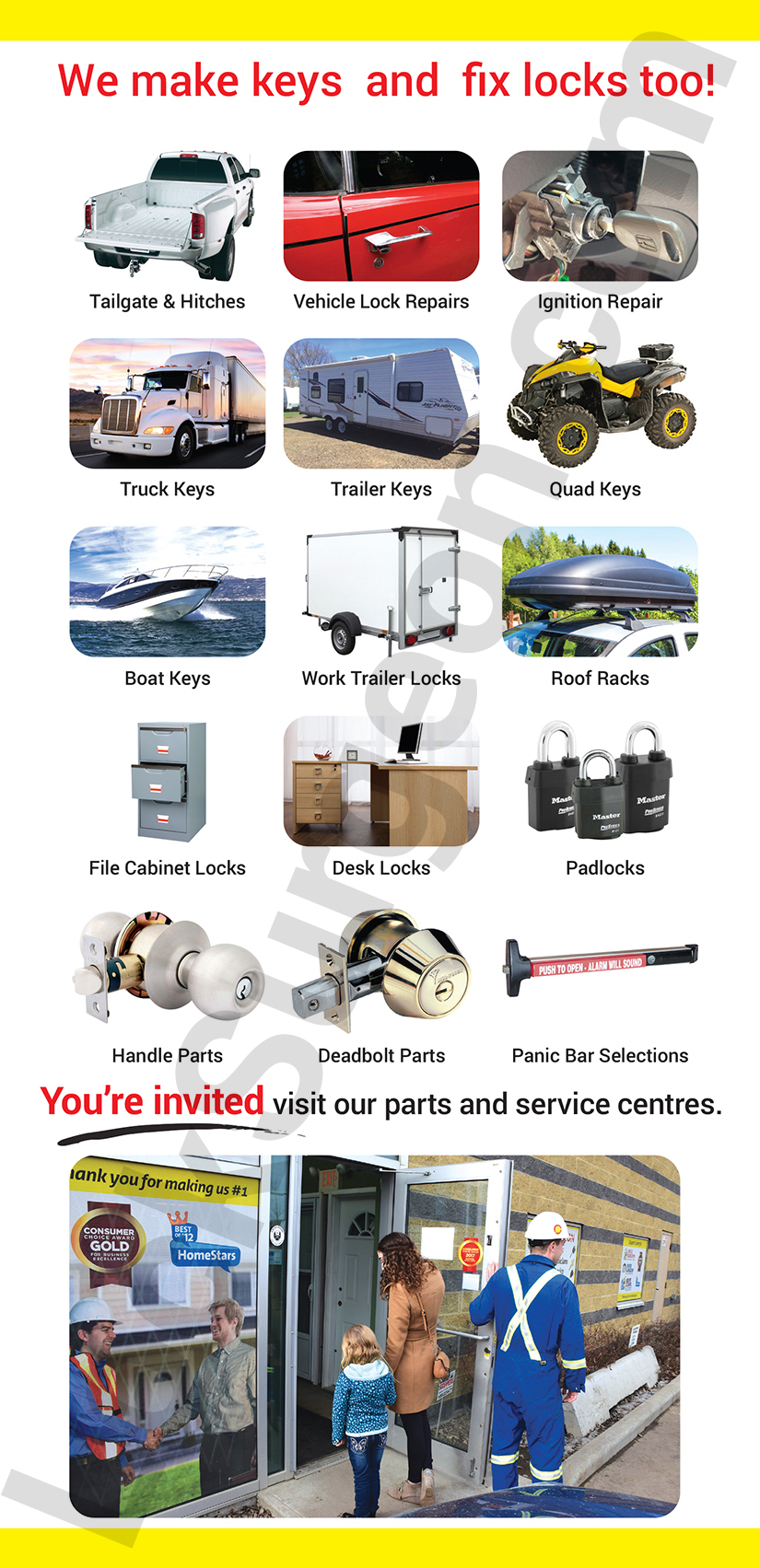 You're Invited! Visit Our Edmonton Locksmith Service Shop Store Centre
You'll find convenient parking, professional in-store service & large showroom product displays for tailgates & hitches, vehicle lock repairs, ignition repair, truck keys, trailer keys, quad keys, boat keys, work trailer keys, roof racks, file cabinet locks, desk locks, padlocks, handle parts, deadbolt parts & panic bar selections.
---

Edmonton Lock Surgeon a new generation of key cutting. Today's key cutting machines are more advanced and precise than ever before and here at Lock Surgeon Edmonton we have machines calibrated to cut keys accurately to six generations. Lock Surgeon's Edmonton key cutting machines provide consistently accurate results for customers. Have your current key duplicated or have new keys made for locks you have lost the keys for.
---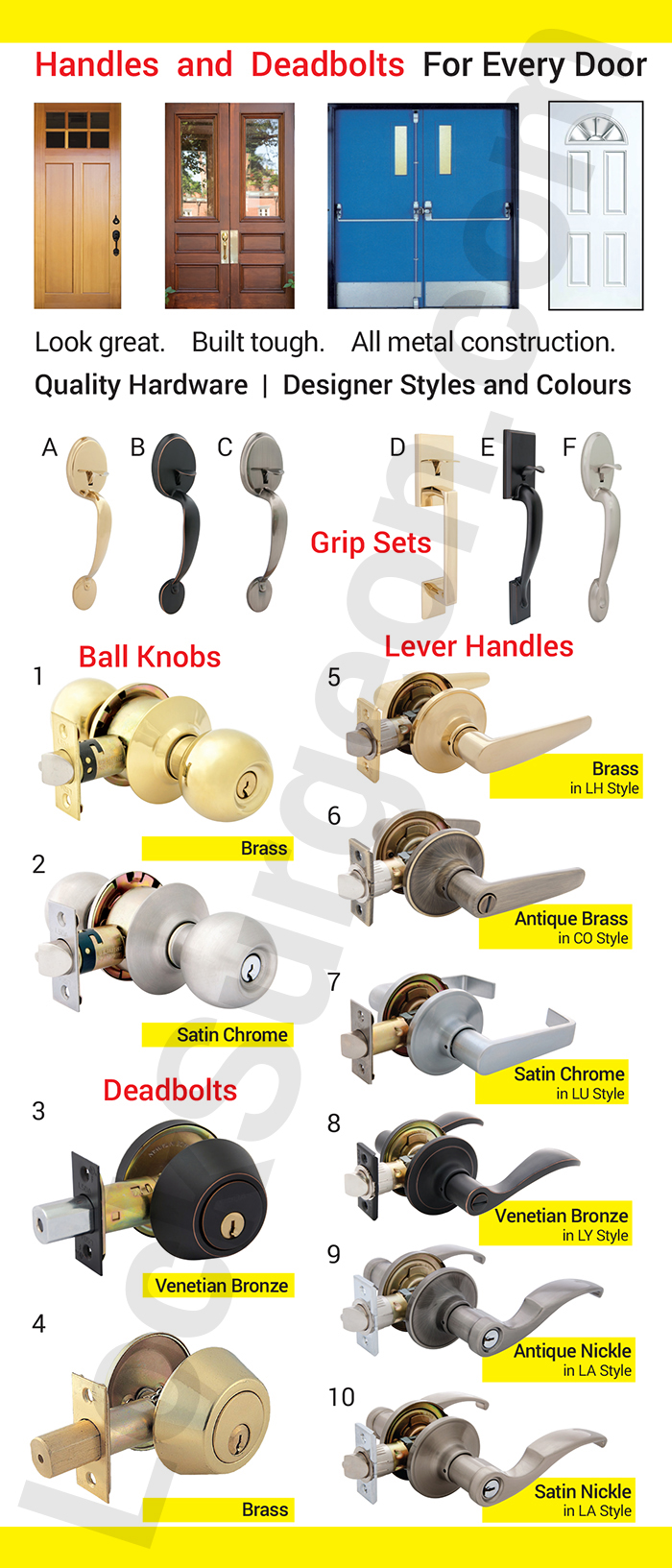 Lock Surgeon handles and deadbolts for every door. Look great, built tough, all metal construction. Quality hardware, designer styles and colours. Grip sets, ball knobs, lever handles.
---

Lock Surgeon have keyless entry products for easy access control for home or business. A great option for kids, the elderly and disabled as it allows for quick access for caregivers. Used in offices, warehouses, lunchrooms and washrooms. Reliable, all metal, all mechanical, no batteries or plastic parts. EL740 series keypad deadbolts with proximity smart cards & key overide. Hide-a-key and exterior key storage boxes.
---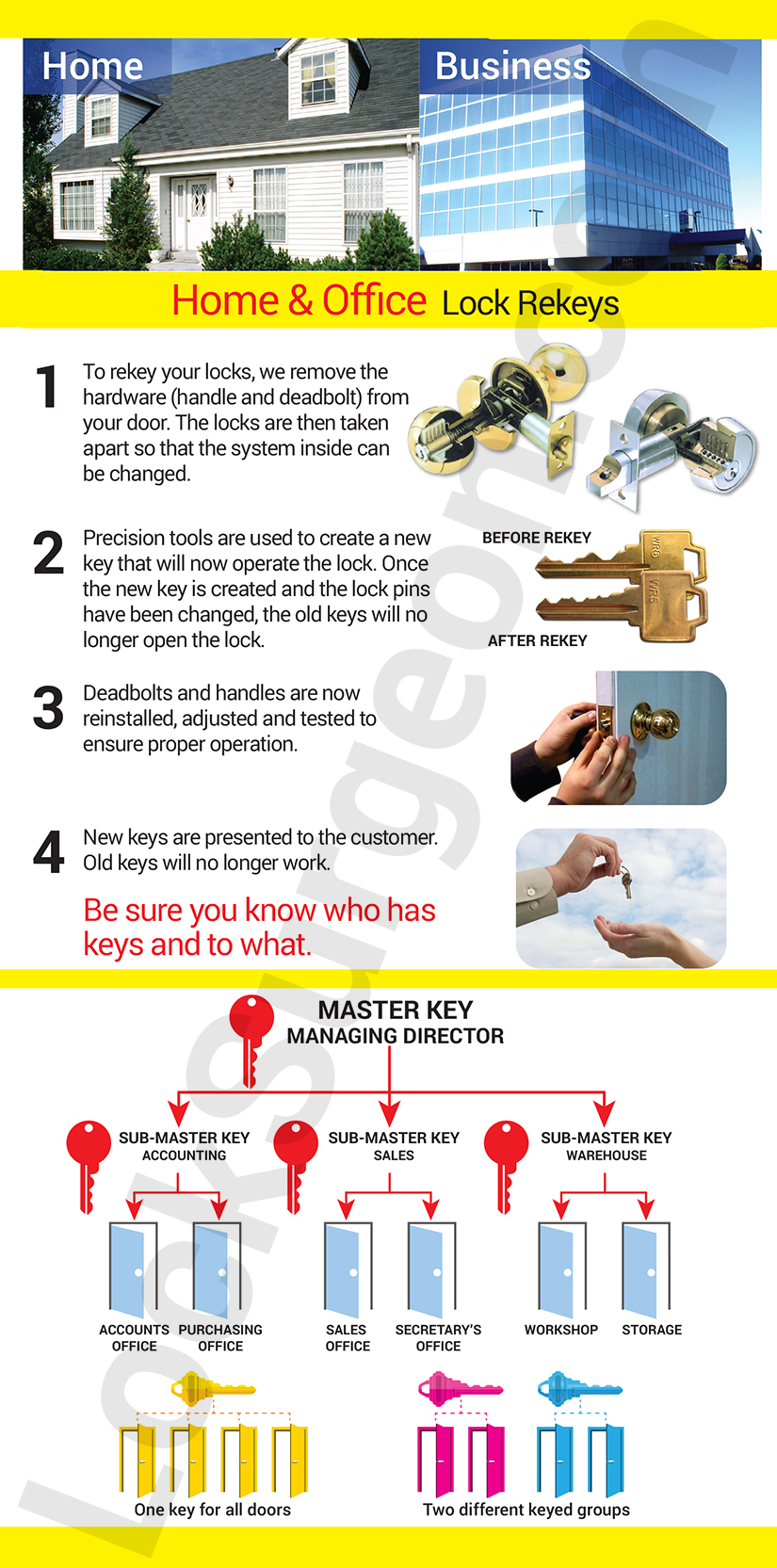 Lock Surgeon home & office lock rekeys. Rekeying locks involve removing hardware handle and deadbolt from the door. The locks are then taken apart so that the system inside can be changed. Precision tools are used to create a new key that will now operate the lock. Once the new key is created and the lock pins have been changed, then old keys will no longer open the lock. Deadbolts and handles are now reinstalled, adjusted and tested to ensure proper operation. New keys are presented to the customer. Old keys will no longer work.
---

Lock Surgeon Mul-T-Lock key control security systems. Keys distributed by you. Keys cannot be copied by staff, tenants, friends or family. Key information is recorded for you in a secure file in a secure-safe cabinet. keys have patented floating pin technology enhances key control. Dimples cannot be copied on standard sawtooth key cutting machines. Superior deadbolts non-pickable and drill resistant. Mul-T-Lock special hardened bolt made of saw resistant steel. Steel shroud covers bolt extension to maximize resistance to physical attacks. Free spin, solid rings, made from solid brass for added protection against forced entry.
---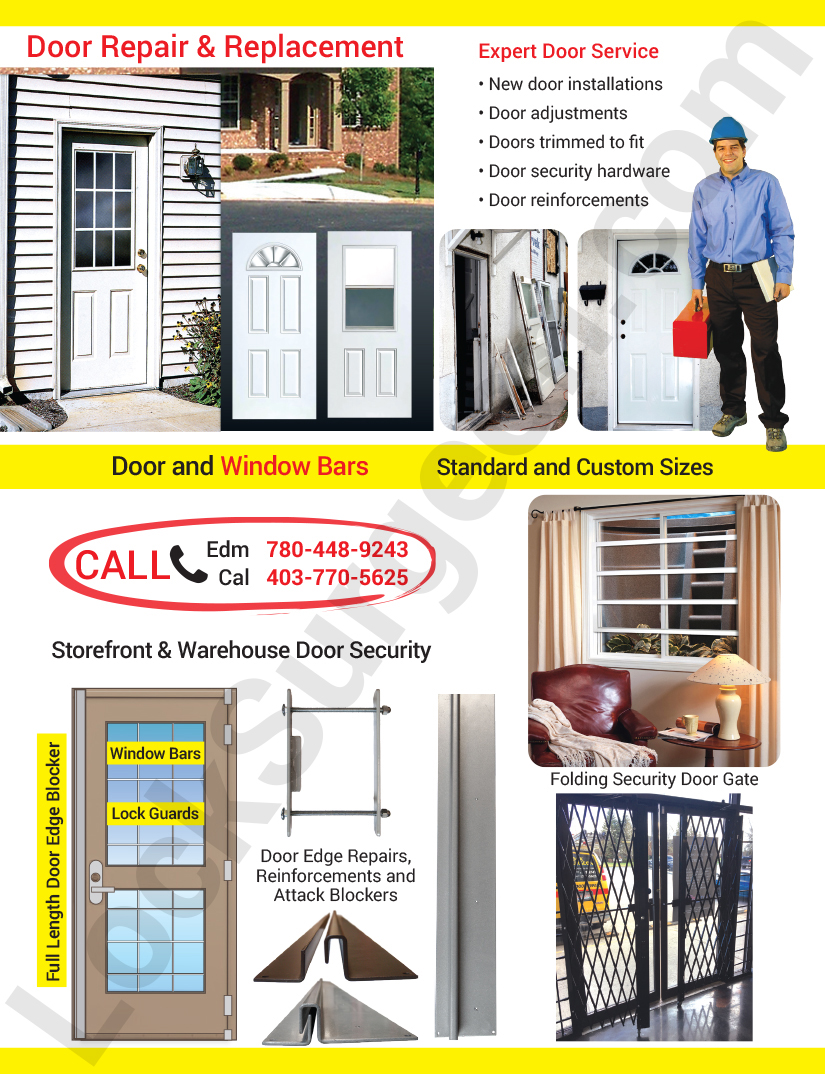 Locksmith In-Store Displays & Professional Locksmith Consultation
Our trained in-store locksmith service counter technicians attend the locksmith apprenticeship program as well as receiving indepth locksmith shop service counter training. We strive to provide a wide range of service counter products and service counter support.
---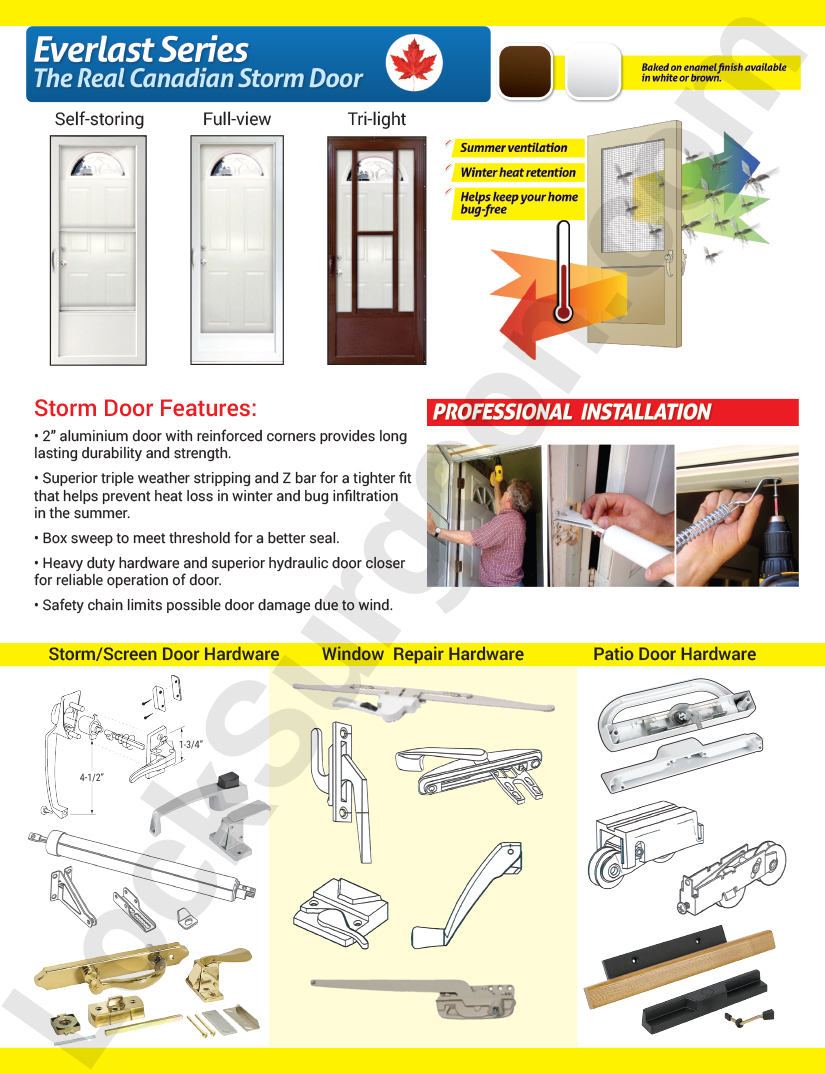 In-Store Catalogues and product displays available for Review
Lock Surgeon replacement storm doors. Self-storing, Full-view & Tri-light versions. Two-inch aluminum doors with reinforced corners provides long lasting durability and strength. Superior triple weather stripping and Z-bar for a tighter fit that helps prevent heat loss in winter and bug infiltration in the summer. Box sweeps to meet threshold for a better seal. Heavy-duty hardware and superior hydraulic door closers for reliable operation of doors. Safety-chain limits possible door damage due to wind.
---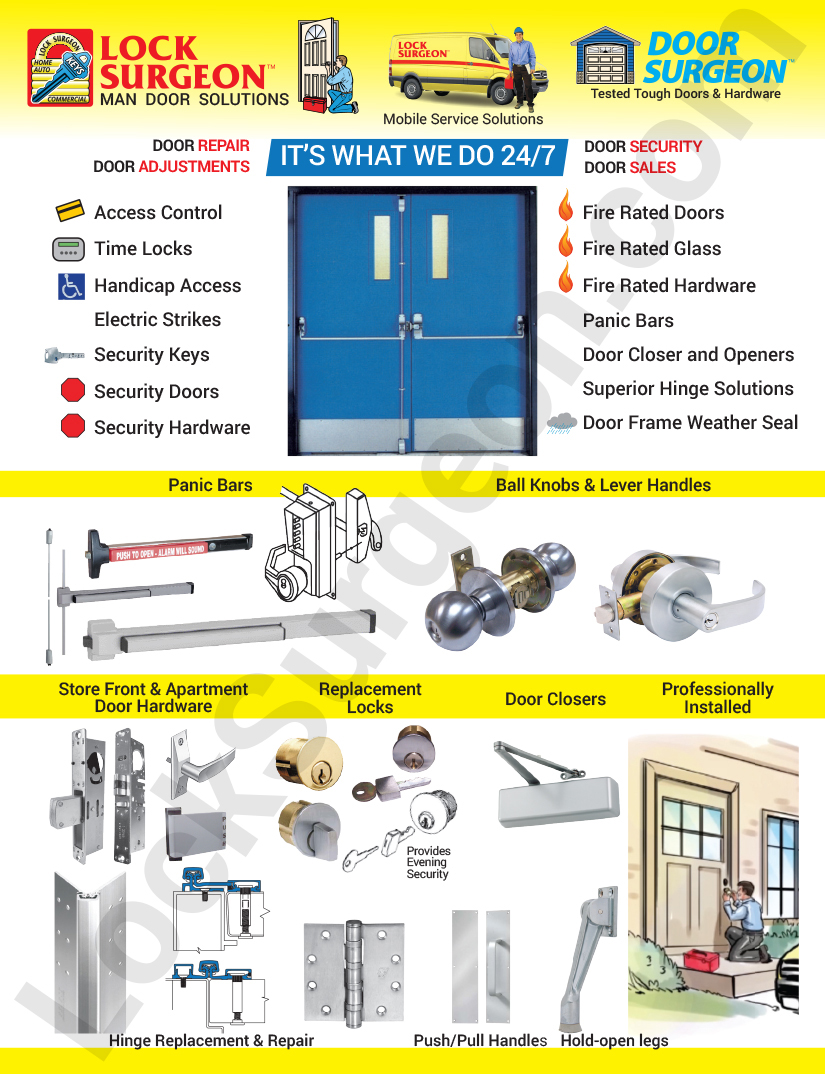 Service Centre Catalogue Available for Review
Lock Surgeon door repair, adjustments & replacement services. Door security hardware & sales. Access control, time locks, handicap access, electric strikes, security keys, security doors, security hardware, fire rated doors, fire rated glass, fire rated hardware, panic bars, door closers, door openers, superior hinge solutions, door frame weatherseal. Ball knobs & lever handles for residential and commercial buildings. Storefront and apartment door hardware and replacement locks professionally installed.
---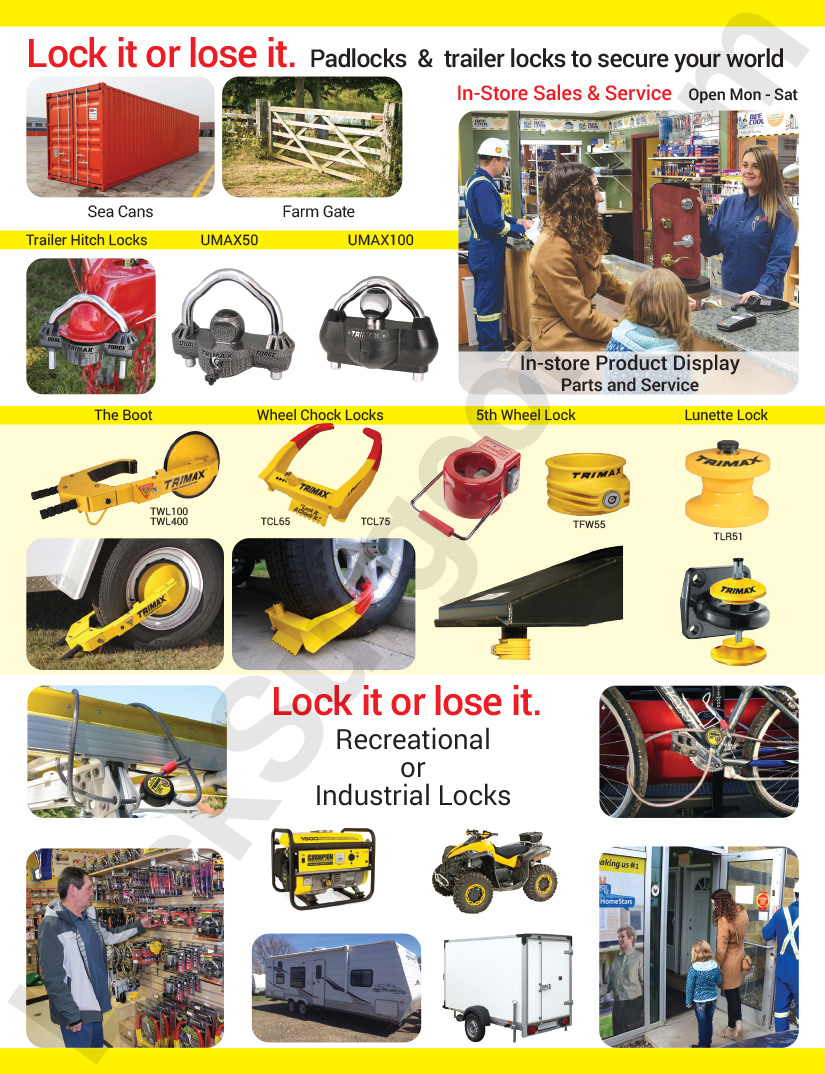 Shop Service, Parts Display & Abundance of Inventory is Available
If you are looking for lock or door hardware products its time to visit one of our locksmith shop service centres. In-Store Samples of a Large Variety of Products to Meet Your Edmonton Needs
---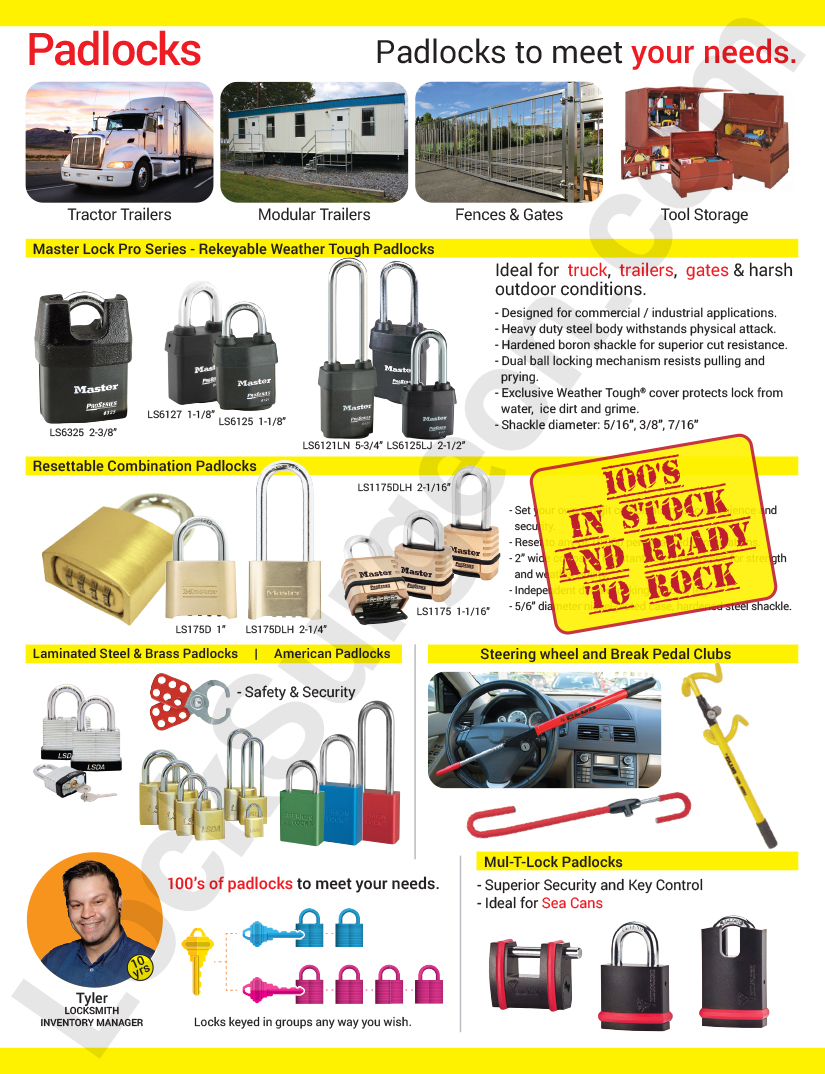 In-Store Samples of a Large Variety of Products to Meet Your Needs
Padlocks to meet your needs. Master Lock Pro series, rekeyable weather tough padlocks. Resettable combination padlocks. Laminated steel & brass padlocks. Steering wheel and brake pedal clubs. Mul-T-Lock padlocks. Padlocks for tractor tailers, modular trailers, fences & gates, tool storage. Ideal for truck, trailers, gates & harsh outdoor conditions. Designed for commercial industrial applications. Heavy-duty steel body withstands physical attack. Hardened boron shackle for superior cut resistance. Dual ball locking mechanism resists pulling and prying. Exclusive weather tough cover protects lock from water, ice, dirt and grime.
---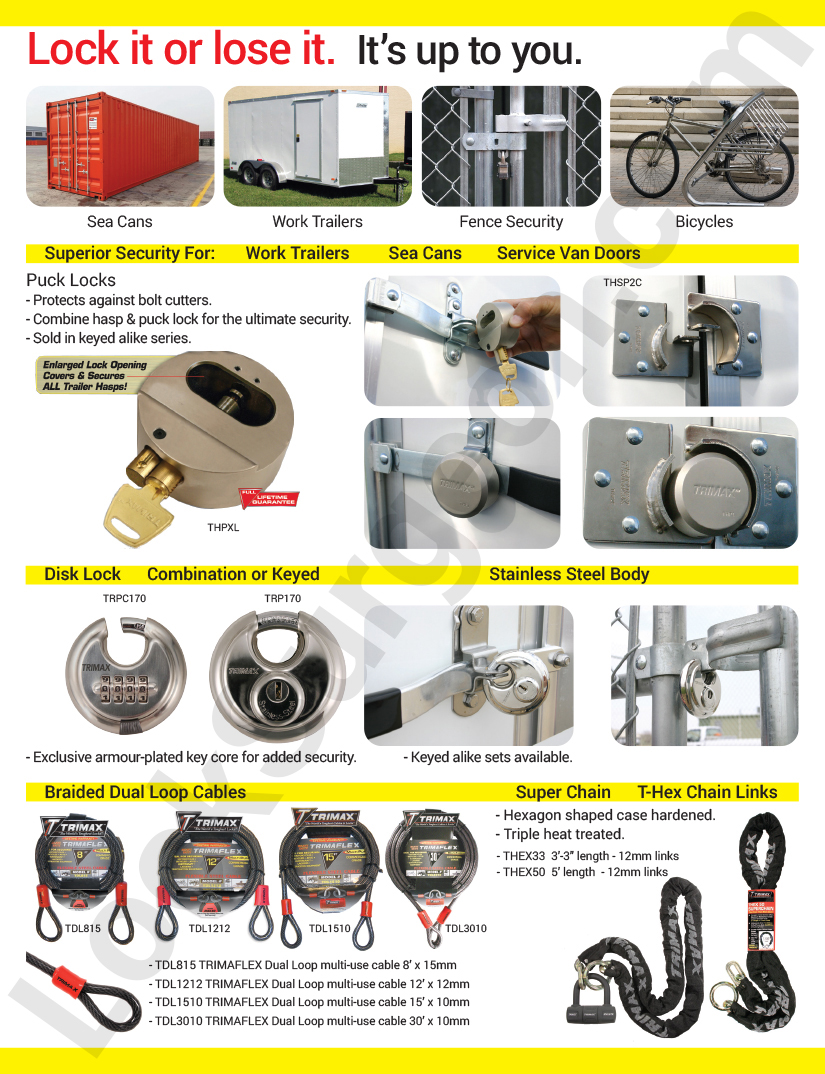 Unique In-Store Specialty Parts Available & on Display
Lock it or lose it, it's up to you. Superior security for work trailers, sea cans, service van doors, fence security & bicycles. Puck-locks protect against bolt cutters, combine hasp & puck lock for the ultimate security, sold in keyed alike series. Disk locks with exclusive armor-plated key core for added security, keyed alike in sets available. T-Hex chain links hexagon shaped case hardened triple-heat treated.
---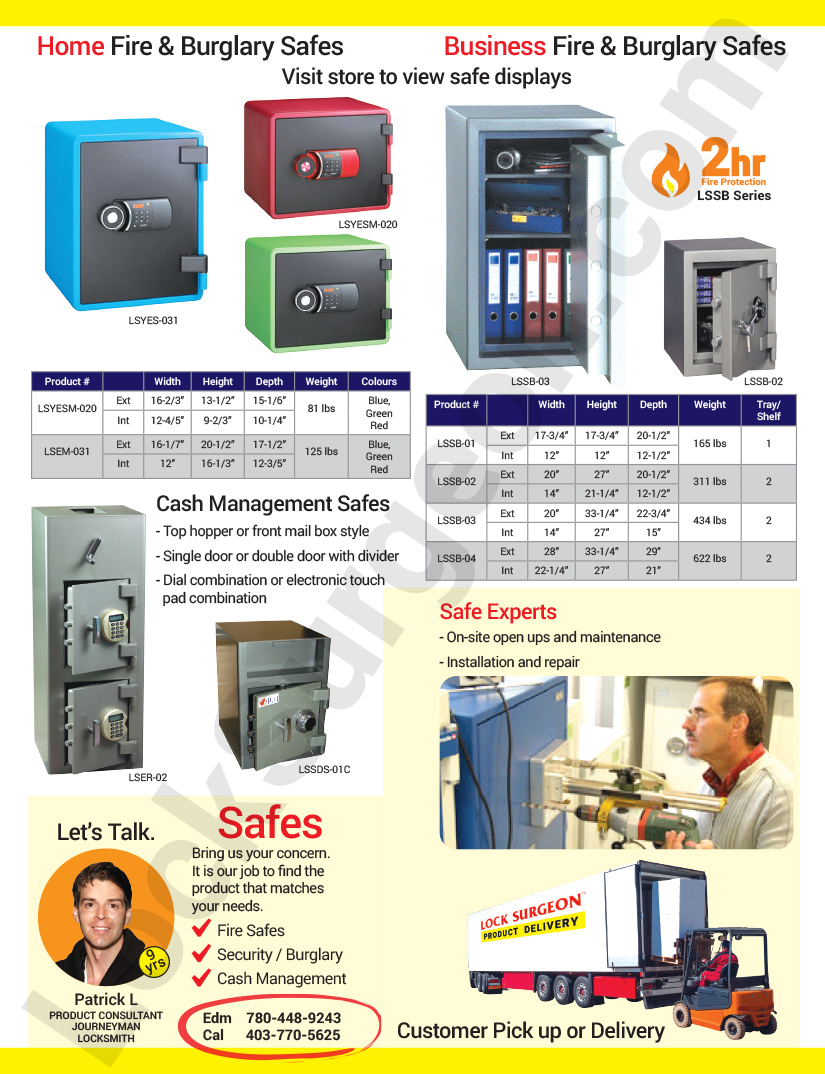 Shop Our Large Variety of In-Store Products
Home & business fire and burglary safes. Cash management safes with top hopper or front mailbox style slot. Single door or double door with dividers. Dial combination or electronic touch pad combination. On-site safe experts perform open ups and maintenance as well as installation and repairs. Bring your safe concerns to Lock Surgeon service centre where trained technicians will find the safe product to match your needs.
---
Click To View Additional Products & Services Available in Edmonton
---
Locksmith Shop Store Service Centre Serving Edmonton & Area:
---
Click the link to find a location or service provider nearest you:
---
WARRANTY
Sometimes Things Happen
No one likes it when things go wrong, no one more than us, but if it does check out our Warranty
---
A World of Security™
Home of the Giant Padlock!
---