Push &nbsp To &nbsp Call &nbsp Us
Garage Door Spring Repair & Replacement Service Edmonton Lock Surgeon

Mobile Garage Door Spring Repair & Replacement Service Edmonton
Lock Surgeon's mobile garage door spring repair service and garage door spring replacement service will come to your home or business. Lock Surgeon's mobile garage door spring repair service trucks stock a large variety of garage door springs to match your broken garage door spring size and type. Our garage door spring repair servicemen can repair or replace garage door springs on a large variety of garage door brands. Barcol - Steel Craft springs, Creative Door - Wayne Dalton springs. Garaga springs, Overhead Door springs, Northwest Door springs. Haas Door springs, Clopay Garage Doors springs, Amar Garage Doors springs. Equal Garage Doors springs, Door Masters-Sunshine Door springs, and Richard Wilcox springs.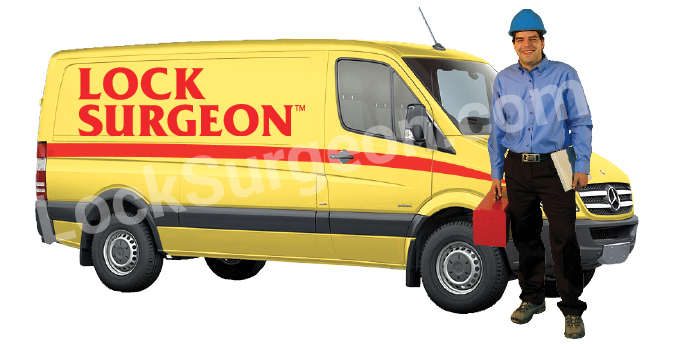 ---
Mobile Garage Door Spring Repair & Replacement Service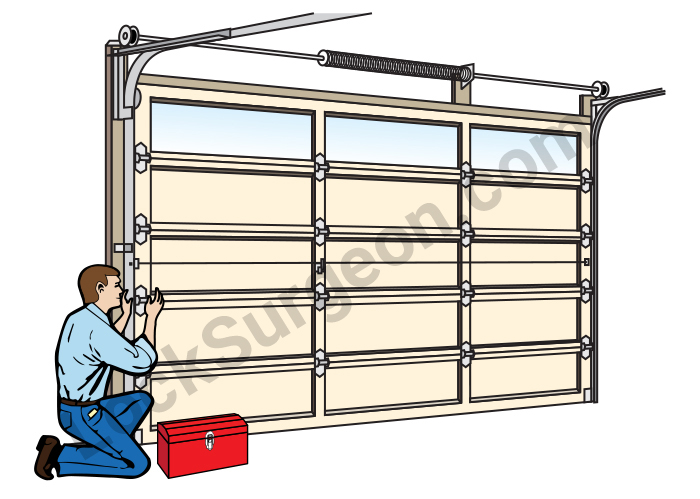 ---
Residential Home Garage Door Spring Repair & Replacement
The below photo clearly shows a broken garage door spring. Often garage doors for double-car garages have two springs and single-car garages have one spring. It is recommended that should one garage door spring break on a garage door shaft that requires two springs both springs should be replaced at the same time.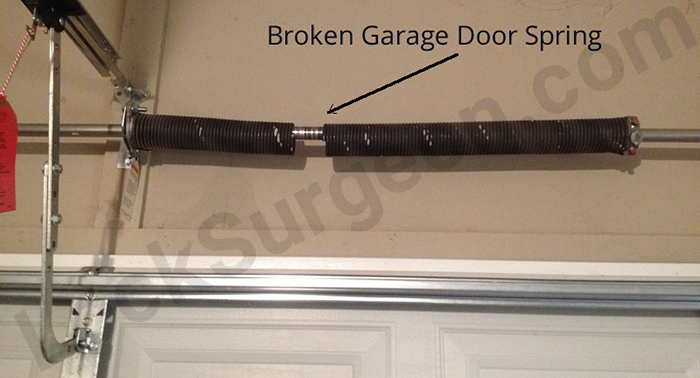 Edmonton Garage door replacement springs for home or business
Our professional mobile garage door spring repairmen will come to your home and make repairs or replace garage door springs. There are many important and dangerous parts working together in a garage door to make your garage door work properly. The garage door springs, drums, cables, hinges and rollers must all be aligned and working properly.
Call our dispatch centre for mobile garage door spring repair and replacement service.
---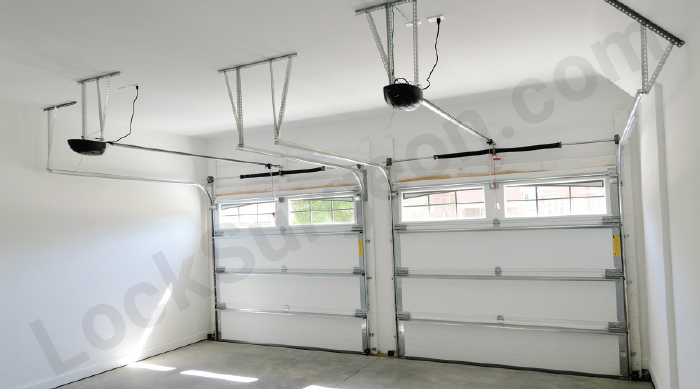 Mobile Garage Door Spring Fix, Adjust, Repair or Garage Door Spring Replacement Service
Lock Surgeon's service trucks are stocked with a variety of common replacment springs and the tools required to fix adjust or repair broken springs.
Double Garage door springs or single garage door springs
Garage doors require a spring or springs to assist in lifting the weight of the garage door. Garage doors can be designed to take a single spring or a double spring. Each garage door spring is designed and paired with a garage door to best balance the garage door weight and operation. Our mobile garage door spring serviceman will ensure that your garage door spring is replaced with the correct size and wire gauge. The spring must be wound to the appropriate spring tension amount.
---
Follow these links for related pages
---
Garage Door Spring Repair & Replacement Service provided to Edmonton & area:
Northeast Edmonton, Northwest Edmonton, Southeast Edmonton, Southwest Edmonton, Millwoods, Terwillegar, Jasper Place, Claireview, Bonnie Doon, Strathcona, Glastonbury, Eaux Claires, Balwin, Pembina, Beverly, Ottwell, Pleasantview, Summerside, Windermere and others.
Also providing mobile spring repair & replacement service to surrounding Edmonton:
Sturgeon County, Strathcona County, Leduc County, Parkland County
---
Lock Surgeon Garage Door Spring Repair Service & Replacement Service Shop
Edmonton garage door spring repair Store Location: 17812 118 Ave NW, Edmonton, Alberta, T5S2W3
Store Location Directions: We are located North of the Whitemud Freeway, south of the Yellowhead Freeway, west of 149th Street, east of the Anthony Henday, on the northwest corner of 118 ave. and 178 st. @ 17812 118 Ave NW, Edmonton, AB, T5S2W3 We are easy to find by driving on 118 ave. as our building is on the north side of 118 ave. and has a giant padlock on the roof.
17812 118 Ave NW, Edmonton, Alberta, T5S2W3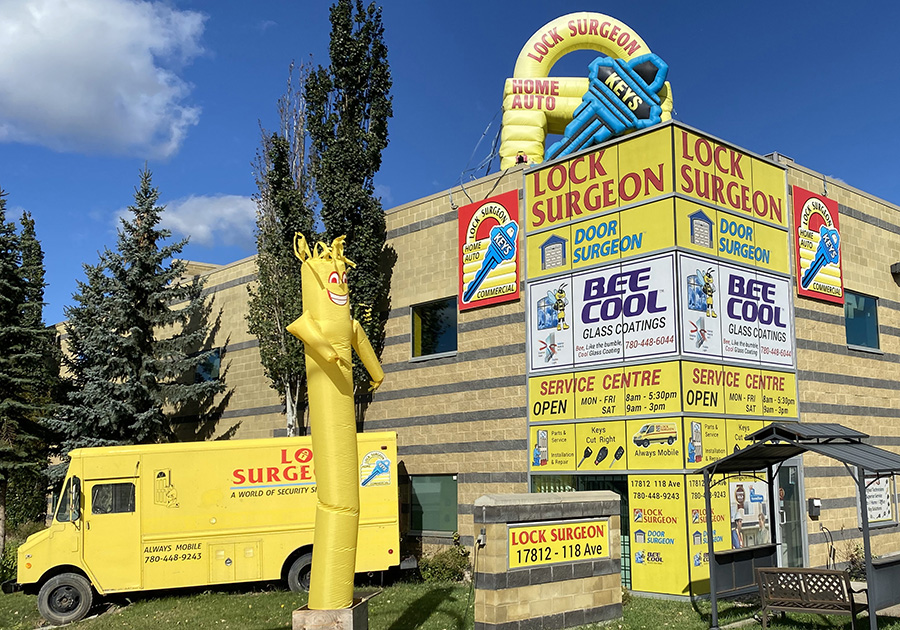 17812 118 Avenue NW, Edmonton, Alberta, T5S2W3
---
Click the link to find a location or service provider nearest you:
---
Video Transcript of Winding Springs - matches below full video clip
Okay, we've installed our door and hung our torsion bar, now it's time to wind our spring. This is a relatively straightforward process but once torqued a torsion bar can be dangerous so be sure to use an extra amount of caution. Before you begin tensioning, notice the line painted along the spring, this line will let you count the number of winds you have made. To prevent the door from inadvertently opening fasten locking pliers or C-clamp just above the third roller.
In most cases, wind the spring by pushing up, winding the spring counter-clockwise, if you're unsure of proper winding direction however, just look at the springs last coil. A good rule of thumb is to always wind in the direction the last coil is pointing. Check your manufacturers specification sheet to determine the correct number of turns, tension will be determined by the height and size of the garage door.
To tension the spring insert a winding bar into the winding cone and push up, then insert a second bar, push up and repeat until the proper number of turns has been achieved. Notice as you wind that the spring grows in length and shrinks in diameter. After the spring has been tensioned you'll have to add some stretch or space to the spring so that it doesn't become spring bound. A spring is designed to lift with specific pounds per inch and if the spring is rubbing on itself it will decrease its lifting force.
Here's how to keep a spring from binding, once you've finished winding tap the upper part of the winding bar, this simple action will stretch the spring and prevent binding. Now tighten the winding cone set screws and remove the winding bars, then remove the locking pliers form the torsion bar shaft and check the door to ensure it is moving properly. Move the locking pliers from just above the 3rd roller, to just below the same roller, then slowly open the door until the number two roller gently touches the pliers. Now lower the door until it is approximately one foot above the door.
The door is considered reasonably balanced if it doesn't jump above the ground or fall to the floor. Another common test is to place each of the sections in the radius, each of the top three sections should rest in the radius and the bottom of section should coast to the full open position. To achieve reasonable balance the spring may need further adjustment. If the door is too heavy off the floor, increase the tension by increasing the number of turns if the door is hard to pull down, decrease the number of turns, and remember when you are doing either of these adjustments wind in quarter turn increments.
Winding Springs - 3 min
---
WARRANTY
Sometimes Things Happen
No one likes it when things go wrong, no one more than us, but if it does check out our Warranty
---
A World of Security™
Home of the Giant Padlock!
---