Push &nbsp To &nbsp Call &nbsp Us
Lock Surgeon Garage Door Spring & Opener Repair Fix Adjustment Edmonton South
Garage Door Service & Parts
Garage door parts and service delivered by Lock Surgeon's fast, professional, mobile service team. Lock Surgeon trucks are stocked with a large variety of parts and repairs on most garage door makes can be done on the first visit. Lock Surgeon Garage Door Spring Opener Repair Fix Adjustment Edmonton South Mobile.
Door Surgeon Edmonton South garage door repair technicians can provide garage door parts and garage door repair solutions for a number of common Edmonton South garage door brands including, Steel Craft, Wayne Dalton, Garaga, Overhead Door, West Gate Overhead Doors, North West Door, Clopay Garage Doors, Amar Garage Doors, Equal Garage Door and Lock Surgeon is the Edmonton South garage door source for Laforge Overhead Doors.
---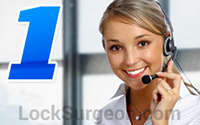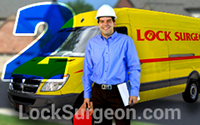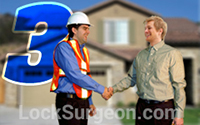 Residential or commercial garage door repair - Emergency garage door repair - Professional garage door repair and tested tough hardware
---
Lock Surgeon knows that when it comes to door repair, Edmonton South residents have a variety of garage door repair needs. Choose Lock Surgeon/Door Surgeon not only for products, but for service and maintenance packages as well. Look no further for garage door repair in Edmonton South than Lock Surgeon/Door Surgeon's emergency garage door repair service.
If you wish to book an appointment, or have any questions about garage door repair or garage door replacement, feel free to call Door Surgeon at 780-448-9498.
If you need garage door repair in Edmonton South and area call Door Surgeon at 780-448-9498. It's time to get Door Surgeon working for you.
---
Edmonton South Garage Door Repair
Lock Surgeon's Edmonton South technicians can perform an on-site diagnostic and thorough review that includes the inspection of: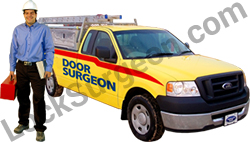 Garage door springs and spring replacement
Garage door bottom weather guard
Garage door cables
Garage door weatherstrip
Garage door rollers
Garage door photo eyes
Garage door hinges
Garage door locks
Garage bottom fixtures
Garage door openers
Garage door bearings
Garage door repair
Garage door drums
Garage door replacements
---
Garage door parts are available at Lock Surgeon's Sales and service centre
You're invited to visit one of Lock Surgeon's Sales and Service Parts Counters where you can view the displays of products, get technical assistance and purchase the product to install yourself.
It is of course recommended that one of Lock Surgeon professional garage door repair personnel visit your site and do the work required as some repairs are both challenging and dangerous.
---
Full Garage Door Service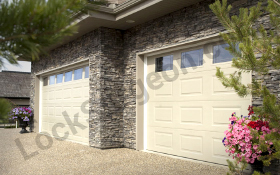 Tighten all garage door hinges and brackets
Lubricate all moving parts
Adjust garage door springs
Level garage door
---
Edmonton South Repair and Installation services proviced by Lock Surgeon and Door Surgeon
---
Garage Door Repair or Replacement Edmonton South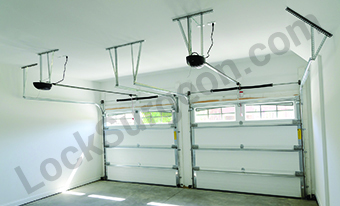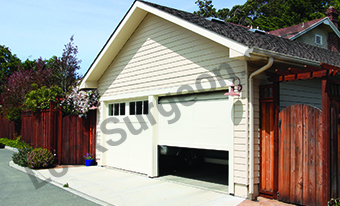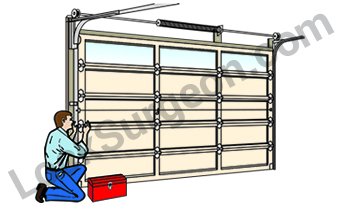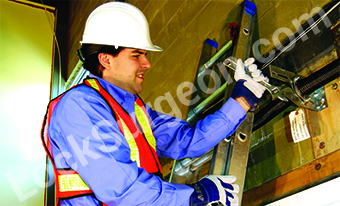 ---
Repair Service Preventative Maintenance Parts Centres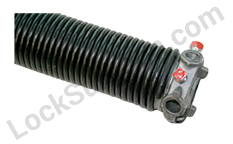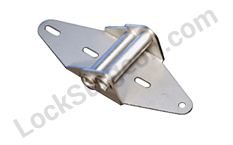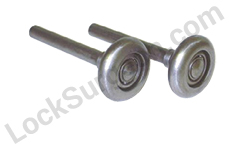 Garage door springs sized to meet your needs. Hinges to match your panel requirements. Rollers to match your garage door track size.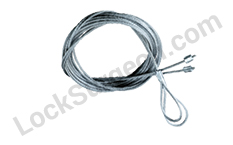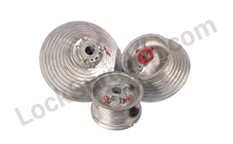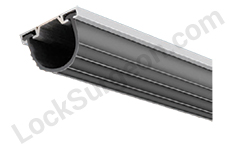 Garage door Cables to match your garage door height. Drums to match your garage door size. Bottom weatherstrip made to seal to concrete floors.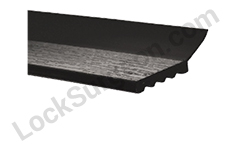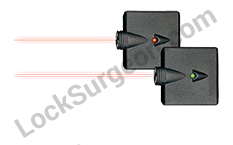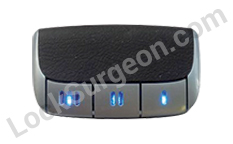 Garage door side weatherstrip built to keep weather out. Photo eyes to match your garage door opener and safety needs. Door motor universal remote controls.
---
Edmonton South Service trucks are stocked with a huge variety of products, tools and equipment. All mobile technicians have police security clearance
---
Repair and Replacement of Garage Door Openers
Edmonton South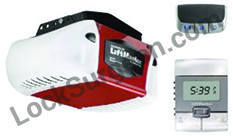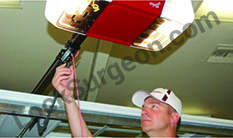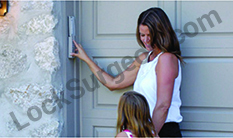 The Edmonton South Lock Surgeon team can visit your home with a service truck that is fully stocked with a variety of commonly used garage door repair parts. Your garage door repair serviceman can fix or repair garage door components and replace those parts that are completely broken.
---
Follow these links for related pages
---
Basic Installation of Door and Spring Assembly - 8 min
As we begin our examination of a demonstration installation of a residential garage door we'll be repeating a number of things that you have already heard in earlier portions of this training series. The first repetition of this explanation is that the manufacturers instructions must always be followed. This is especially important because manufacturers produce products that are safe and dependable but variations on their installation may affect their operation and you don't want to be responsible for a defect that results in an accident or in a loss of customer satisfaction.
Installation method #1 Stacking and nailing - We are going to look at two popular methods of installation, stacking and nailing and installing track and holding sections in place with rollers. We'll look at stacking and nailing first. Temporarily but securely nail stop molding to the wood jams, adjustments to the molding can be made later but the molding should overlap the inside face of the jam by approximately 1/8". Now it's time to stack our door sections, you should realize that all of the sections look the same except for section 1, the bottom section. Section 1 differs from the rest because it has the vinyl floor seal. If your installation requires a lock section, you'll want to pre-drill section two for that at this time. Now, centre the bottom section in the door opening, level the section with a carpenters level, using shims if required.
It is imperative to have the bottom section level, tap in a nail on each side and bend over to temporarily hold the section in place. Stack the second section in the opening and secure with nails, next stack the remaining sections into the opening in the proper sequence and secure with nails. Now it's time to install the hardware. First fasten the bottom brackets and secure into place, next attach the end and centre hinges starting with the bottom and working your way up. Ensure that your hinges are not installed upside down, when installed properly the single round hole or smallest vertical slot is at the bottom of the hinge, also make sure that you install the proper hinge to the proper door section, the number one hinge should be installed on the bottom section and in the centre of each remaining section. The number 2 hinge goes in the top corners of the second section and so on.
This is extremely important because each hinge is constructed differently. Now install the top fixtures then loop the lift cable over the bottom studs on the bottom bracket and install rollers into all the fixtures. Tilt the vertical track laterally and slide it over the rollers. Raise the vertical track 3/4" to 1" above the floor and a half inch away from the edge of the door. To prevent splitting the wood jam, pre-drill the holes for the jam bracket with a 1/4" drill bit then secure the brackets with 5/16" x 1-5/8" lag screws. Fasten the vertical flag bracket with lag screws making sure the track and angles are plumb, then repeat the process on the other side of the door. Ensure that the tops of the vertical tracks are level with each other.
At this time you can remove all the nails that were holding the sections into place. Next install the horizontal track and side bearing plate. The horizontal track will be supported by angle-iron brackets. Begin building the support by fastening a piece of angle-iron across two ceiling trusses, then drop a second piece down to the horizontal track, with a third piece construct a diagonal brace between them then attach to the horizontal track.
Installation method #2 - In this method just about all the garage doors hardware and tracks will be installed prior to stacking the door sections. Now I say just about because our door tech specialists have found that its best to leave off a few components to make sure stacking goes as smoothly as possible. Here's what I mean: Attach all hardware to bottom section... including rollers. Attach a left and centre hinge, and left roller to sections 2 & 3. Attach the top brackets, rollers, and truss bar to section 4. As with our 1st method always ensure you are using the correct hinge and that it's not installed upside down. Now assemble the vertical and horizontal track. With the bottom section already in place install the track.
Pre-drill and lag the track in place working from top to bottom, you can check for plumb by using a level or by measuring the distance between the vertical track and side wall of the garage, this can also be helpful in squaring the horizontal track. As with method number 1 secure the rear of the horizontal tracks with angle-iron. Now, repeat the same steps to erect the track on the opposite side of the door, and as in method 1 you'll want to ensure that the tops of the vertical tracks are level with one another. Now it's time to place our torsion bar but before you do so I need to point out that the steps you are about to apply also relate tot he stacking and nailing method of install.
You also need to know that torsion spring assemblies are designed for the size and weight of the door and that the assembly will consist of at least one or two colour coded springs. Red indicates left side, and black indicates right side. Okay, lets move on. Slide the left drum, centre bearing, spring assembly and right drum onto the torsion tube and then pre-drill and lag the centre bearing support to the spring pan. Raise the shaft into position and slide it into the end bearings. Position the shaft so that an equal amount extends past the end bearings on both sides of the door. And connect the spring to the centre bearing plate. You can now carefully set the number two section, install the roller into the left side hinge and then swing the section into place, next install a roller into the right side hinge and swing into place, repeat for the remainder of the sections.
Now working from one side to the other, align the sections, fasten the remainder of the hinges and place the last roller into the top bracket, feed the lift cable up to the right drum making sure to keep it between the roller stems and the right wall. To prevent the shaft from turning attach a pair of locking pliers to the shaft and rest the end against the wall. Place the stop end of the cable through the slot in the drum, with the stop on the shaft side of the slot. Revolve the drum until the cable is taught, then tighten the set-screws. You'll install the left side in the same manner.
---
Mobile Garage Door, Spring & Opener Repair, Fix, Adjustment Services provided to Edmonton South and area:
Southeast Edmonton, Southwest Edmonton, Millwoods, Terwillegar, Jasper Place, Claireview, Bonnie Doon, Strathcona, Glastonbury, Eaux Claires, Balwin, Pembina, Beverly, Ottwell, Pleasantview, Summerside, Windermere and others.
Also providing mobile garage door spring opener repair service to surrounding South Edmonton:
Strathcona County, Leduc County
---
Lock Surgeon Garage Door, Spring & Opener Repair, Fix, Adjustment Edmonton South Service Centre Shops
Edmonton South Garage Door, Spring & Opener Repair, Fix, Adjustment Store Location: 5738 75 St NW, Edmonton, Alberta, T6E2W6
Lock Surgeon Shop can be found:
South of Argyll Rd and 82nd ave. North of Whitemud Freeway, west of 17th st. and east of Gateway BLVD. Lock Surgeon shop is easy to find as it is located on the west side of 75 street @ 5738 75 St NW, Edmonton, AB, T6E2W6. Lock Surgeon shop has a giant padlock balloon on top of the building and is located within the McIntyre Centre.
5738 75 Street NW, Edmonton, Alberta, T6E2W6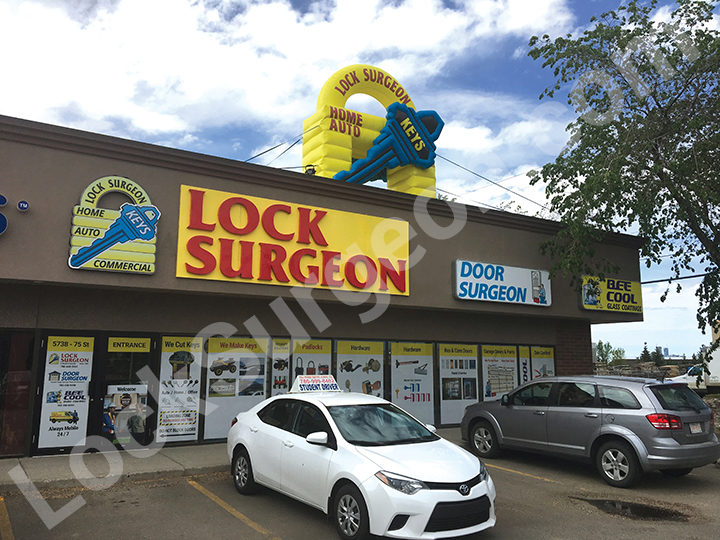 5738 75 Street NW, Edmonton, Alberta, T6E2W6
---
Click the link to find a location or service provider nearest you:
---
Garage door repair by Edmonton South garage door repair experts, Lock Surgeon commercial and residential garage door repair at its best. It's time to get Lock Surgeon working for you.
---
WARRANTY
Sometimes Things Happen
No one likes it when things go wrong, no one more than us, but if it does check out our Warranty
---
A World of Security™
Home of the Giant Padlock!
---