Bluetooth Access Control Common Questions Edmonton South
---
---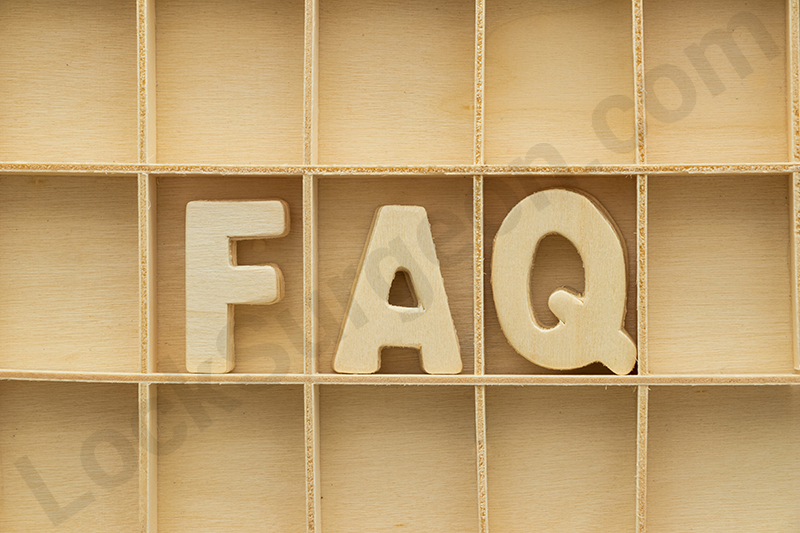 What is ACCESS technology? - Click Here
ACCESS is the comprehensive Configurable Keyless Security solution created as a direct response to emerging demand from industry customers and partners.
How does ACCESS technology work? - Click Here
ACCESS consists of three main cores:
ACCESS hardware that connects to your electro-mechanical lock.
The only true "jack-of-all-trades" intelligent opening controller in the market that combines power, unparalleled versatility and cost effectiveness.
Sentinel advanced cloud-portal management interface application for Apple and Android phones.

All of the ACCESS family of products leverage the same core technology and basic mechanical framework:

An application on the smartphone connects to a lock via Bluetooth
information is exchanged in a secure manner
And the decision is made to either allow or deny the request to unlock the unit.

When logging into the ACCESS application via a smart device, encrypted information is exchanged between the Sentinel cloud-based portal and the ACCESS lock via a wireless network on the smartphone.

It is in this exchange that the ability to unlock the lock is permitted if the eKey is valid. Each time a lock is unlocked, it is documented in a log in Sentinel so you know when that lock was accessed, by whom, and the location at the time the lock was opened.
What capabilities does ACCESS hardware offer? - Click Here
The ACCESS Series allows certified installers to build custom solutions around the bluetooth platform. The powerful 'brain' of the ACCESS Series can control the electronic door solutions in the market today, whether a single installation or for a thousand-unit installation. From the types of power inputs to the types of outputs, your installers can design their "solution."
The ACCESS and ACCESS-Mini are versatile solutions and can manage any electro-mechanical 12V – 24V drawing up to 3 Amps of power with the ACCESS model or 1.5 Amps with the ACCESS-Mini model including:
Servo or stepper motors
Standard DC motors
Drop bolts
Electric strikes
Solenoids
Electro-magnetic door locks
What is the TFB? - Click Here
Compatible with every ACCESS Series product is the Tri-Function Box or TFB, a weather-proof enclosure specifically designed for the ACCESS. The TFB provides three important capabilities to the ACCESS solution:
Wake and "Smart-Click" button
LED for visual feedback
9V battery terminals for emergency power operation
The TFB unit is installed on the outside of any door being controlled by an ACCESS system and is connected to the ACCESS Series via six wires. By default, the ACCESS system is programmed to enter a sleep mode after approximately 40 seconds of inactivity. In order to wake the system, the operator would press the button on the front of the TFB.
When the button is pressed, the ACCESS system immediately wakes. The other purpose for the button is to offer the patented "Quick-Click" functionality.
Also see "What is Quick-Click?"
What is "Quick-Click"? - Click Here
With "Quick-Click" any user without an ACCESS enabled smart device can still be authorized to open the system. Using button presses much like Morse code on the TFB, the user can perform an unlock sequence.
Every ACCESS Series is immediately programmed with 99 unique, one-time use "Quick-Click" codes at the time the particular ACCESS Series is initially setup. When a code is successfully entered, the system will perform an unlock sequence for that user, and then purge that "Quick-Click" code from its memory. The next time an ACCESS enabled smart device connects with the ACCESS device, the log will be sent to Sentinel and replacement codes are generated.
Also see "What is the TFB?"
How can the ACCESS be awakened? - Click Here
In order to wake the system, the operator would press the button on the front of the TFB. When the button is pressed, the ACCESS system immediately wakes.
Also see "What is the TFB?"
How is the ACCESS hardware powered? - Click Here
Primary Power:
While the ACCESS Series can literally be run from the emergency power port on the TFB, the system allows for a primary power input capability. The primary power input method accepts 9V all the way up to 24V DC, whether this is from a sealed lead acid (SLA) battery or a 110V AC power converter that outputs 12V DC.
Power Boost:
The output to the solenoids or motors will automatically be boosted to 12V for any input power less than 12V. For any input power greater than 12V, the ACCESS Series will pass through that extra power to the solenoids or motors. Need 24V to your solenoid? No problem with the ACCESS Series.
Hardline Power:
To connect the ACCESS Series to hardline power, purchase the optional power converter to take your 110V or 240V AC and turn it into either 12V or 24V DC power. If working with 48V DC, procure a 48V to 12V DC converter and connect it to the ACCESS System.
Emergency Power:
Should the primary power go "down," then the ACCESS Series also has an emergency secondary power input for a 9V battery.
What if the battery dies? - Click Here
If the battery dies with the lock in the locked position, there is a "Jump-Start" 9V battery terminals for emergency power operation available on the TFB. Connect a 9V to this TFB port and and it will power the lock so you can open the lock and change out the battery.
Also see "What is the TFB"?
Does the ACCESS Series offer sensor support? - Click Here
The ACCESS Series does offer the ability to connect in any standard type of sensor – from mechanical to magnetic switches. While ACCESS logs with the ACCESS System every time a user triggers an unlock sequence, the Sentinel system can also track the input from an independent sensor. For instance, tie a mechanical switch to the physical opening and closing of a door and ACCESS can monitor and report on that mechanical switch's trigger of "open" or "closed".
Does the ACCESS Series offer manual unlock button support? - Click Here
The ACCESS Series does offer support for manual unlocks. Easily connect a button that, when pressed, will immediately trigger an unlock event. This feature is useful when the ACCESS Series has been installed in an office or building environment and the user would like to be able to unlock the system from the inside without having to use their smart device.
Also see "What is the TFB?"
What capabilities does the ACCESS App offer?- Click Here
ACCESS's App eliminates the hassle of physical keys and combinations. Easily control access to locks via smartphone or devices supporting Bluetooth LE technology.
Have full visibility of all ACCESS locks for which the user has valid e-Keys.
Quickly unlock any ACCESS lock within the range of the Bluetooth service.
Uses PKI technology and 128-bit cryptographic key exchange for end-to-end security.
Unlimited number of locks can be viewed in the app.
Leverage the fingerprint touch capabilities of smartphones and force users to fingerprint identify themselves in order to open the lock.
What are the device, operating system, and web browser requirements for the - ACCESS Bluetooth Locking Unit? - Click Here
ACCESS is currently available in the Apple App Store and Google Play Android App Store. It works with any smartphone that supports "Bluetooth LE." For iPhones this means iOS7 or higher. Android type phones require 4.4 or higher.
How secure is ACCESS technology? - Click Here
The ACCESS Cloud-based Infrastructure relies on the same standards as modern Internet banking. You are protected with verified certificate authority utilizing TLS 1.2 standards for encryption and authentication. The ACCESS mobile-to-endpoint security is protected beyond the "Bluetooth" security protocols, and uses 128-bit encryption to ensure secure transmission of electronic eKeys. With ACCESS, you get the best in digital keyless lock security.
Is Wi-Fi or cellular service required? - Click Here
Absolutely not! That is the key difference between ACCESS and all of the other mainstream electronic locking systems in the market today. Whereas those systems will require Wi-Fi in order to offer you a comparable technology to ACCESS, we do not need nor require any sort of network. A smartphone, tablet or ACCESS key fob and your ACCESS lock is all you need.
Can I connect to my ACCESS locks if I am out of my carrier's service area and I have no WiFi? - Click Here
Yes. The app remembers the last user logged on to the app and also stores the eKeys for situations like this. If, however, you log out of the app then this capability will not be available for security reasons.
What if I don't have my phone or fob on me? - Click Here
ACCESS has a "Quick-Click" feature that allows you to open the lock without a smart device. When you initially set up the lock, you can set a "Quick-Click" code by creating a series of short and long clicks that will allow you to open up the lock.
Are there levels of access I can assign for different people? - Click Here
Yes. The Administrator can give customized levels of access with the Enterprise Grade system. Group your IT department, warehouse workers, independent contractors, etc. in a way that works for you so you maintain the maximum level of security where it's needed.
Is there a limit to how many eKeys and/or users the customer can manage? - Click Here
No. Manage an unlimited number of eKeys and users with ACCESS.
Can I customize schedules for individuals as well as for groups? - Click Here
Yes. The Administrator can set specific access times and dates as well as create groups that share common schedules.
What type of reporting is available with ACCESS?- Click Here
ACCESS's app provides you with real-time activity tracking so you can view all of your ACCESS locks, eKey assignments and activity logs with GPS location tracking each time lock is accessed. With ACCESS's Enterprise Grade Security system, you have access to ACCESS's Sentinel cloud-based portal for greater customization, in-depth reporting, and access management.
How will ACCESS technology impact my network? - Click Here
Not at all. The PAC-BLU technology is completely independent of your corporate networks. There is no need to reserve IP addresses, to create DNS mappings, or to build out network infrastructure to leverage the greatness of PAC-BLU. Install your PAC-BLU unit, load the app, configure your access, and you're done!
Can I use ACCESS locks with my existing access control system? - Click Here
Yes, our ACCESS SDK and API allow you to integrate with your existing system for complete customization.
How do I get my team involved? - Click Here
This is really up to the company. Access control and auditing capabilities are all controlled/managed from within the Sentinel online program. Whether the company administrator creates managers and/or operators to delegate some administrative tasks is up to them. Call Lock Surgeon for any other questions you may have.
---
Mobile Bluetooth Door Access Control South
Edmonton and area.
Southeast Edmonton, Southwest Edmonton, Millwoods, Terwillegar, Jasper Place,
Claireview, Bonnie Doon, Strathcona, Glastonbury, Eaux Claires, Balwin, Pembina,
Beverly, Ottwell, Pleasantview, Summerside, Windermere and others.
Also providing mobile service to surrounding South Edmonton:
Strathcona County, Leduc County
---
Lock Surgeon Bluetooth Door Access Control South
Edmonton Service Centre Shops
Lock Surgeon Bluetooth Door Access Control store South Edmonton - 5738 75 St NW,
Southeast Edmonton, Alberta, T6E2W6
Lock Surgeon Shop can be found: South of Argyll Rd and 82nd ave. North of Whitemud Freeway,
west of 17th st. and east of Gateway BLVD. Lock Surgeon shop is easy to find as it is located on the
west side of 75 street @ 5738 75 St NW, Southeast Edmonton, AB, T6E2W6. Lock Surgeon shop has
a giant padlock balloon on top of the building and is located within the McIntyre Centre.
5738 75 Street NW, Edmonton, Alberta, T6E2W6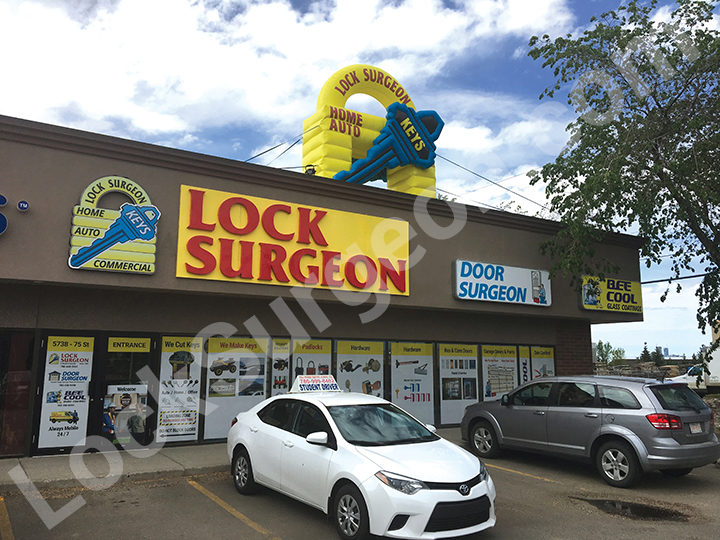 5738 75 Street NW, Edmonton, Alberta, T6E2W6
---
Click the link to find a location or service provider nearest you:
---
A World of Security™
Home of the Giant Padlock!
---