Lock Surgeon Access Control Bluetooth Technology For Door Access Control.
The first all-in-one keyless Bluetooth system
Built from the ground up offering enterprise grade security throughout your entire business. It operates without needing network infrastructure upgrades (cabling, Wi-Fi, routers, switches, etc.).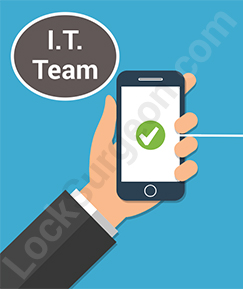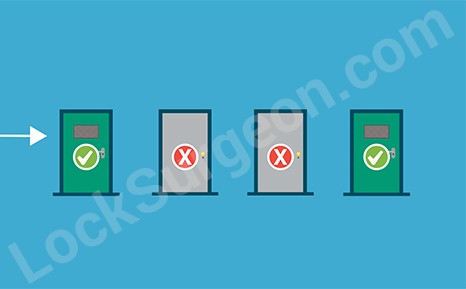 ---
---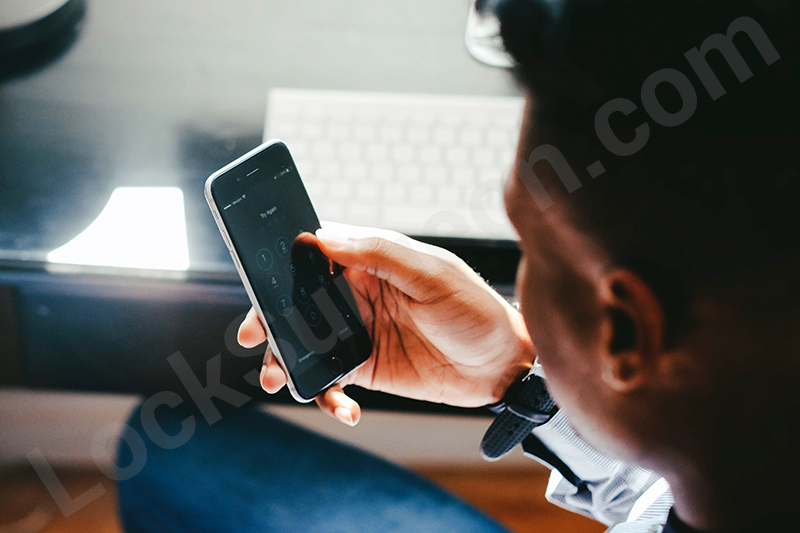 ---
Enterprise Keyless Security:
Wireless, cloud-based digital key access control for every type of door, drawer and cabinet. Use your phone or a FOB. Unlimited users and unlimited doors. Revolutionary access control for condo and apartment buildings, businesses, gyms, storage facilities, property management, utility companies, municipalities, cellular communications, oil and gas industry and more.
Control every aspect of someone's access from virtually anywhere. With the easy to use dashboard you can give access to specific doors on specified day of the week and times of the day and for specific time periods.
Eg. Doug smith CFO
- Monday to Thursday 7am to 6pm
- Friday 1pm to 5pm
- Saturday 6am to 1pm
- Sunday no access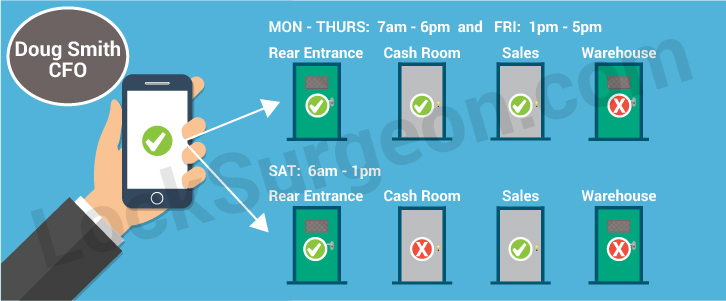 Or If you have your IT company coming in after hours.
- Server room and front door Thursday February 7/2021 7pm to 10pm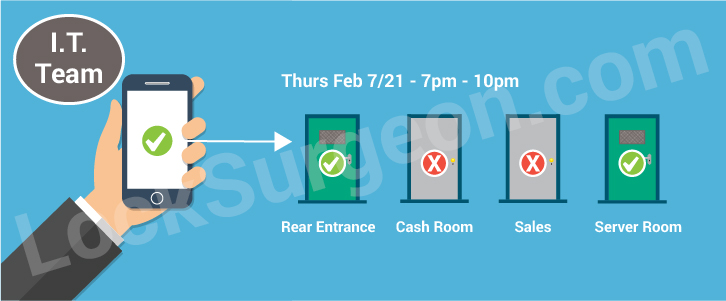 Or cleaners
- Back door - Wednesday 5pm to 10pm & Sunday 8am to 11am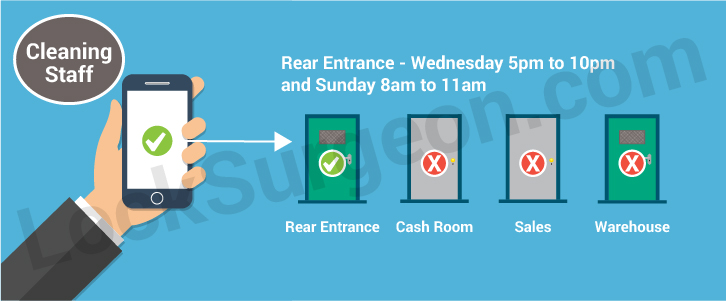 Add or delete users in under 2 minutes from almost anywhere. Or need to add a new staff member, let in a trades person or add a tenant. You can do that from 20 feet away or 20,000 miles away. Controlling access to your facilities has never been so easy and secure.
---
Audit trail
Easy to use dashboard gives you real time unlimited audit trail so you know who went where and when.
Forever upgraded
Security is constantly evolving. Updating basic stand alone access control systems is expensive, inefficient, and most importantly, can compromise security – our solution is constantly being improved to deliver new features and functionality that is seamlessly pushed to the cloud and updates your end without any effort on your end. Keeping access control easy for you is our main focus. Retrofits are compatible with doors of all types, gates, safes, lockers, etc.
Security:
The system uses state-of-the-art data encryption and cloud-based security.
Wireless Key FOB Option:
Tenants that don't have or want to use a smart phone can use small fobs that utilizes Bluetooth with a digital key that opens gates, doors and locks without a smart phone – provides a non-smart phone option.
Using Bluetooth technology to control access, high security and trackability. Using smartphones or FOBs to run opening controllers and padlocks. Controllers are stand-alone units that are mounted right next to each door or opening that they are controlling. Controllers communicate directly through a Bluetooth connection with a server eliminating the need for costly wiring upgrades and servers. ACCESS's Sentinel software gives customers the ability to manage and audit access control in real time.
Bluetooth Smart (4.0) enabled. Works with Bluetooth enabled iPhone 4S or newer and Android 4.4 or higher
No key or combination required – download the app to your Bluetooth smartphone or tablet. Also works with FOBs
Easy and secure sharing with unlimited number of users and eKeys
Enterprise grade security with Sentinel server
View who, when and where lock was accessed
---
Intelligent Controllers
Manage all of your doors using the powerful, versatile, and cost-effective line of ACCESS Series controllers.
Electromechanical Locks
Electro-magnetic Locks
Door Strikes
Drop Bolts
Servo Motors
DC Motors
---
Independent Primary Power
Independent primary power input accepts 6V-24V DC from either battery or hard-line power.
Independent Secondary Power
Independent secondary power input also accepts 6V-24V DC for primary power outage situations.
Built-in Voltage Booster
Built-in voltage booster bumps incoming power up to 12V and can also pass higher voltage (up to 24V) straight through.
Sensor Support
Sensor support of mechanical or magnetic switches allow for monitoring and reporting of door activity through Sentinel.
Quick-Click
Quick-Click feature opens lock without phone or FOB.
Manual unlock button
Manual unlock button triggers an immediate unlock event.
Compatible with compact TFB
Compatible with compact TFB (Tri-Function Box) with wake and patented Quick-Click button which opens lock without phone or FOB. LED visual feedback and emergency 9V battery terminals.
---
Security, Compliance and Privacy
ACCESS customers operate in nearly every industry and region across the world, including highly regulated industries such as utilities and government applications. The privacy and safety of our customers is our top priority, so we ensure our products and services contain the highest level of security.
Bluetooth smart encryption technology
The ACCESS system has passed rigorous third-party testing.
Cryptographic Key Protocol
Keys are assigned based on permission levels and used to encrypt all communication to and from the lock.
Cloud-based Key Transfer
Keys are stored on secure servers to prevent compromising sensitive data.
End to End Encryption
Double-secured transmissions using end-to-end 128-bit AES encryption.
Custom Security Layer
Additional custom-built encryption protocol prevents Bluetooth replay attacks.
---
Enterprise Management Web Portal
Conveniently manage large numbers of ACCESS locks and users with our cloud-based Sentinel web portal.
With advanced capabilities to easily modify access schedules, grant access, and revoke access for a group of users, the portal bypasses the need to scroll through lists of users to make quick changes.
Sentinel also powerfully links access with accountability. It enables monitoring of your locks' access history, ensuring users are held in compliance with your enterprise policies for authorized access.
Manage an unlimited number of locks and users
Geographically shows GPS locations for your locks
Maintains both access and system logs
"eKey Groups" simplifies the organization of your eKeys
Automatically controls the generation of "Quick-Click" keys for each lock
Control individual lock setting on a per lock basis
Every enterprise client guaranteed a cloud server fully dedicated only to them
---
Smart Phone App Configurable
Operate and manage all of your ACCESS smart locks and intelligent controllers using the ACCESS app. The ACCESS app is used to operate and manage Bluetooth LE enabled ACCESS smart locks, eliminating the hassle of keys and combinations forever. Purposefully designed to be the simplest electronic device you own, ACCESS products automatically find and connect to your Bluetooth LE enabled smart phone. You don't even need to remove your phone from your pocket or purse for quick and easy access to the things that matter most.
Easily control access to ACCESS locks via smartphones or devices supporting Bluetooth LE technology
Have full visibility of all ACCESS locks for which the user has valid "eKeys"
Quickly unlock any ACCESS device within range of the Bluetooth service
Create nicknames for your ACCESS locks
Uses PKI technology and cryptographic key exchange protocol for end-to-end security
Available for iPhone and Android
Manage individual end-point type and function from within the app
---
Solenoids or Electromagnetic Locks
Relock based on a timer or sensor
Set the amount of time to relock or unlock
Change between a default state fail secure or fail safe
Servo or DC Motors
Relock based on a timer or sensor
Set the motor run time
Change the amount of time to relock
Switch motor direction
Set motor voltage
Set lock and unlock position
---
TFB Tri-Function Box
A necessary compliment to your ACCESS Series intelligent controllers.The TFB (Tri-Function Box) was specifically designed to support many of the important benefits of the ACCESS system. When combined with an ACCESS Series intelligent controller, the TFB allows you to fully leverage the system's special features.
The button also serves as the interface for any emergency access or non-smartphone access. By pushing the button in a morse-code style, the ACCESS system will unlock when a proper code has been entered. ACCESS stores 99 unique, one-time use codes for use as the "Quick-Click" feature. The button also has a tri-color feedback LED system built in that offers visual cues to the user during the operation of the system.
9V Emergency power access ports are located at the bottom of the TFB. These weatherproof terminals can be used to connect a standard 9V battery should the hard-line or internal battery power of the ACCESS system fail. The 9V battery has sufficient power to not only operate the CPU, but also power the connected endpoint to unlock. Once unlocked, the user can enter the locked area and correct the failed power situation. One TFB can be connected to multiple ACCESS Series products.
---
Access Series Endpoints
A necessary compliment to your ACCESS Series intelligent controllers. Because the ACCESS Series intelligent controllers work with such a wide variety of electro-mechanical locks, it would be difficult to list them all. From cabinet door locks to server cabinet door locks to glass door locks, the ACCESS Series can control them all.
The ACCESS Series works with 12VDC controlled locks that draw up to 3A of current during operation. The ACCESS Series can work either as Fail-Open (FO) or Fail-Close (FC) simply by a switch of parameters in the Sentinel enterprise management system.
Glass Door Locks
Swing Locks
Solenoids
Drop Bolts
Cabinet Door Locks
---
API Connection
ACCESS API allows you to integrate the Sentinel enterprise management system into your web and mobile apps. Using the provided endpoints you'll be able to manage users, locks, and access groups. You'll also be able to request access from mobile apps and unlock ACCESS locks. Each endpoint is documented and all responses are JSON formatted.
---
WARRANTY
Sometimes Things Happen
No one likes it when things go wrong, no one more than us, but if it does check out our Warranty
---
A World of Security™
Home of the Giant Padlock!
---