Lock Surgeon Car, Truck, Chip and Transponder Keys Cut, Copied, Programmed & Made, Vehicle Remotes
Car & Truck Remotes, Chip Keys and Transponder Key Programming
Need your automotive remote, chip key, keyless entry remote, proximity key, transponder key, fob or high security automotive key programmed and cut? Lock Surgeon's key duplicating counter has all the diagnostic tools for programming chip keys, vehicle remotes and high security automotive keys. Plus a team of trained locksmiths to perform the work.
Want to buy the key and program it yourself? We can help you with that also!
If you have lost your chip key, transponder key, vehicle keys, keyless entry remote, fob, vehicle remote, high security automotive key or proximity key, and have nothing to start your car or truck, Lock Surgeon's team locksmiths can code cut a key to your car or truck, erase the old keys and program in the new keys. With over 30 years of locksmith knowledge, school and post secondary training, Lock Surgeon's locksmiths will be able to help you.
---
Click the link to find a location nearest you:
---
Push for Map Directions
Visit Lock Surgeon's Locksmith store to find the key that will match your car or truck's security chip technology and/or laser cut sidewinder keys
Car &amp Truck Automotive Chip Keys & Vehicle Remotes
Lock Surgeon is the leader in high security automotive keys and remotes. Lock Surgeon's key cutting service centres have a full selection of chip keys, remotes, transponder keys, proximity keys and keyless entry fobs to have your keys copied or made. Lock Surgeon's certified locksmiths can do on site programming and key cutting.
Key brands we stock are Acura, Buick, Cadillac, Chevrolet, Chrysler, Daewoo, Dodge, Eagle, Ford, GMC, Honda, Hyundai, Infiniti, Jeep, Kia, Lexus, Lincoln, Mazda, Mercury, Mitsubishi, Nissan, Oldsmobile, Plymouth, Pontiac, Saturn, Scion, Subaru, Toyota.
---
Follow These links for Related Pages.
---
Shop Locksmith Service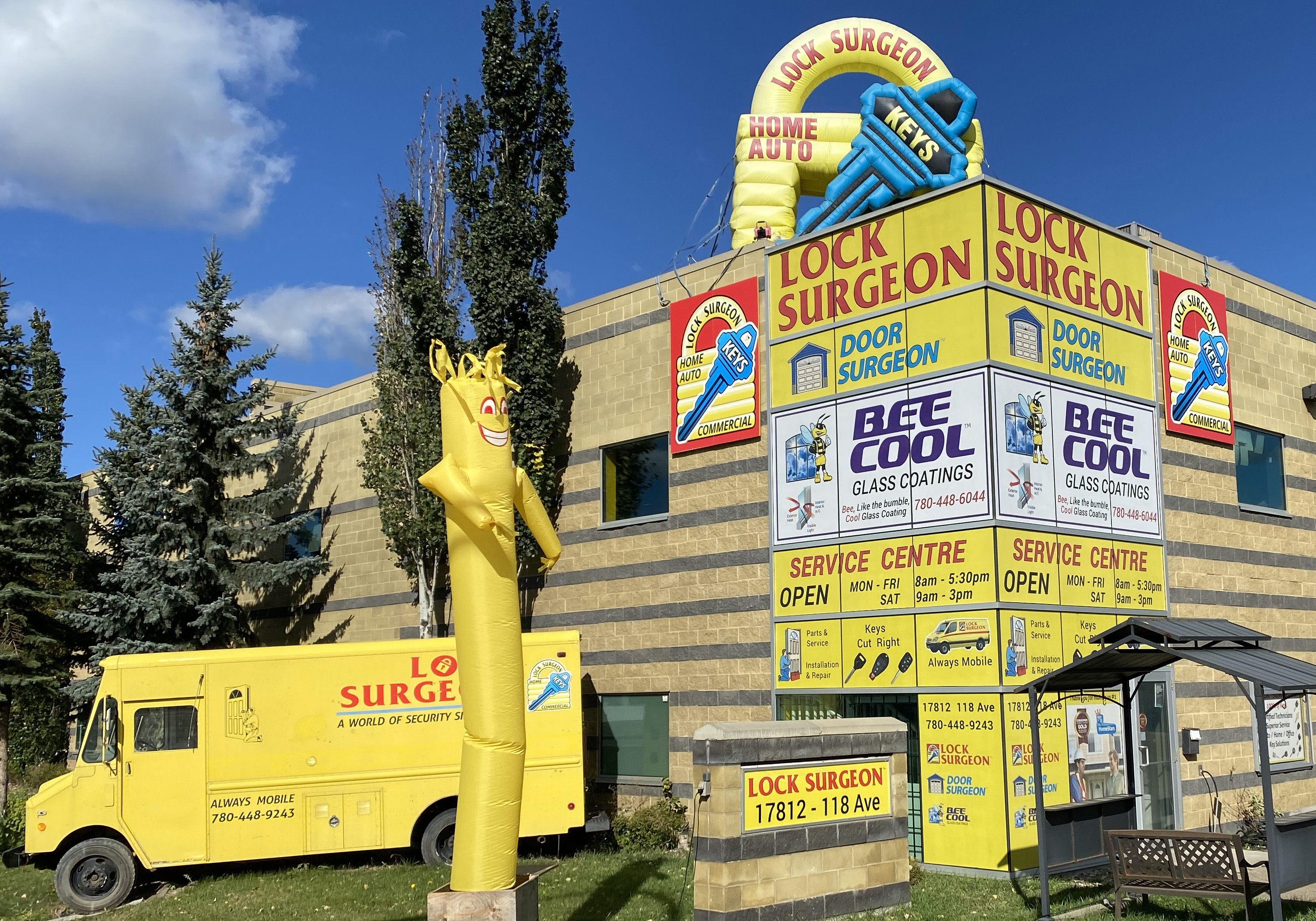 For most people, locksmith services are not fun or convenient. So we want to make the process as easy and enjoyable as possible for you. We genuinely care about you and your experience, and it shows. Consumer Choice award winners since 2002.
To serve you better, Lock Surgeon provides mobile locksmiths to make keys to vehicle services and our shop is open Monday to Saturday, so you can come into our shop and have a chip key or remote added to your vehicle.
Lock Surgeon is committed to providing you with the highest level of service, so you'll always choose us for your maintenance and repair needs. Since 1989, we have successfully raised the standards of quality, value and dependability in our industry. Today, with the same promise of individual attention and great value for all our customers, we remain committed to offering products and services that raise those standards even higher. A prime example of this is that Lock Surgeon provides fresh batteries in all the automotive chip keys, remotes, transponder keys, keyless entry fobs and proximity remotes.
Our first time customers continually become our long term customers time and time again, choosing us for all their security and locksmith needs. Our customers also refer us to their friends, family and co-workers as a trusted and reliable locksmith resource
To see the options for your vehicle,
---
Laser Key Cutting, Chip Key Programming & Sidewinder Key Cutting - 3 min video
Car and Truck Keys, Sidewinder and Laser Key Cutting, Key Programming
---
Fobic Keys, Remote Key Heads & Switchblade Key Fobs
In Shop Sales and Service Car and Truck Key Programming and Key Cutting
---
A World of Security™
Home of the Giant Padlock!
---