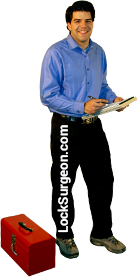 Lock Surgeon Locksmith Service & Door Repair Spruce Grove Mobile
Same Day Emergency Service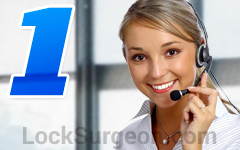 Our friendly, knowledgable dispatcher will book your locksmith appointment.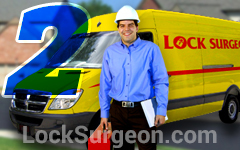 Your locksmith arrives, delivering timely service with commonly used stock product.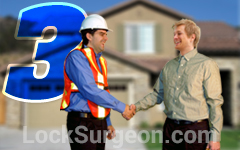 Professional locksmith installations and tested tough hardware.
Locksmith Service in Spruce Grove
Lock Surgeon's Philosophy
Since 1989, Lock Surgeon has successfully raised the standards of quality, value, and dependability in Lock Surgeon's industry. Today, with the same promise of individual attention and great value for all Lock Surgeon customers & clients, Lock Surgeon remains committed to offering products and services that raise those standards even higher.
Home or business, it's all part of Lock Surgeon superior service
For new locks in Spruce Grove, or lock repair in Fort Saskatechwan, it's got to be Lock Surgeon. Lock Surgeon provides door hardware such as door handles, deadbolts, door closers, panic bars, security keys, doors, safes, electric strikes, access control, hinges, pivots and security hardware.
Since 1989 Lock Surgeon has provided locksmith services in Spruce Grove and for residential and commercial clients. If you're looking for keys, master keys or security keys, then Lock Surgeon has the answer to your home office or automotive key needs.
Lock Surgeon licensed locksmith mobile service technicians provide on-site service such as key cutting, lock rekeys, master key systems, security key systems, automotive open ups, home open ups, door repair and door reinforcement and a variety of home and commercial door hardware repair and replacement.
For problems that just can't wait, Lock Surgeon offers same day emergency service so that your lock or door is secured in no time. Lock Surgeon services Spruce Grove and area. It's time to get Lock Surgeon working for you.
---
Locksmith shop west Edmonton 17812 118 Ave
Locksmith shop south Edmonton 5738 75 Street
Locksmith shop Calgary 2020 32 Ave NE
---
Emergency Locksmith & Door Repair
Emergencies happen, Lock Surgeon has the mobile locksmiths to help you when these situations arise. Lock Surgeon's Spruce Grove locksmiths are always on call and available to help. If its weekend or evening locksmith service you need Lock Surgeon's dispatch centre will take your call and dispatch a locksmith to your home or business.
Residential and Commercial Locksmith Spruce Grove
If it's door or door hardware, it's got to be Lock Surgeon's residential and commercial locksmith service. Residential handles and deadbolts, lock rekey, and door hardware repair all done often the same day. Commercial locks, handles and keys, Lock Surgeon does that. Commercial door closer, hinge, pivot and panic bars, Lock Surgeon does that too. Lock Surgeon's team of Spruce Grove locksmiths can even repair door, re-secure doors and reinforce doors. Lock Surgeon delivers professional, same day, emergency locksmith and door repair service to homes and business in Spruce Grove.
Mobile Locksmith Spruce Grove
Always Mobile - Lock Surgeon provides on-site service to homes and businesses throughout the Spruce Grove area. Lock Surgeon's mobile locksmith technicians can be at your Spruce Grove residential or commercial site fast and with an extensive stock of products to solve your lock and key needs. Yes, mobile key cutting, yes, mobile automotive open ups and home or business open ups. We will have your Spruce Grove business or home unlocked in minutes. Lock Surgeon's on-site Spruce Grove door repair service also offers door reinforcement, door repair and lock repair by Lock Surgeon's mobile Spruce Grove locksmiths.
Lock Rekey Spruce Grove
Time to get your locks rekeyed or master keyed? Then it's time to call Lock Surgeon. If you need your current Spruce Grove locks rekeyed or new locks keyed to match your existing key, Lock Surgeon's mobile locksmith lock rekey service in Spruce Grove has the tools and parts to make your project a success. Call Lock Surgeon today for the best handle and deadbolt locks, plus lock rekey service Spruce Grove has to offer.
Door Repair Spruce Grove
If it's door repair, door security or door hardware, it's got to be Lock Surgeon's team of Spruce Grove door repair experts. Lock Surgeon's Spruce Grove locksmiths are also trained to repair or replace doors for homes and business. Glass aluminum doors, steel doors and wood door repair and replacement are all part of Lock Surgeon's door repair service line up. Need door hardware as well, not a problem as Lock Surgeon's Spruce Grove mobile locksmith trucks carry a large variety of handles, deadbolts, panic bars, security bars, door closers and door hinges. Door repair or door replacement is all part of what Lock Surgeon does.
Lock Repair Spruce Grove
Need locks repaired in Spruce Grove? Lock Surgeon is ready to help. You can remove your own lock and bring it to Lock Surgeon's showroom / locksmith shop to have your lock repaired. Or one of Lock Surgeon's full trained mobile locksmiths can come to your home or business and repair your lock. Need a door handle or deadbolt repaired or replaced in Spruce Grove and area? Lock Surgeon is your #1 mobile locksmith provider.
Door Handles Spruce Grove
New door handles are just a phone call away. Lock Surgeon has the largest selection of residential and commercial door handles in Spruce Grove, Alberta. Most come in many different finishes, such as brass, stainless steel, nickel, oil rubbed bronze and more. You can have it professionally installed by one of Lock Surgeon's fast, mobile Spruce Grove locksmith or purchase one at Lock Surgeon's locksmith shop and install it yourself. If your door handle is giving you problems and you're not sure if it is broken or just needs to be repaired. Have one of Lock Surgeon's locksmiths come take a look. If it can not be repaired, Lock Surgeon will most often have the correct replacement handle on their service trucks.
Deadbolt Spruce Grove
Lock Surgeon's team of Spruce Grove locksmiths have the deadbolts to keep your home or business safe. Security deadbolts with key control, not a problem. Brass, stainless steel, nickel and oil rubbed bronze deadbolts, Lock Surgeon has that. Deadbolt repair or replacement, just ask, Lock Surgeon can help. Deadbolts installed by Lock Surgeon's Locksmiths increase security and help to keep your Spruce Grove home safe.
Open Up Spruce Grove
Fast car open ups, truck open ups, house or business open ups, are what Lock Surgeon does. Spruce Grove mobile locksmith service ready to open up file cabinets, desk locks and vehicles. Lock open up in Spruce Grove done fast by Lock Surgeon's team of Spruce Grove locksmiths means you're in your vehicle or home quickly.
Unlock Spruce Grove
Fast unlock service in Spruce Grove and area. If it's your home or business, Lock Surgeon can unlock it by picking the lock open and have you inside quickly. For car and trucks to be unlocked Lock Surgeon has the correct auto unlock tools so there is little risk of damage to your vehicle. For all your home, business and automotive unlock needs, call Lock Surgeon's team of fast Spruce Grove locksmith.
Make Keys Spruce Grove
Lock Surgeon's locksmith team has the tools to make keys to almost every lock in Spruce Grove. Lock Surgeon can make keys to car, truck, homes or businesses. Lost the keys to your file cabinet, mail box, camlock or desk? Lock Surgeon can make keys to them also. Lock Surgeon can even make a key to handles and deadbolts. Lock Surgeon's Spruce Grove locksmith team can make keys to a large variety of locks.
Window Bars Spruce Grove
Window bars in Spruce Grove are just another one of the many products Lock Surgeon has to offer. Lock Surgeon's team of locksmiths can advise you on the types and styles of window bars available. From steel window bars, expandable window bars and designer window bars, Lock Surgeon is sure to have the window bars or expandable window grills in Spruce Grove to meet your needs. Designer window bars come in white, brown, silver and are made from aluminum. For storefront window bars or basement window bars Lock Surgeon's locksmith sales, service and parts shop will have what you need.
Weather Stripping Spruce Grove
Weatherstrip to meet the severe weather conditions of Spruce Grove. Spruce Grove's weatherstrip needs are unique. Lock Surgeon has a variety of house door weatherstrip and steel door weatherstrip. For more information on weatherstripping in Spruce Grove just ask one of your door hardware experts what the right weatherstripping solution is for your Spruce Grove home or business.
Break-in Repair Spruce Grove
A break-in event can be devastating. Lock Surgeon's team of locksmiths throughout Spruce Grove and Alberta are trained in break-in repair and door frame repair. Lock Surgeon also stocks parts on their service trucks to reinforce your door and frame. If your door or frame is too damaged from the break in and cannot be repaired, Lock Surgeon's Spruce Grove locksmith will secure your entrance and order you a new door and frame.
Door Closer Repair Spruce Grove
Door closer repair in Spruce Grove is another area that Lock Surgeon's team excels in. Spruce Grove door closers are subjected to wind damage, high and low temperature fluctuations and of course use. A properly installed and adjusted door closer will give you years of use. Lock Surgeon's door closer selections are based on the Spruce Grove environment. The door closers Lock Surgeon's stock and install have features that allow for consistent operation. Just ask and Lock Surgeon's door service technician can match your needs with the door closer that will give you the best results.
What is a Locksmith?
Locksmiths fix, repair and make keys to locks, rekey locks, doors, hinges, electronic locks, open up and unlock vehicles, unlock and open up homes and businesses. They also repair door closer, panic bars and install new doors and weatherstripping. For more information on the locksmith trade, click this link.
---
WARRANTY
Sometimes Things Happen
No one likes it when things go wrong, no one more than us, but if it does check out our Warranty
---
Lock Surgeon Follows the A.L.O.A. Code of Ethics:
That the dignity of our chosen profession may be perpetuated, it is the duty of all members of the ALOA;
To practice their profession in the spirit of fairness to their clients, with fidelity to security in conformance with appropriatness, and with high ideals of personal honor;
To properly and impartially analyze security problems, and to advance the best possible solution for the protection of their clients.
To conduct themseles in a dignified manner;
To abide by applicable licensing and business regulations;
To abstain from using improper or questionable methods of soliciting patronage, and to decline to accept such incompatible patronage;
To refrain from associating themselves with or allowing the use of their names by any enterprise of questionable character, or in any manner countenancing misrepresentation;
To cooperate in advancing the best interest of the locksmithing industry by interchange of general information and experience with fellow locksmiths.
To encourage and promote loyalty to the profession, always ready to apply their special knowledge, skill and training for the use and betterment of our industry.
All members of the A.L.O.A. by acceptance therin, shall be deemed to have subscribed to this code of ethics.
---
Lock Surgeon looks forward to helping you with your future needs.
Always mobile - Same day emergency service
20 service trucks stocked with a variety of products, tools and equipment
All mobile technicians have Police Security Clearance
Work-site liability insurance
Members of the Alberta Association for Safety Partnerships
On-site mobile payment system
Account billing OAC
Trusted name operating in Alberta since 1989
Largest group of product and service providers
Award winning service - Consumers' Choice Award for business excellence 2002 through 2019
Extensive service area throughout.
---
Spruce Grove
Spruce Grove is located 33km south of Edmonton. The oil and gas industry has long been the base of Spruce Grove's economy. The Spruce Grove Business Park, which is located in the northern portion of the city, contains more than 1,400 businesses. The population of the City of Spruce Grove according to its 2014 municipal census is 28,583. In the 2011 Census, the City of Spruce Grove had a population of 24,279 living in 9,290 of its 9,789 total residential dwellings. In fall 2009, Spruce Grove received a 309,000 square foot recreation centre. It includes 3 NHL sized arenas, an aquatic centre and a curling rink.
Lock Surgeon Serving Spruce Grove Mobile Parts & Services
Important Locations:
- City of Spruce Grove Civic Centre
- City of Spruce Grove Fire Services
---
Spruce Grove's Junior Hockey Team - LA Riggers.
From the Spruce Groveriggers.ca webpage:
This season marks the 42 year of Riggers Hockey in the City of Spruce Grove. The Riggers were originated to provide a level of hockey for boys graduating from Midget Hockey. Juvenile hockey was instituted as the bridge but, Jr. B has been embraced by the area and the Riggers.
The Riggers have been League Champions 5 times and twice, in 1981 and 1992, were named provincial champions. In 1979 the Spruce Grove Riggers were the Alberta representatives to the Canada Winter Games. They achieved this opportunity by winning an eight team tournament that featured the top two teams from each league in Alberta as of December 15th. Despite starting the tournament with two wins including a 10-4 shellacking of the host Ontario team, the Spruce Grove squad ended up in sixth place at the end of the Games.
Notable members of the Spruce Grove Riggers of years past have been:
Ray Turchansky - Edmonton Journal
Jason Gregor - Team 1260 Host
Dan Marouelli - Former NHL Referee
Ken Brown - Former Edmonton Oil King and Edmonton Oiler
---
Lock Surgeon mobile locksmith repair and service. In-store locksmith sales and service centres.
For solutions in security hardware, deadbolts, handles, reinforcements.
First in Lock Technology, card access, time locks, door controls, security keys, master key systems.
Home, Business, Auto open-ups, make keys, rekeys, lock repair.
You've found the key, for cars, trucks, tool boxes, file cabinets, chip keys, security keys, spare keys.
Lock Surgeon Mobile service area throughout Alberta.
That's why you call for mobile service at your home or business.
Lock Surgeon's got it all: Locks for trailers, trucks, motorbikes, boats, sheds, gates.
Lock Surgeon Always mobile or visit one of Lock Surgeon's sales and service centres.
A world of security Alarms, cameras, motion sensors, door repair and door security.
Lock Surgeon Locks, keys, safes, padlocks, sales and service.