Lock Surgeon Access & Key Control Stony Plain
Access Control in a variety of options for apartment doors, condominium doors, office doors and commercial doors in Stony Plain.
A variety of doors in Stony Plain can be fitted with devices that will control access. This can range from card-swipe access to FOB access, Push-button access, keyed switch access and digital access. Often doors require modifications and Lock Surgeon's Stony Plain installation team can modify the door to accept the appropriate access controller device. Lock Surgeon can provide access control consultation so that you get the latest product offering that will give you the most secure access monitoring device.
---
Easy to use mobile phone app lets you control a variety of Stony Plain doors in business, office or warehouse applications
New access control technology can be supplied and installed at your office, warehouse or home. Lock Surgeon's access control system can be used to interface with a variety of hardware components such as: electric strikes, mag-locks and automatic door openers. The IT team at Lock Surgeon can meet with you to determine the best path to follow. Click on the link above photo to go directly to our Bluetooth Access Control details page.
---
Keyless Push-button Entry Stony Plain
Stony Plain Easy to use push-button entry, suitable for home, office and commercial applications.
Lock Surgeon has a variety of locksmith grade push button keyless entry systems that can be installed by one of Lock Surgeon's Stony Plain expert mobile service technicians or purchased at one of our service counters. These units can be used to allow for quick and easy access. The Kaba Unican brand is built to last, requires no batteries, is made of steel to withstand physical attack.
---
Security Keys that provide key control Stony Plain
Stony Plain High security key systems such as Mul-t-lock, Medico and Peaks Kaba
Lock Surgeon's Stony Plain mobile service technicians can visit your site and consult with you about which security key system will best meet your key control and access control needs. These are quality key systems, some of which cannot be picked, bumped or drilled. Typically only the registered system owner can purchase keys thus controlling the use among staff, tenants or friends.
---
Stony Plain Access Control switches and operators
Switches, automatic door openers, control boxes and time-locks Stony Plain
Lock Surgeon's mobile access control system installers can mix and match the components that will meet your needs. You can choose from card-swipes, access FOB's, simple push-button entry or old school keyed entry to control things such as front entry doors with electric strikes, handicap access doors and even garage doors for parkade units.
---
Follow these links for related pages
---
Paul
Paul, seen here standing in front of a Lock Surgeon service vehicle has worked for Lock Surgeon for over 8yrs. Paul is a locksmith that is currently enrolled in the locksmith apprenticeship program. This year Paul will complete his final year and become a journeyman locksmith. His years of experience in a variety of jobs relating to door access key controls give him a solid foundation of experience to apply to all of his jobs. Paul works with a team of other door access key control experts and works under the supervision of a journeyman locksmith. Lock Surgeon is proud to have Paul work with us and is excited about Paul's continued growth in the Locksmith service industry.
---
Lock Surgeon Mobile Access Key Control Systems Serving Stony Plain
Mobile Access Key Control Systems Services Stony Plain
---
Lock Surgeon Store
Edmonton
Locksmith shop Edmonton 17812 118 Ave NW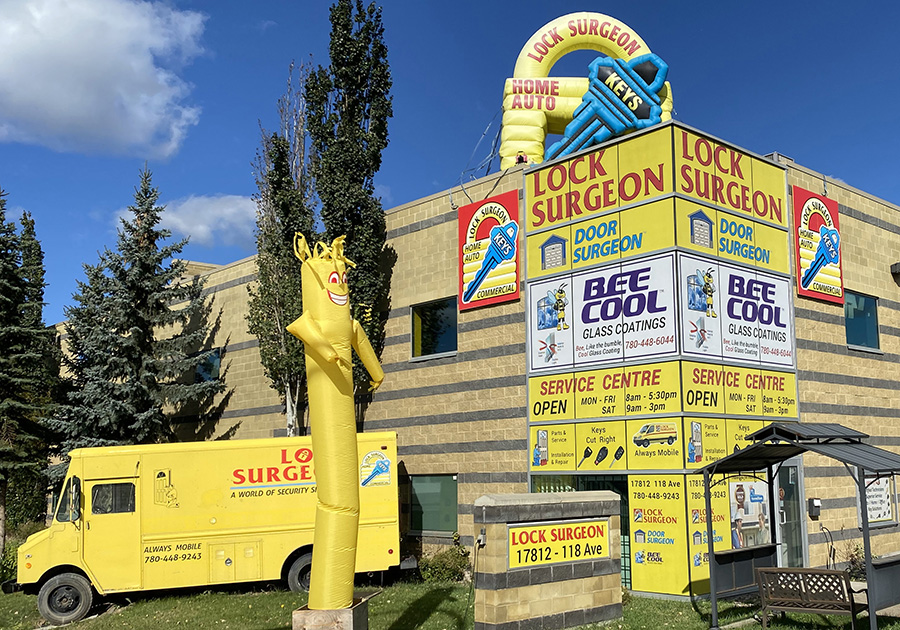 Servicing Edmonton and area.
---
Or Click the link to find a location or service provider nearest you:
---
A World of Security™
Home of the Giant Padlock!
---