Lock Surgeon Residential Alarms St. Albert
Home Residential Alarms and Security
Lock Surgeon takes home security serious by implementing the lastest forms of technology while maintaining the local customer care and service that people love. We are located in St. Albert and throughout Alberta. Incorporating security into your life should be easy. Thats why our residential alarms work conveniently, incorporate home automation and can manage home energy consumption.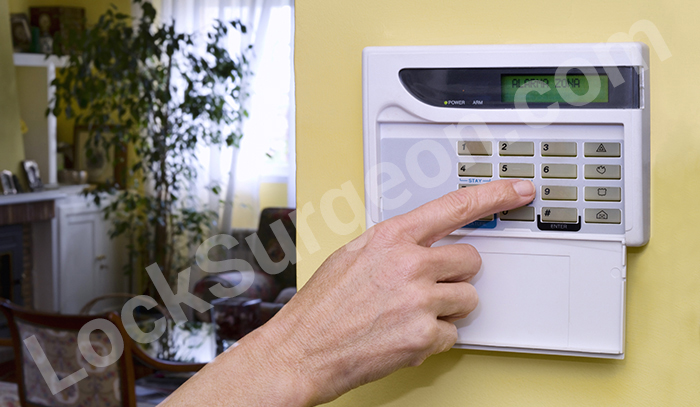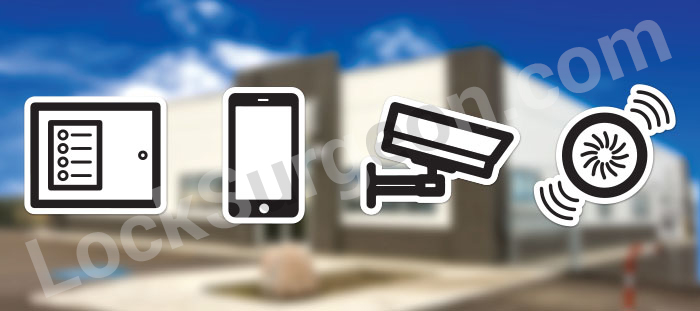 ---
St. Albert Customized Alarms to Work with Smart Phone, Tablets, Computers
Everything is evolving at a rapid pace thanks to all the new advancements in the tech industry. Our phones are continually upgrading and improving. So why shouldn't your home be just as advanced? We think it should and that is why our home security systems include home automation and monitoring. Lock and unlock your doors, turn on the lights, adjust the temperature in your home, see who is at your door, and two way talk to them, arm and disarm your alarm all from your cell phone or mobile device. Best of all, easily monitor and control it all 24/7 from your cell phone, tablet, computer and have the option of central station monitoring. It is time to take control of your home and its security with our smart technology.
Home Security by Lock Surgeon
At Lock Surgeon, we recognize that the security needs of every home and business owner are unique. Whether the solution you require is small, large or somehwere in the middle, our security consultants will assist you in designing a customized home security system. We also offer home security packages that include physical security hardware and a home alarm system that best compliments your home. With a broad base of specialization, we approach each opportunity with with the ability to incorporate a wide variety of systems to ensure the delivery of a relevant and effective solution.
Lock Surgeon offers locksmith, garage door, residential and commercial doors and frames, glass replacement, door repair, automatic doors, safe service and sales commercial security alarms, house alarms, camera systems, access control, smart locks, energy auditing, Life and Personal Safety, home automation, and personalized service that is unparalleled in the security industry. With the introduction of Interactive Security, we can keep you protected and connected like never before. Arm or Disarm your home security system or commercial security system from anywhere with a smartphone, get notifications when your home alarm is armed or disarmed or log in to delete a user code instantly. We look forward to helping you keep your family safe and connected 24/7.
It all starts with the smart alarm panel
The award winning smart alarm Panel has a 7" HD touchscreen, can control your lights, locks, thermostat, power sockets, and other brands of z-wave devices. All updates are free so as new options and technology comes out you can take advantage of it. Built-in 5MP camera, glass break sensor, siren and built in 24 hour battery backup. Plus multiple wireless radios including LTE, Wi-Fi, Z-Wave Plus, BLE and the new secure 319.5 radio. Leveraging the power of Android 5 and the QualComm Snapdragon SOC (system on a chip). It also includes a built-in router, custom text-to-speech, and a clean, elegant, modern user interface. The Smart alarm Panel keeps you connected to and entire ecosystem of smart devices giving you control over your entire home. Best of all you can upload picture to the alarm panel and the screen turns into a rotating picture frame. This alarm panel from Lock Surgeon has it all.
Door and Window Sensors
Ultra compact encrypted sensor that securely connects to the alarm Panel. It uses proprietary S-Line encryption technology, to the signal to the alarm Panel. Easy to install on anything that opens or closes, our door and window sensors can provide intelligent notifications like "door left open" can be custom named, and can even support Smart home rules like "when door opens, turn on light" or "when door left open adjust thermostat to save energy." Boasting up to eight years of battery life, Lock Surgeon door and window sensors uses an innovative board and antenna design to extend range and allow mounting on a variety of surfaces. They also include a rare earth magnet for flexible mounting options in a variety of situations.
Door Bell
Who is at the door when you're not at home? See, speak, listen, and unlock the door. Get full colour HD video day and night, Our built-in floodlight delivers full-color HD video, even in the dark. Welcome friends and family with two-way audio or tell unwanted visitors to leave. Motion activation gives you the whole story from start to finish and allows you the ability to view footage from the time they approached the door to when they leave.
Motion Sensor
Pet-immune up to 40 pounds, the Motion detector is designed to mount on a flat surface or in a corner, and at a variety of angles and provides security coverage up to 35' in a large open area. Open multitude of options by using it to create rules such as "When someone enters the room, turn on the light" or "Trigger siren when intruder detected". Top quality motion sensor has an encrypted PIR that is powerful yet affordable. Leveraging proprietary S-Line Technology it encrypts signals sent to the panel.
Glass Break
Glass break sensors are specially designed to protect you if an intruder tries to break in through a window or door glass. Using proprietary encryption technology, encrypt signal sent to the Panel. Triggered by the pitch and frequency of breaking glass, the Glass break sensor is effective within 25' and is activated automatically when your arm your alarm panel in either "Stay" or "Away" mode. Typically installed on the opposite wall or on the ceiling to allow for better "listening" ability in large living areas.
Garage Door Tilt Sensor
You know that sinking feeling when you return home and see your garage door open? We can program your alarm to send you a text messafe if the garage is left open when you leave your house or business. As an easy entrance into your home you keep a lot of valuable things in your garage. From cars to sports equipment, tools, bikes, boats, to freezers full of food, there might be more value in the garage than the rest of the house combined. Know when the garage door is open with a garage door tilt sensor. Its a simple device that tells your home or business alarm whether the overhead garage door is open or closed, and since your panel is connected to your alarm app, you'll be able to see the curent status of your garage door at any time from your cell phone, tablet or computer.
Image Motion Sensor
The Image motion Sensor has a built-in still camera that can be placed anywhere in the home for easy, wireless, affordable surveillance. If the alarm is triggered the Image Sensor will automatically take pictures and send them to your panel and your mobile device. You can also manually "peek-in" either right now or the next time the Image Sensor detects motion and a photo will be sent automatically to your phone via text or email. Five low light emitters allow for clear photos, even in darkness. This revolutionary sensor is also a true motion sensor and is also Pet immune up to 40 lb. Need to look back in the photos, view your library of saved images in your mobile app.
Sirens
Our alarm panel has a built in siren but adding a external siren is the perfect way to make your home even LOUDER when the alarm goes off. Completely wireless it plugs into any standard outlet and even includes 3 LED lights that strobe during alarm events. Acting as a Z-Wave repeater, it strengthens and improves your smart home network improving the performance of all your devices.
Smoke Detector
Is connected to your business or home alarm Panel and monitored 24-7, whether your system is armed or not. Our Smoke detector detects the presence of smoke using photo-electric smoke-sensing technology and conforms to UL217. Because of some extremely smart engineers this device also detects the presence of smoke particles as well as the rapid rise in heat that can come from a fire, even if there is no smoke. Because your system is always connected, you can receive a text or email alert if there are any problems.
Carbon Monoxide Detector
This gas is known as the silent killer. Monitored detection ensures your home stays safe from dangerous invisible Carbon Monoxide gas. Connecting directly to the alarm panel, this device is operating 24-7, whether your system is armed or not, and can inform you of any carbon monoxide, ensuring you'll know exactly if and when danger is present in your home.
Temperature Sensor
Warns of severe temperature changes and detects high (37 degrees C) or low (4 degrees ) temperatures depending on the users desired monitoring (i.e. freezing pipes, home comfort, computer server room). Perfect as an early warning for HVAC system failure, it can help prevent harm to the elderly and pets, as well as costly damage due to freezing temperatures or excessive heat over long periods of time. You can also configure text message notifications to keep you informed when you are away from home.
Flood Sensor
The flood detects the presence of water and allows you to know when potential flooding occurs before extensive damage is done. Great for installing in basements, computer server room, at the base of water heaters, washing machines, sinks, dishwashers and more. Includes a 6' wire with water contact sensor.
Pendant for Emergencies Security Button
The pendant is a single button device attached to a watch strap, used to trigger an emergency. Typically programmed to indicate a medical emergency, the Wrist Pendant is perfect for the elderly or those with disabilities. The fully sealed water resistant housing is water resistant up to 1 meter and works within a range of up to 100' from the panel making it easy to alert authorities to potential medical problems whether you are out getting the mail, working in the garden, or just enjoying a relaxing evening at home. Works perfectly with Two-Way voice built into the panel, allows monitoring agent to talk to customer and relay important information to authorities en route. In commercial applications this button can also be programmed to trigger a security alert/security button to send the authority.
Thermostat
Control and monitor the temperature of your home from virtually anywhere.
Smart Light Bulb
This lightbulb is a bright, dimmable LED light bulb with a built in Z-Wave radio. Easy to pair and long lasting, it's the best way to turn every light socket in your home into a "smart" light. This light is energy efficient consuming only 9 wats, has about 20,000 hours of like, is z-wave controlled, the colour temperature is 2700K and outs out the equivalent of a 60 watt light bulb. It has a built in z-wave repeater to strengthen you z-wave network, a wireless range of 130ft open air and also can be programmed to Create home automation rules such as "Turn on light when walk into a room" or "Turn on light when someone rings the doorbell".
Smart Socket
The Smart Socket is a dual Z-Wave outlet that allows you to control two devices simultaneously, and get real-time energy usage on the screen of both the device and the Panel. Get energy reporting over time on both your mobile device and desktop computer to help you identify usage trends and potentially save energy. Create smart rules like "Turn on lamp automatically in the evening", "Turn off space heater when I leave home", start vehicle block heater at 3am and turn christmas lights on and off. The smart socket is great for intelligent automation, security and energy savings. With a indoor range of (30m), "open air" range of (100m) and operating temperature of -36degC to 120degC. This device is fantastic for controlling and monitoring almost any electrical device.
---
Follow These links for Related Pages.
---
Lock Surgeon Mobile Residential Alarm Security Services St. Albert
Mobile Services St. Albert
---
Locksmith Sales and Service Centre
Lock Surgeon Store Edmonton
Locksmith shop Edmonton 17812 118 Ave NW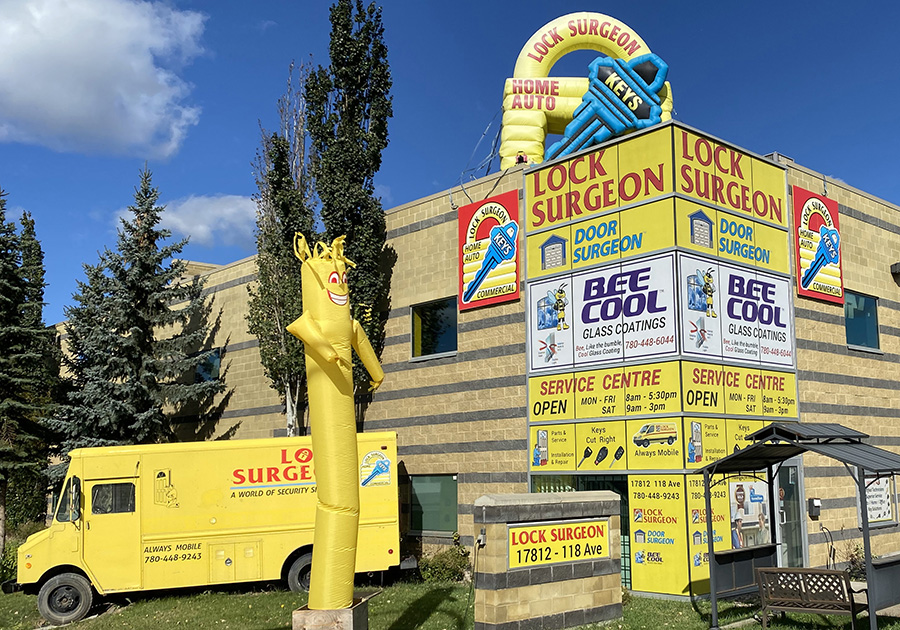 Servicing St. Albert and area.
---
Or Click the link to find a location or service provider nearest you:
---
WARRANTY
Sometimes Things Happen
No one likes it when things go wrong, no one more than us, but if it does check out our Warranty
---
A World of Security™
Home of the Giant Padlock!
---