Lock Surgeon Flyer of Products and Services Sherwood Park
Scroll down to view all pages
---
Mobile Locksmith and Door Repair
Parts & Services Sherwood Park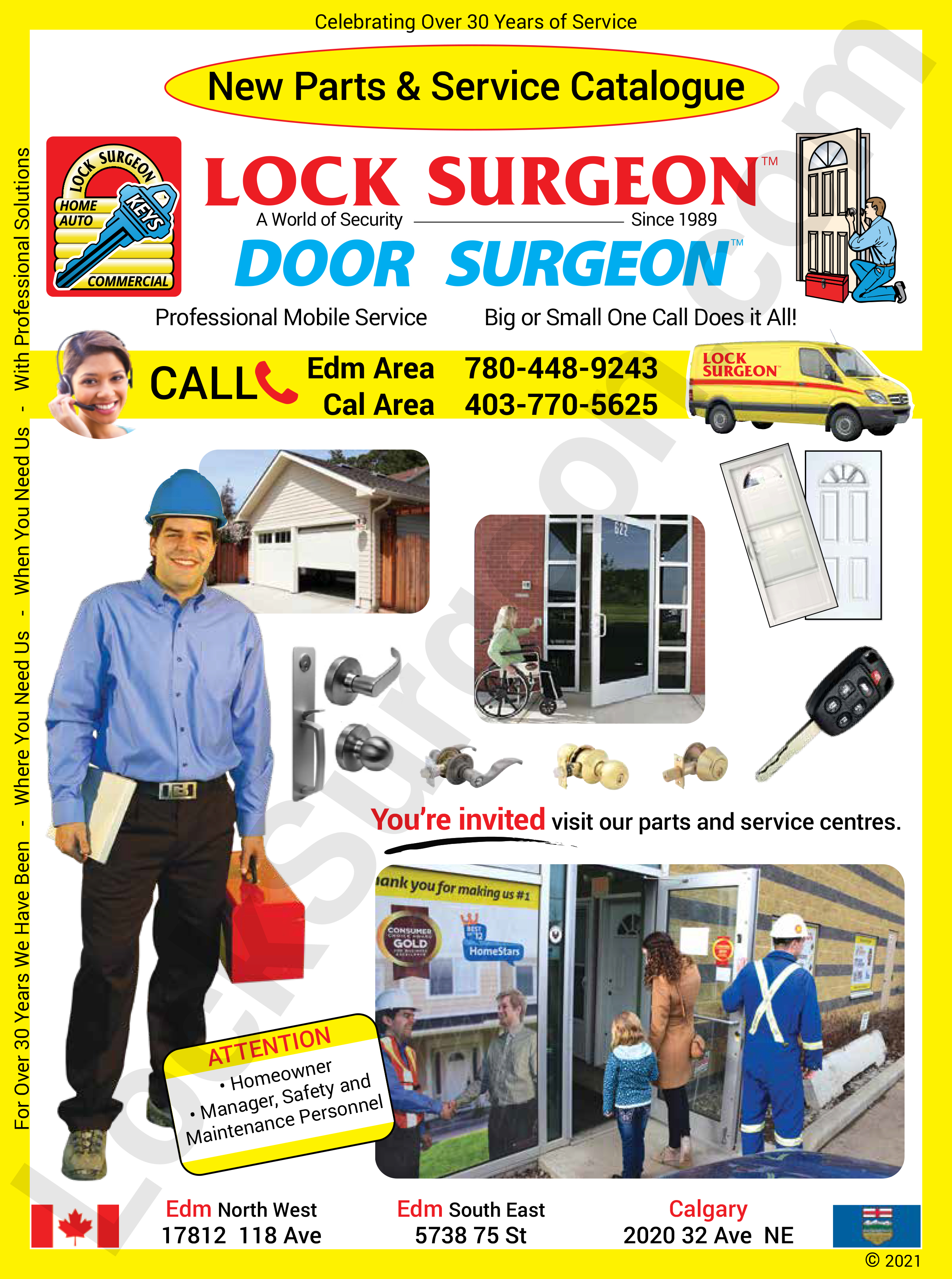 Lock Surgeon and Door Surgeon Sherwood Park Provide On-Site Mobile Service & Parts as well as In-Shop Locksmith Sales and Service
Bring Lock Surgeon Sherwood Park technicians your lock and hardware concerns, Lock Surgeon's servicemen are here to help. Sales and Service Centres are conveniently located and staffed with trained locksmith and security professionals.
---
Sherwood Park Cutting, Duplicating & Make Automotive Smart Keys, Key FOBs, Proximity Keys, Transponder Keys & Remotes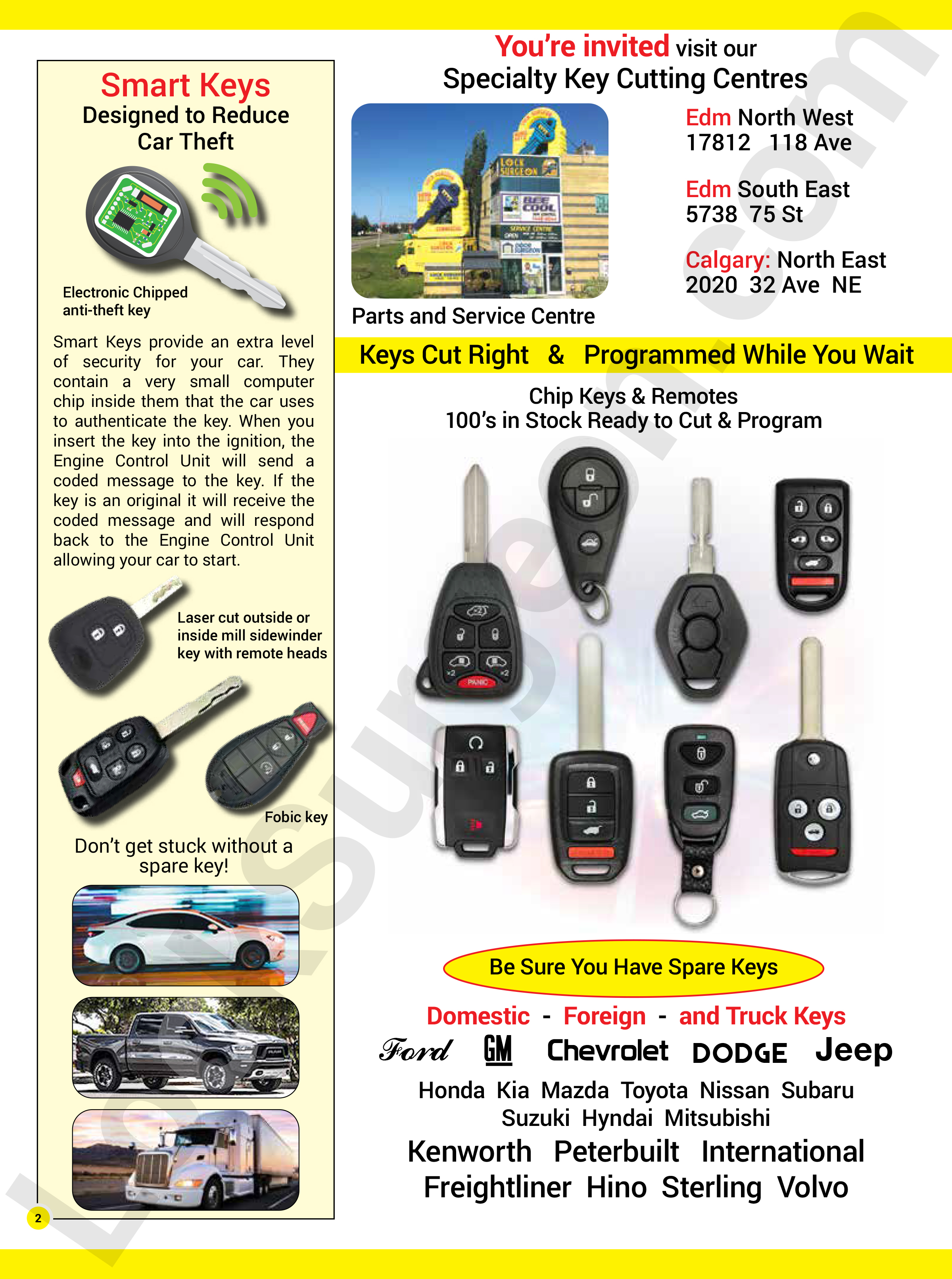 Lock Surgeon carry thousands of keys. Automotive chip keys, Truck keys, Key FOBs and remotes, Sidewinder keys and Security Keys Sherwood Park
Lock Surgeon locksmiths cut automotive brand keys such as: Ford, GM, Chevrolet, Dodge and Jeep. Keys for Honda, Kia, Mazda, Toyota, Nissan, Subaru, Suzuki, Hyndai and Mitsubishi. Truck keys for Kenworth, Peterbilt, International, Freightliner, Hino, Sterling, Volvo and many more.
---
1000's of Keys Stocked & Ready for Cutting Sherwood Park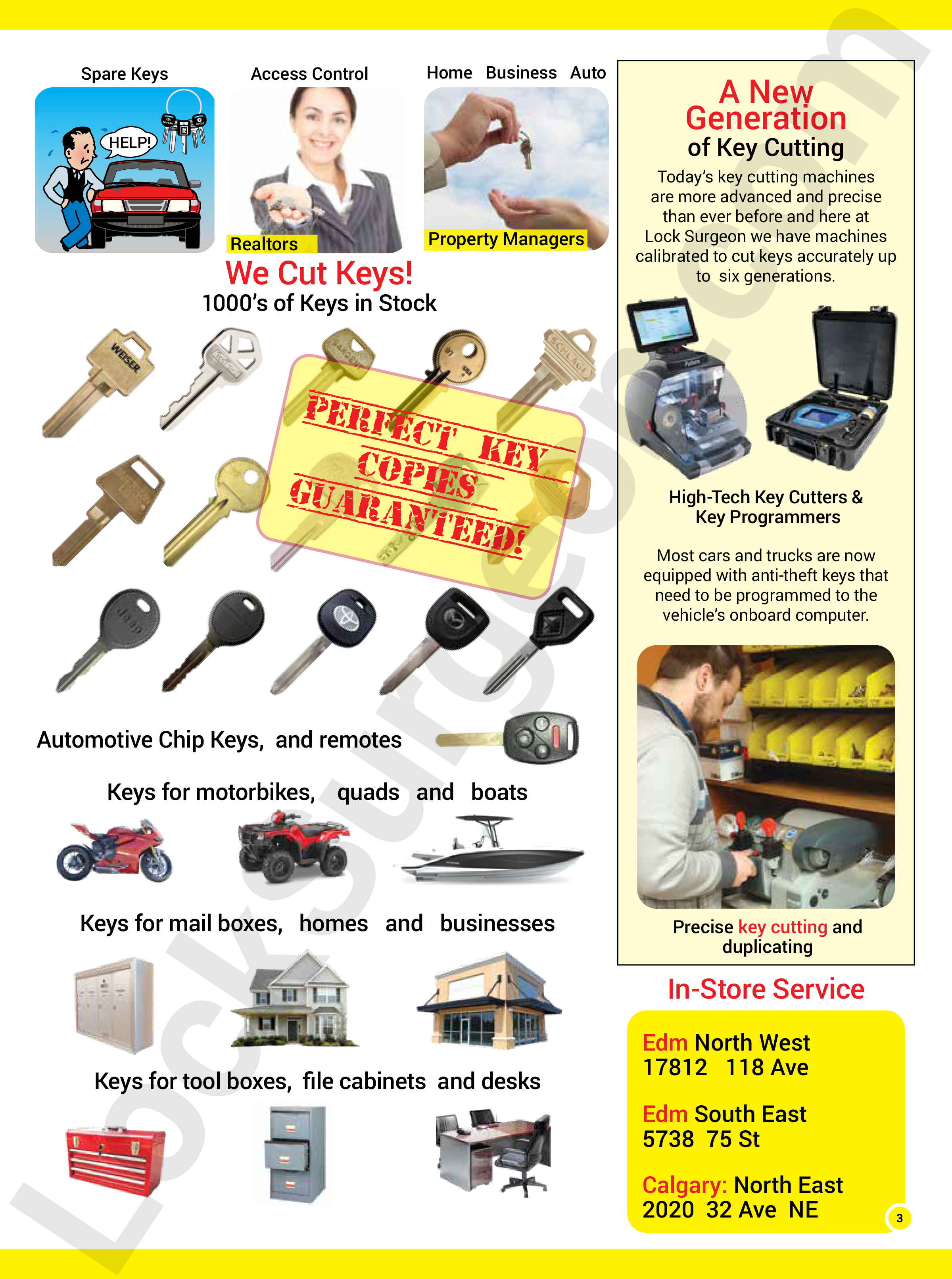 Visit one of Lock Surgeon's conveniently located service centres.
Visit one of Lock Surgeon's conveniently located service centres staffed with professional locksmiths, stocked with 1000's of keys, equipped with the latest in key cutting machines and lock repair equipment.
---
Sherwood Park Professional Locksmith Sales Service & Consultation. Solutions For All Your Key, Lock, & Lock Repair Needs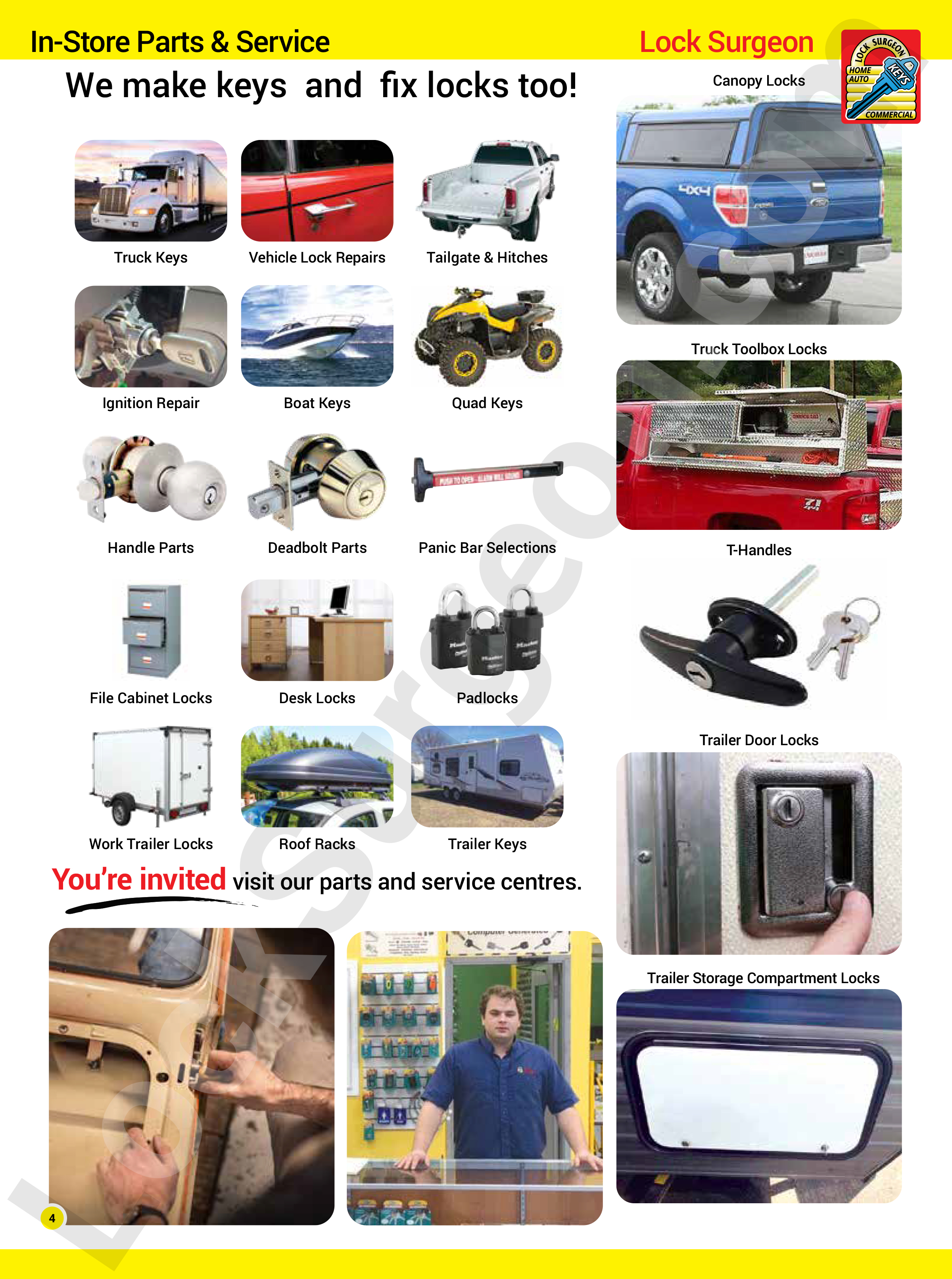 Locksmith services, key cutting, lock repair and products to meet your security needs Sherwood Park
Experienced Sherwood Park Locksmith service providers can help solve your lock and key challenges. A wide variety of instock lock and hardware solutions to meet security challenges for commercial and residential applications.
---
Keeping Keys Organized & Secure With Cabinets, Cases & Hide-A-Keys Sherwood Park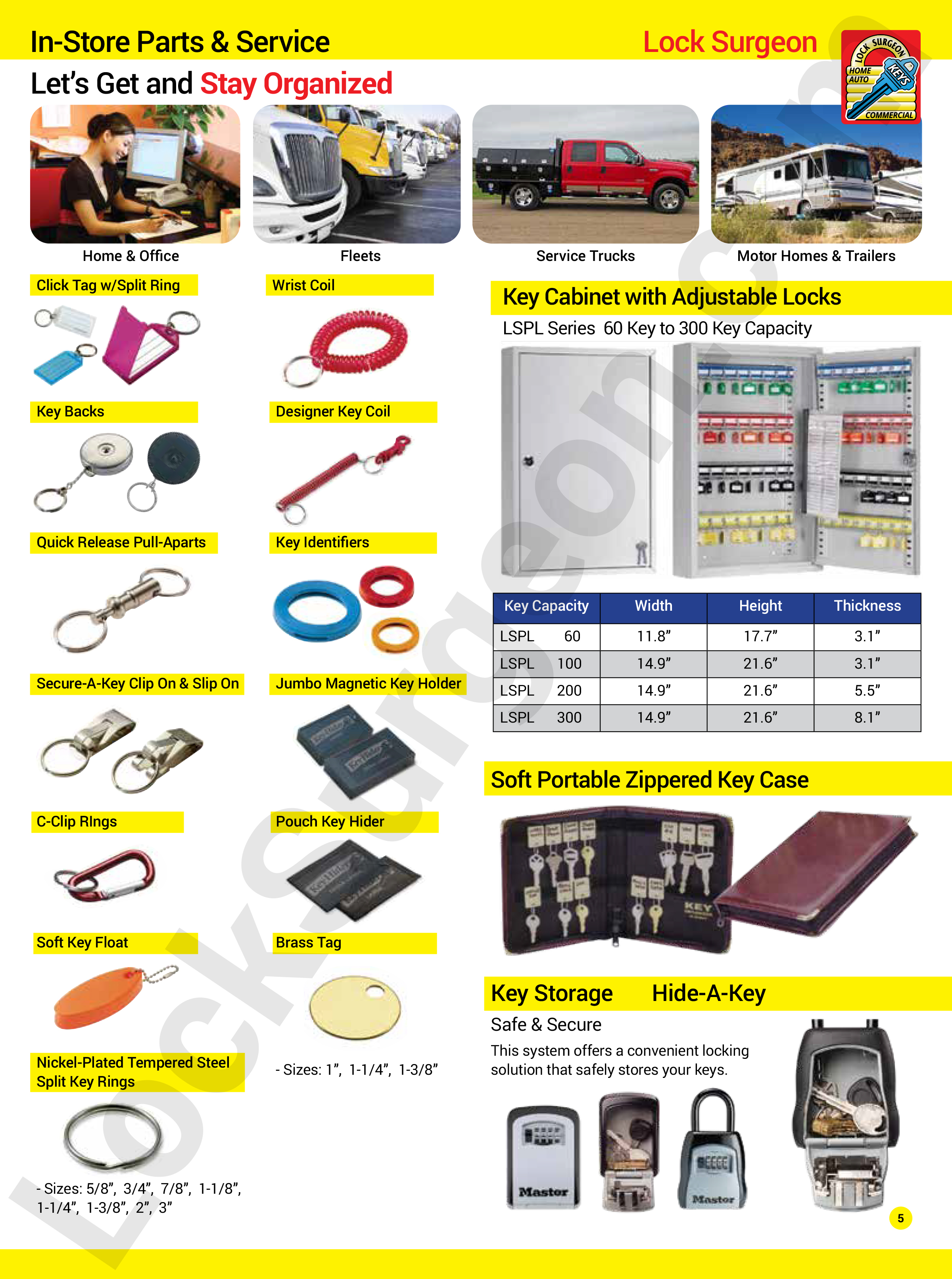 Keep your Sherwood Park home, office, fleet vehicles, service trucks, motor homes and trailer keys organized and easy to find.
Sherwood Park Key cabinets with adjustable locks. Soft portable zippered key cases. Key storage. Hide-a-keys for realtors. Lock Surgeon carrys a large variety of key organizational products: click tags, wrist coils, designer key coils, quick release pull aparts, key identifiers, secure-a-key clip on or slip on, pouch key hider, brass tags, jumbo magnetic key holders, soft key floats.
---
Sherwood Park Lock It or Lose It - Padlocks & Trailer Locks to Secure Your Hard-Earned Recreation or Work Trailers & Items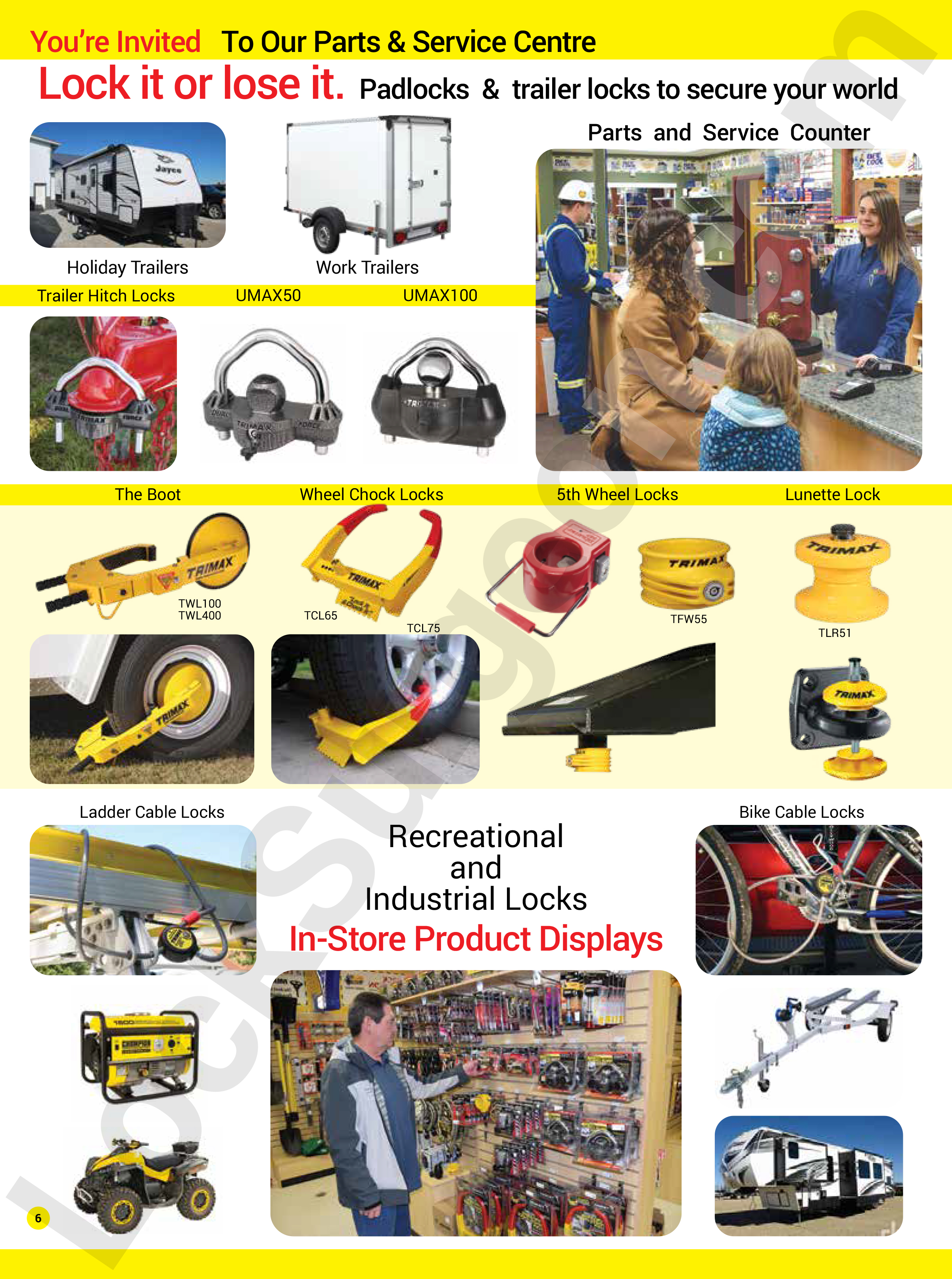 In-store or mobile Sherwood Park security consultation by professional locksmiths to secure your recreational & industrial items
Keeping your hard-earned recreational or work trailers and items secure. Locks for trailer hitches. The Boot, Wheel Chock locks, 5th wheel locks, lunette locks, bike cable locks, ladder cable locks. Recreational and Industrial Locks in-store products. Hundreds of products to secure your Sherwood Park world.
---
Hundreds of Quality Locks to Choose to Secure Your Possessions Sherwood Park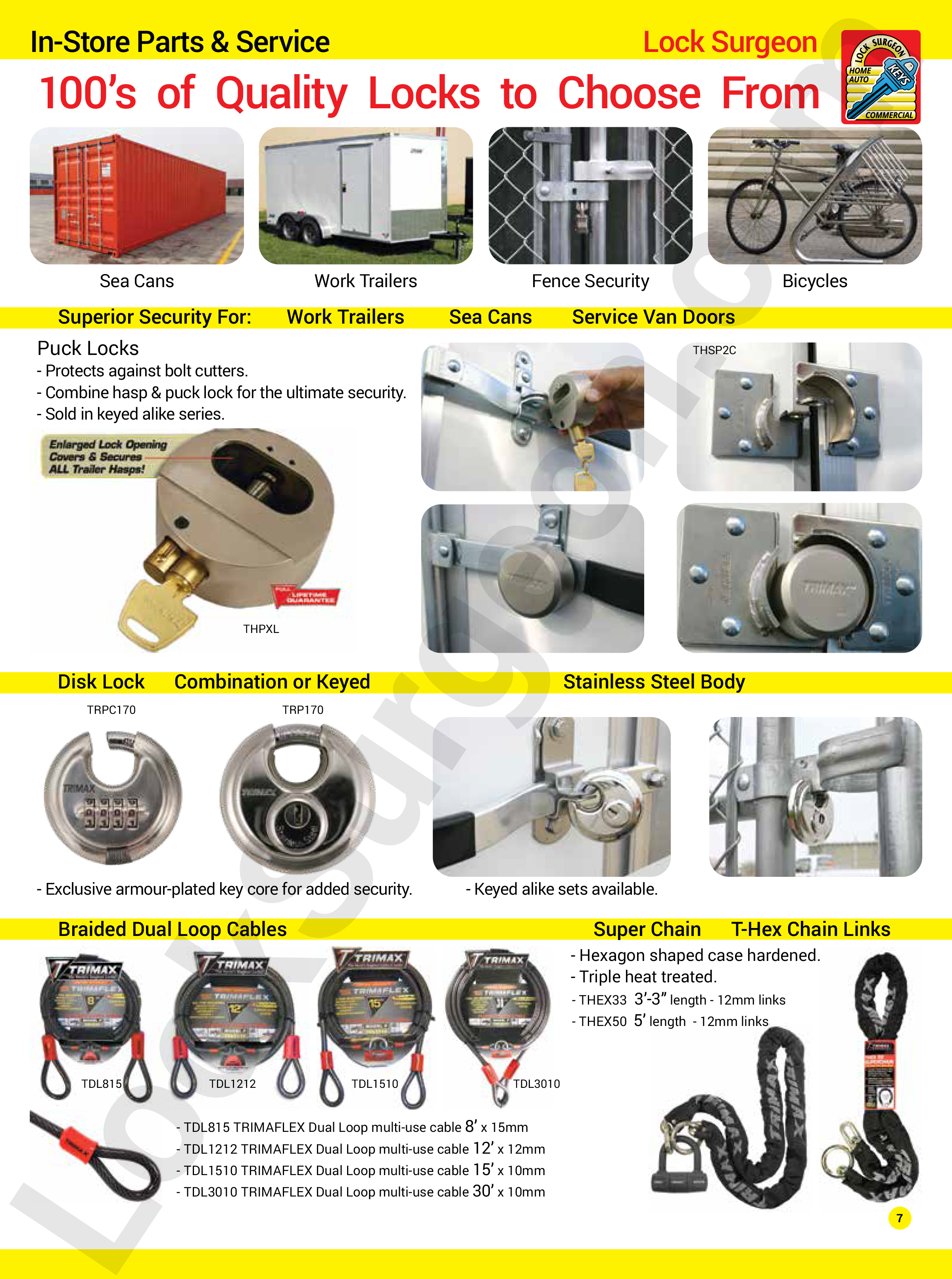 Protect your Sherwood Park residential or commercial items or properties
Lock Surgeon carrys thousands of quality locks to choose from to keep your possessions safe from theft. Locks for Sea Cans, work trailers, fences, bicycles, trailers, service Sherwood Park van doors. Puck locks protect against bolt cutters, disk locks combination or keyed. Braided cable, loop cable, super chain, t-hex chain links.
---
Sherwood Park Hundreds of Superior Quality Padlocks to Choose From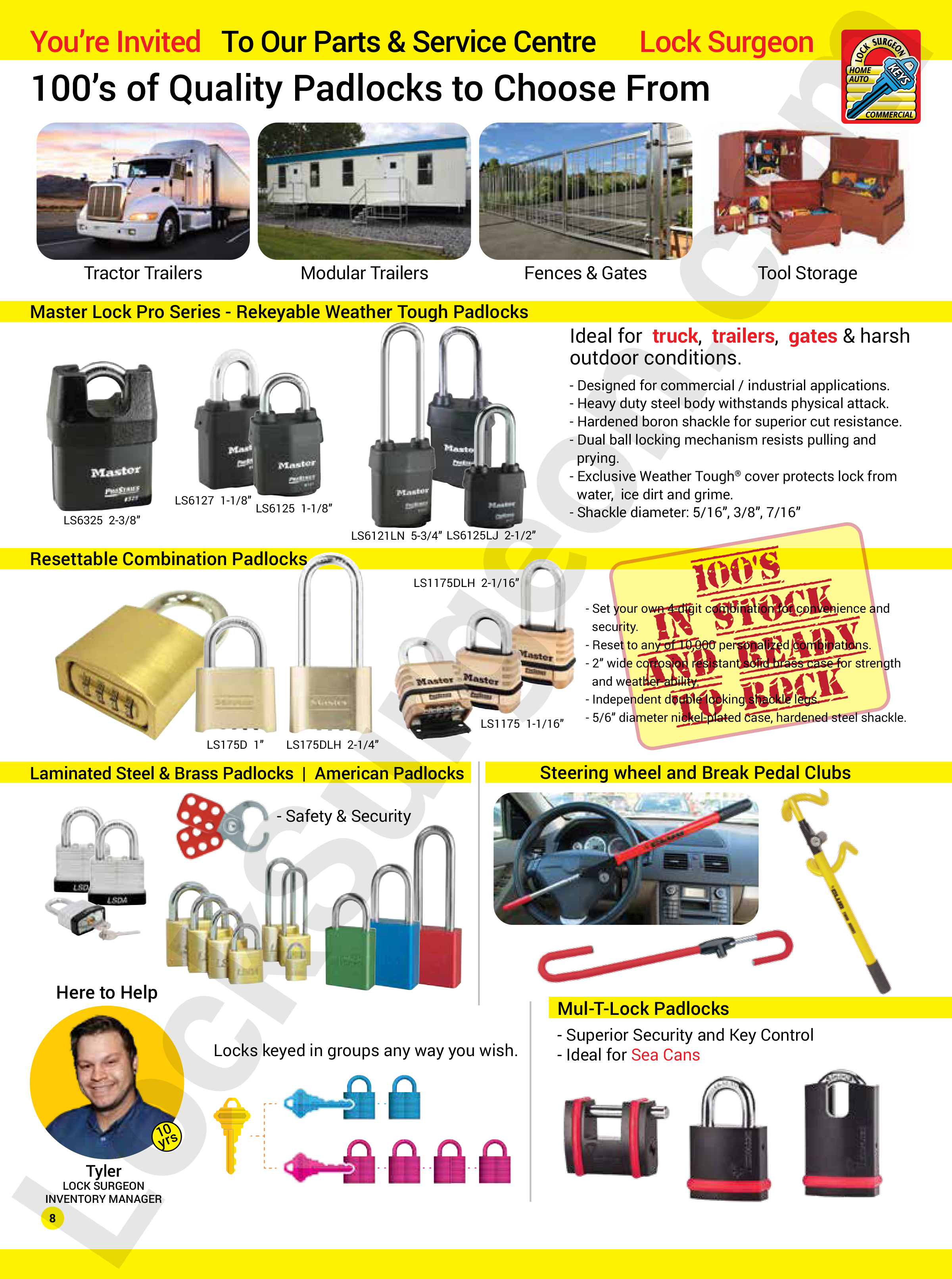 Keyed alike or keyed different secure your Sherwood Park property.
Master lock pro series, weather tough padlocks, resettable combination locks, laminated steel and brass padlocks. American padlocks. Steering wheel and break pedal clubs. Mul-T-Lock high-security padlocks. Ideal for tractor trailers, modular trailers, fences, gates and tool storage.
---
Superior Locks. Secure Your Equipment From Theft in Sherwood Park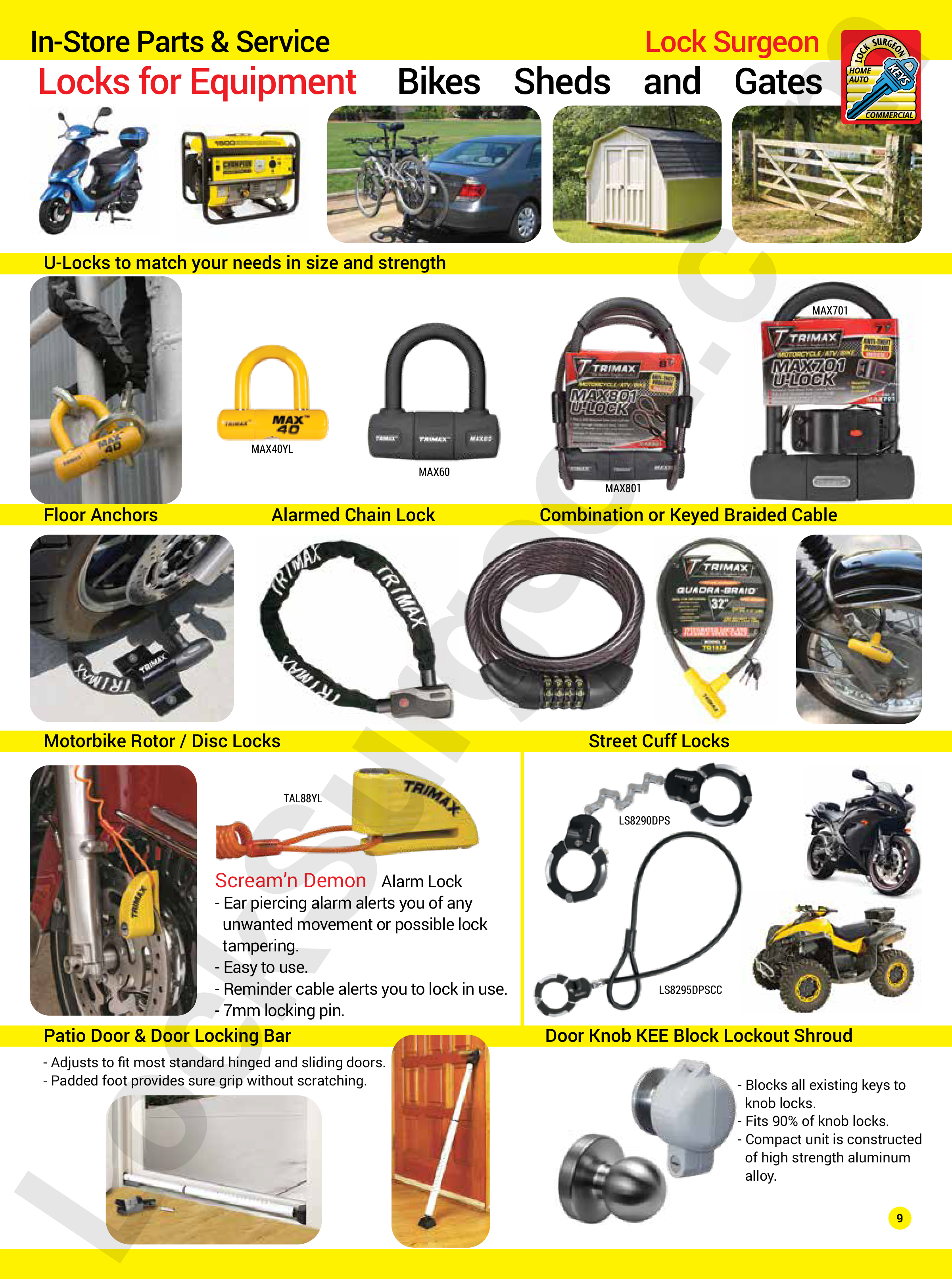 Sherwood Park Lock control to save operating expenses from stolen equipment.
Locks for equipment like bikes, sheds and gates. In-store parts and service. U-Locks to match your needs in size and strength. Floor anchors, alarmed chain lock, combination or keyed braided cable, motorbike rotor or disc locks, street cuff locks, patio door and door locking bar, door knob Kee-Block lockout shroud. Screamin Demon alarm locks for bikes.
---
Sherwood Park Door handles and deadbolts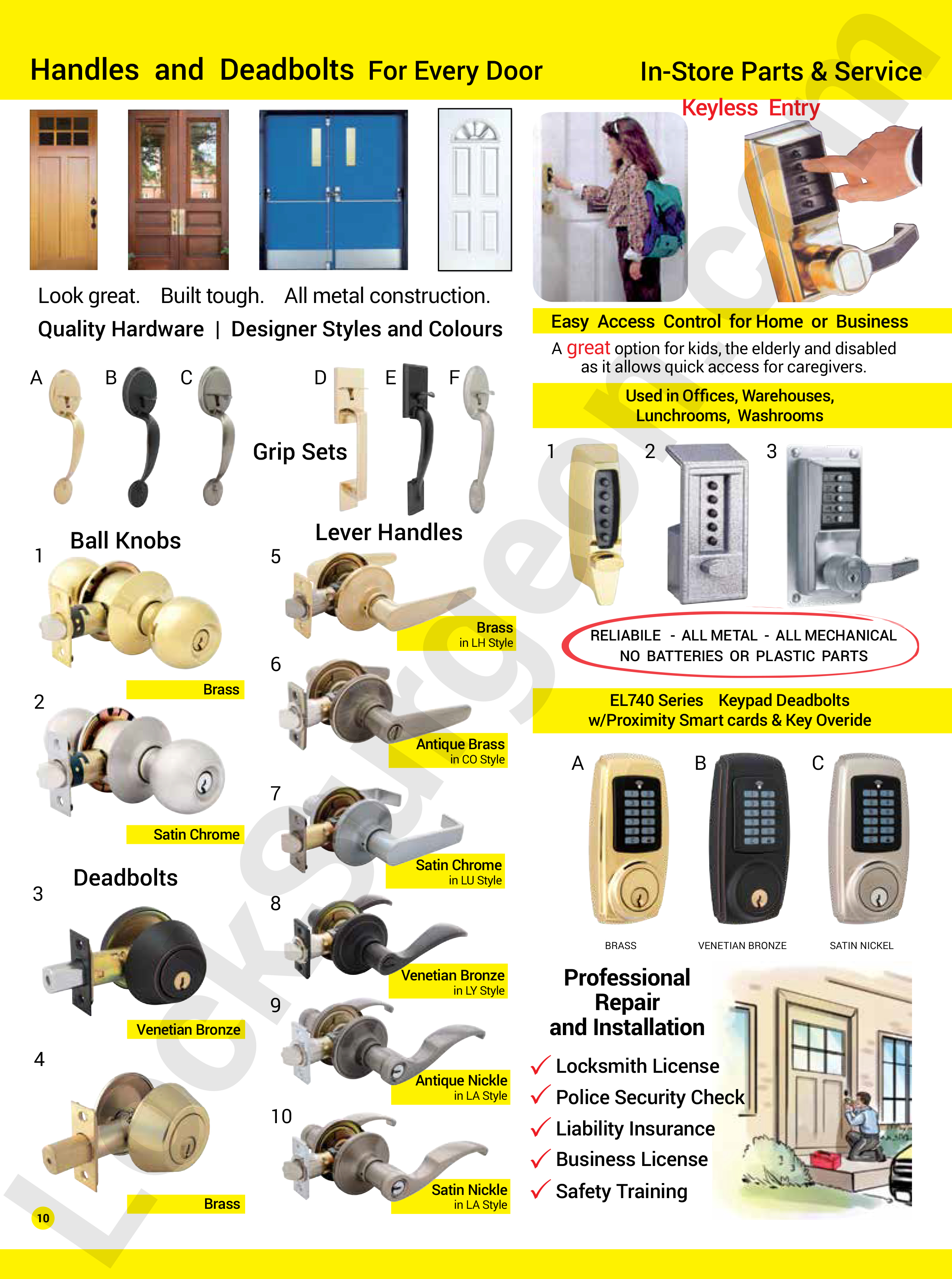 Lever handles, Ball knobs and Deadbolts, superior quality and finish
Door handles, deadbolts and grip sets that will match your unique door needs. Built better, stronger springs, superior metal, engineered to last. These Locksmith grade handles are the choice of superior service providers. Purchase from Lock Surgeons sales and service centres or have them professinally installed by Lock Surgeons mobile Sherwood Park locksmith installation teams. If you are looking to replace existing lock sets or match existing lock sets this hardware line can be keyed to meet your home lock needs.
---
Lock Surgeon Mobile Rekeying & Key Control for Home or Office Sherwood Park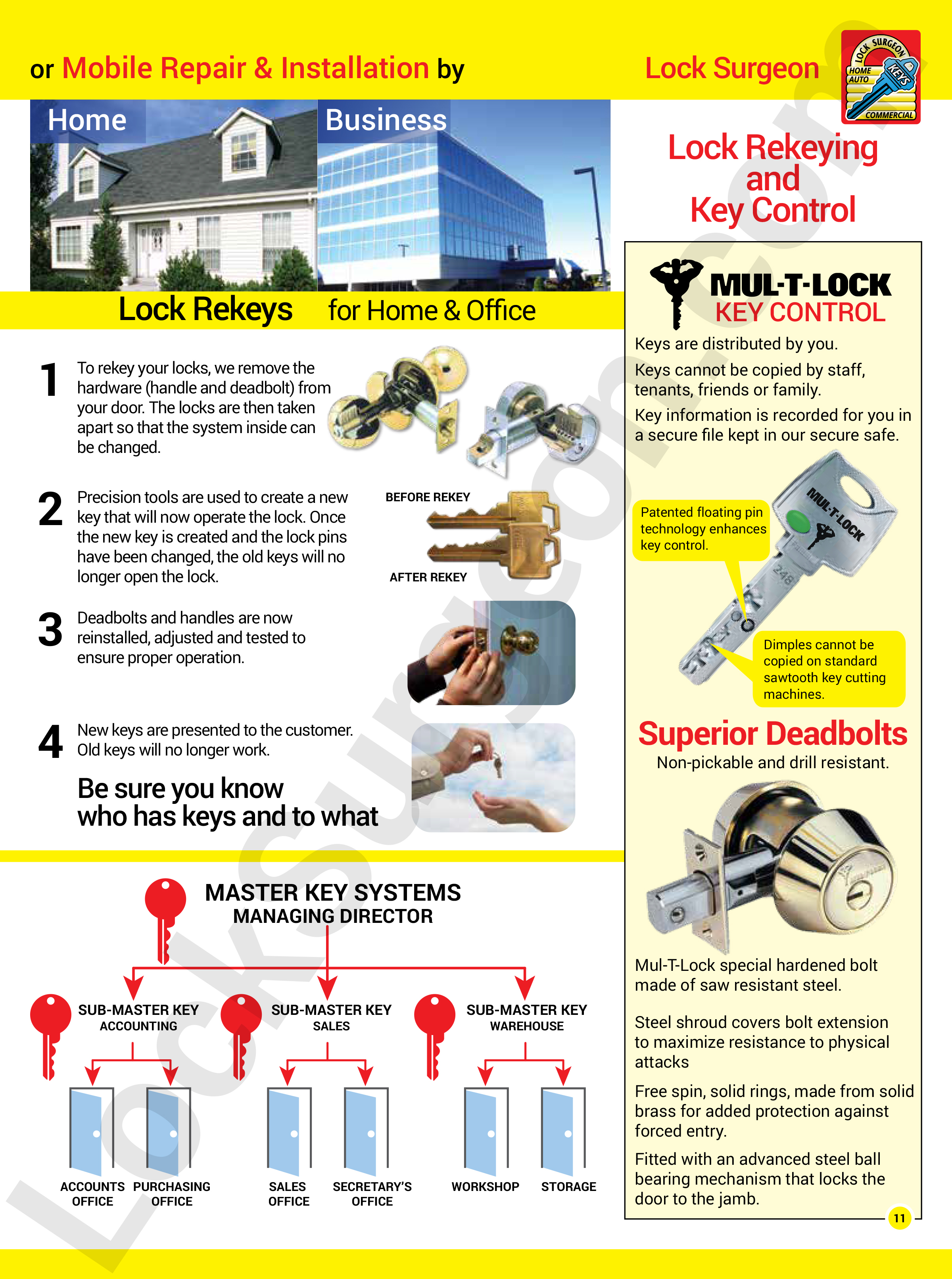 Superior lock control and protection with Mul-T-Lock security key systems
Mobile Sherwood Park rekey service for home or office. Lock Surgeons technicians will come to your location to rekey your locks. Lock hardware is removed and taken apart to change the interior system. Keys are made onsite to fit the new lock interior and old keys will no longer work. Deadbolts and handles are reinstalled and new keys presented to customer.
---
Sherwood Park Expert Door Repair, Installation and Door Hardware Solutions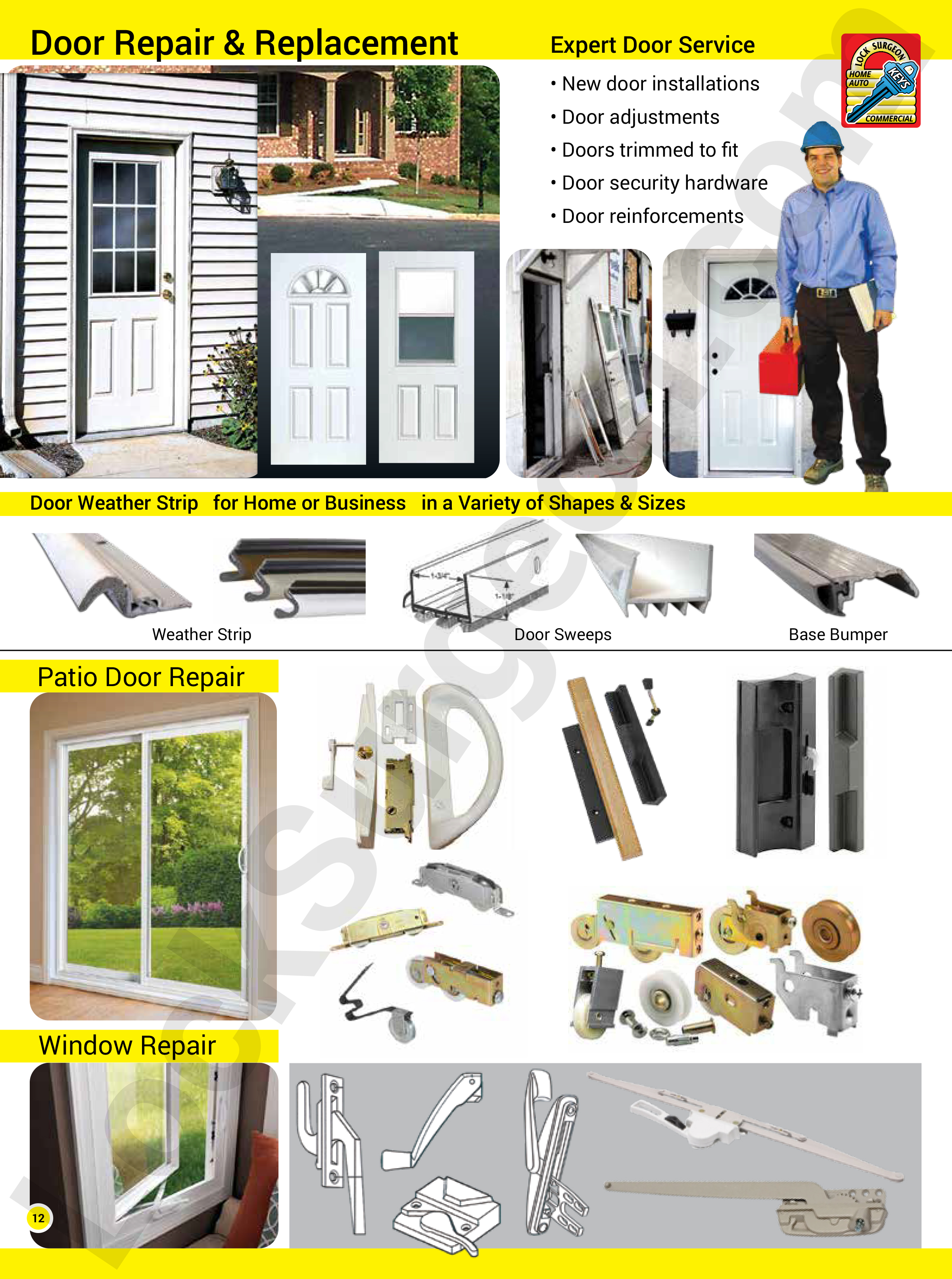 Door maintenance, repair and adjustments done by the experts of door and door hardware repair team at Lock Surgeon and Door Surgeon Sherwood Park
Break-in repairs, broken glass, broken hinges, broken latches, general door repair and replacement is all in a days work. new door installations, door adjustments, doors trimmed to fit, door security hardware, door reinforcements, stationary door, flush bolts, glass-aluminum door replacement locks, butt-hinges and full length hinges, weatherstrip, door sweeps, base bumpers. Patio door and window repair.
---
Mobile Repair & Installation of Storm Doors Sherwood Park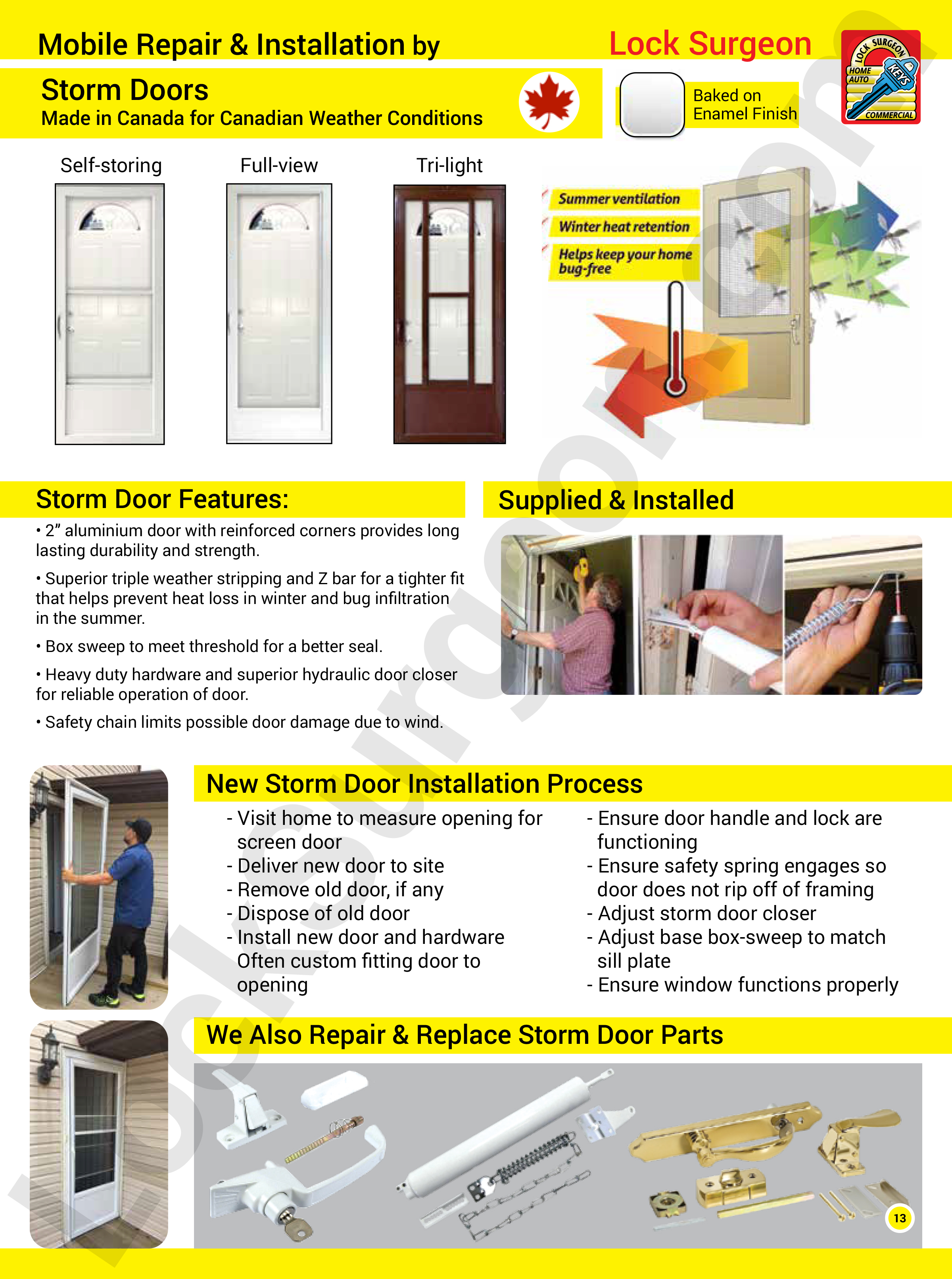 Lock Surgeon Sherwood Park storm doors made in Canada for Canadian weather conditions
2 inch aluminum doors with reinforced corners providing long lasting durability and strength. Storm doors supplied, installed & repaired. Lock Surgeon also carrys a large selection of storm door repair parts. New storm doors supplied and installed by Lock Surgeons team of Sherwood Park door specialists.
---
Sherwood Park Window Bar Security or Clear Glass Laminate Protection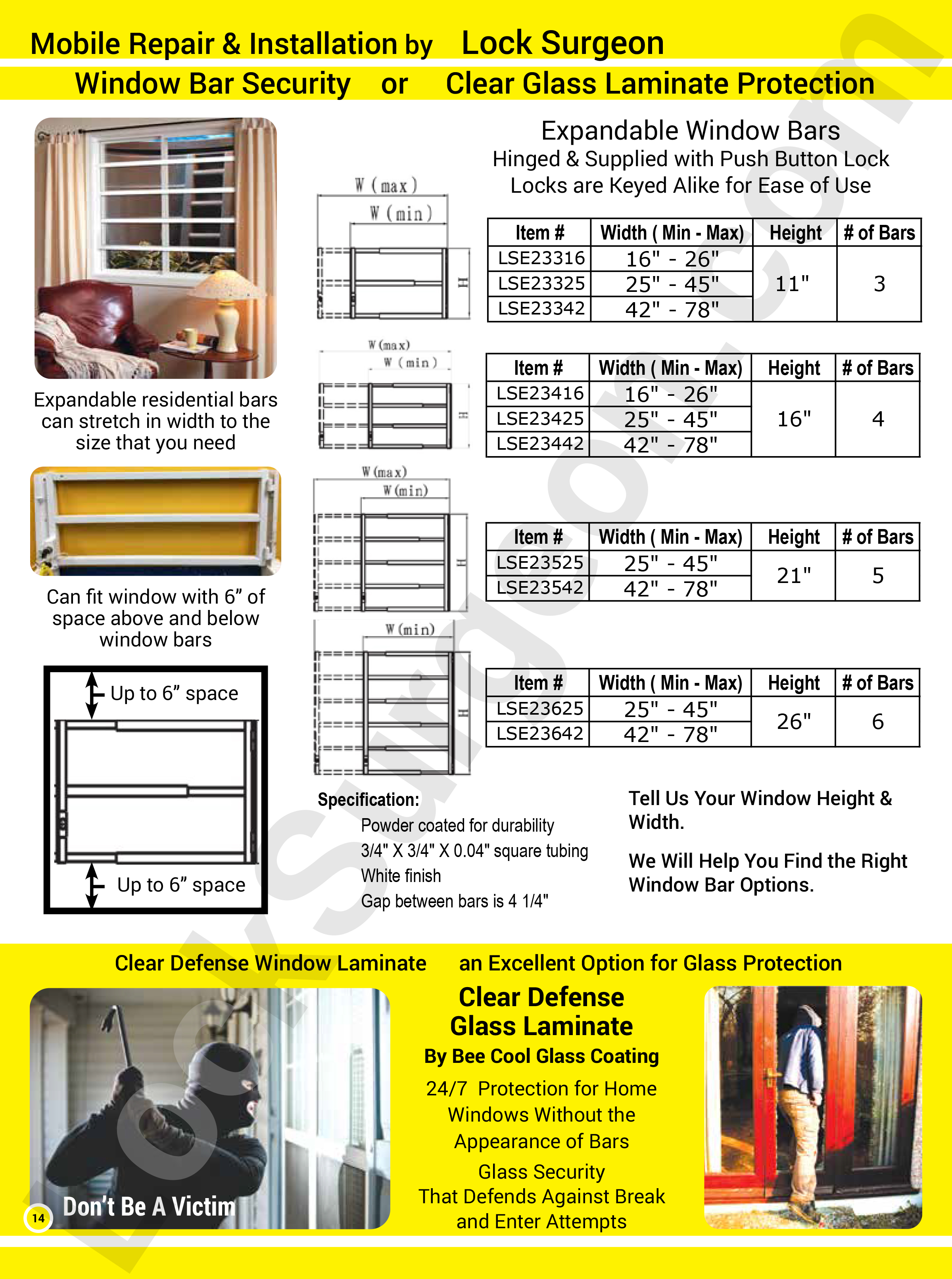 Mobile installation of the Sherwood Park window protection you need.
Expandable window bars for home or business window protection. Hinged and supplied with push-button lock, locks are keyed alike for ease of use. Expandable residential bars can stretch in width to the size you need. Window bars can fit window with 6inches of space above and below bars. Powder coated for durability. Clear defense window laminate an excellent option for glass protection. Protection for hom windows without the appearance of bars. Defends against break and enter attempts.
---
Safes for Home and business Sherwood Park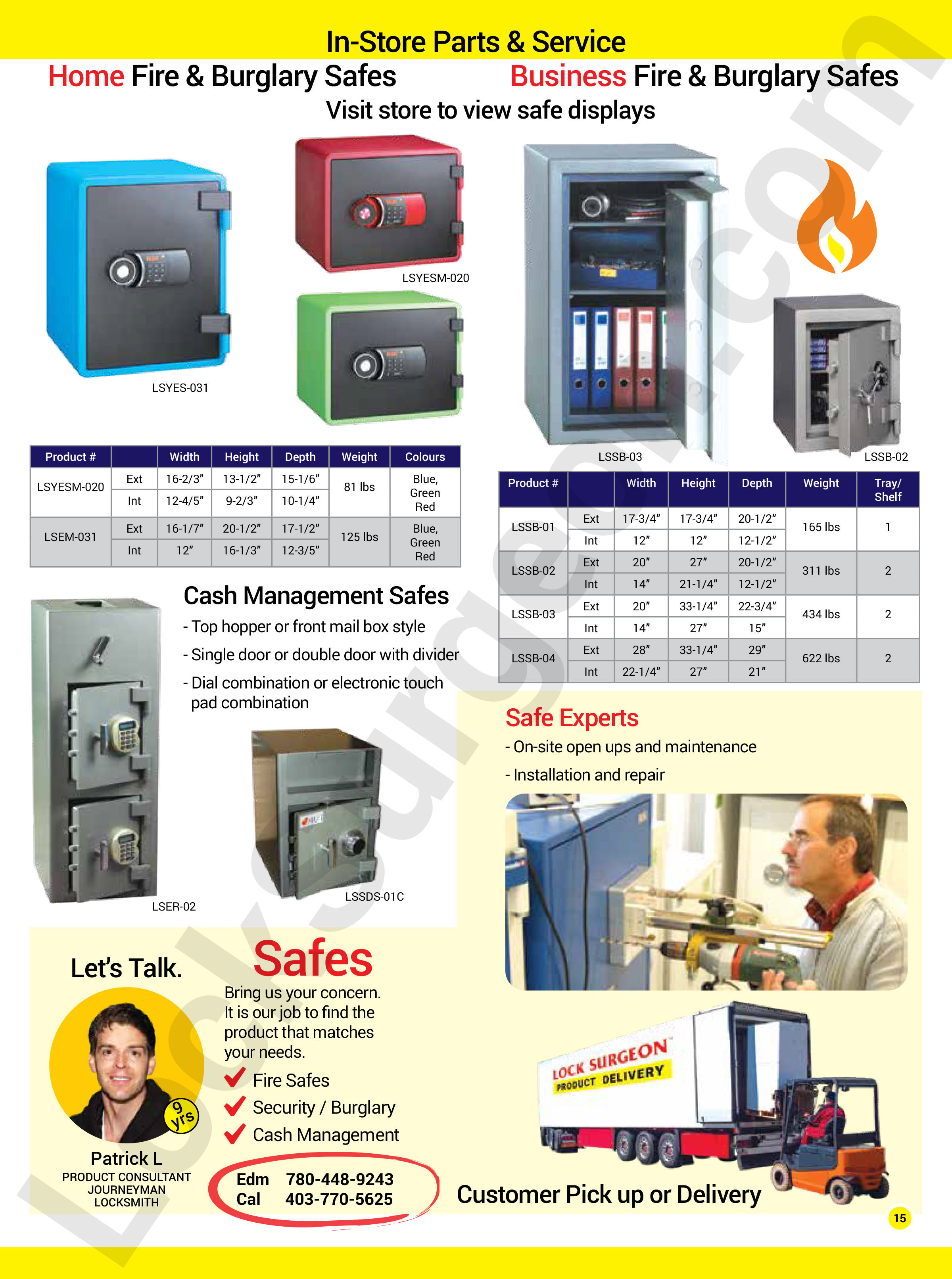 Fire, burglary and cash-management Safes for Sherwood Park residential or commercial
Safe solutions that range in function from fire safes, burglary safes and cash-management safes. A variety of Safe sizes that will meet the needs of Safe document storage, burglary resistance and Safe cash-management. Bring us your new Safe requirements for professional Safe consultation. Lock Surgeon Sherwood Park expert Safe-cracker and Safe-repair staff can also open Safes and repair Safes.
---
Sherwood Park Window Bars, Door Reinforcements & Door Security Supplied & Installed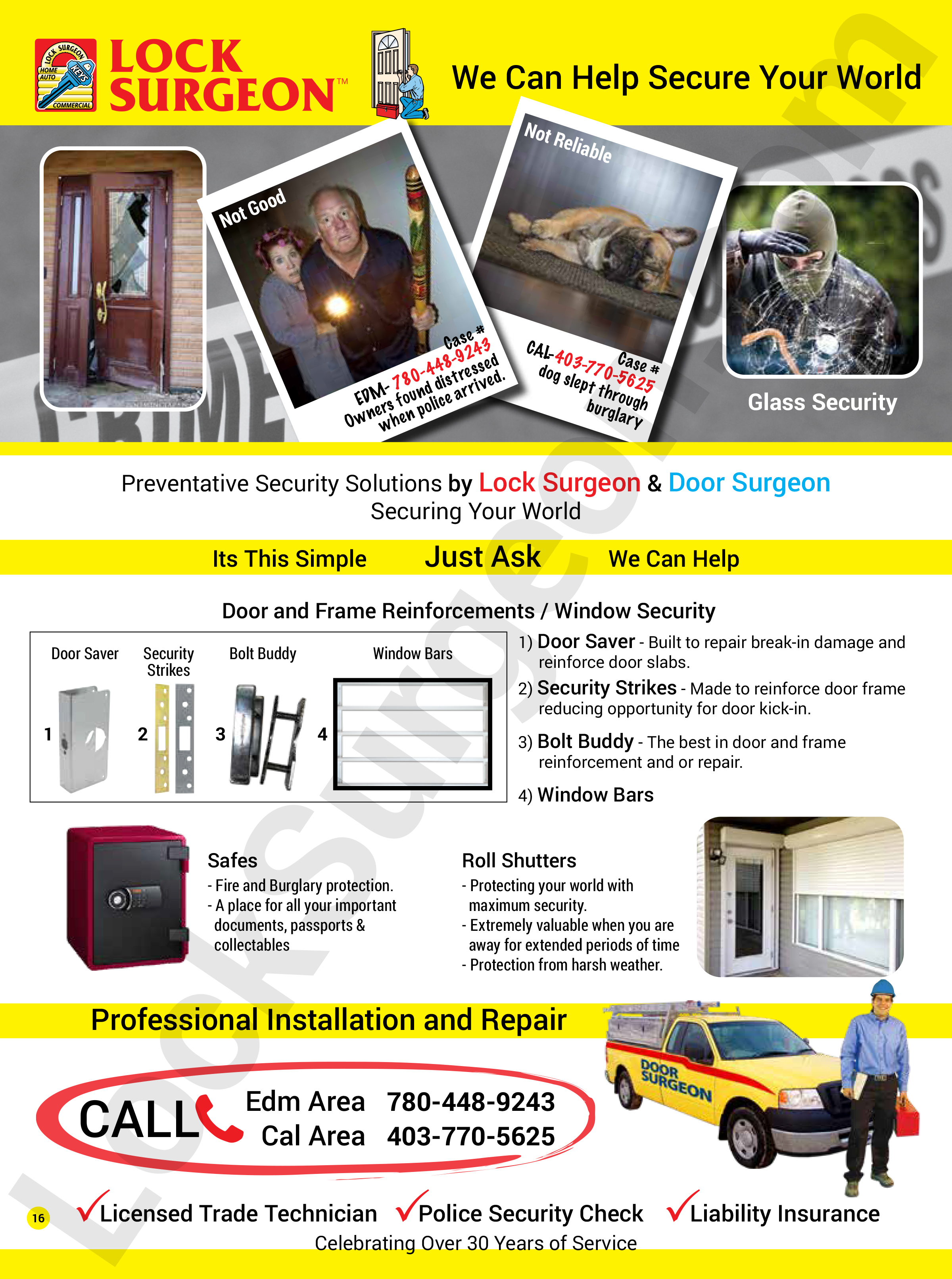 Custom or standard door & window security solutions for Sherwood Park home or business
Custom sized or stock sized window bars supplied and installed. Folding gates for entryways, full length blockers for door edge reinforcement, barrier bars for back door security upgrades or just residential window bars, Lock Surgeon Sherwood Park does them all.
---
Mobile Repair for Automatic Doors Sherwood Park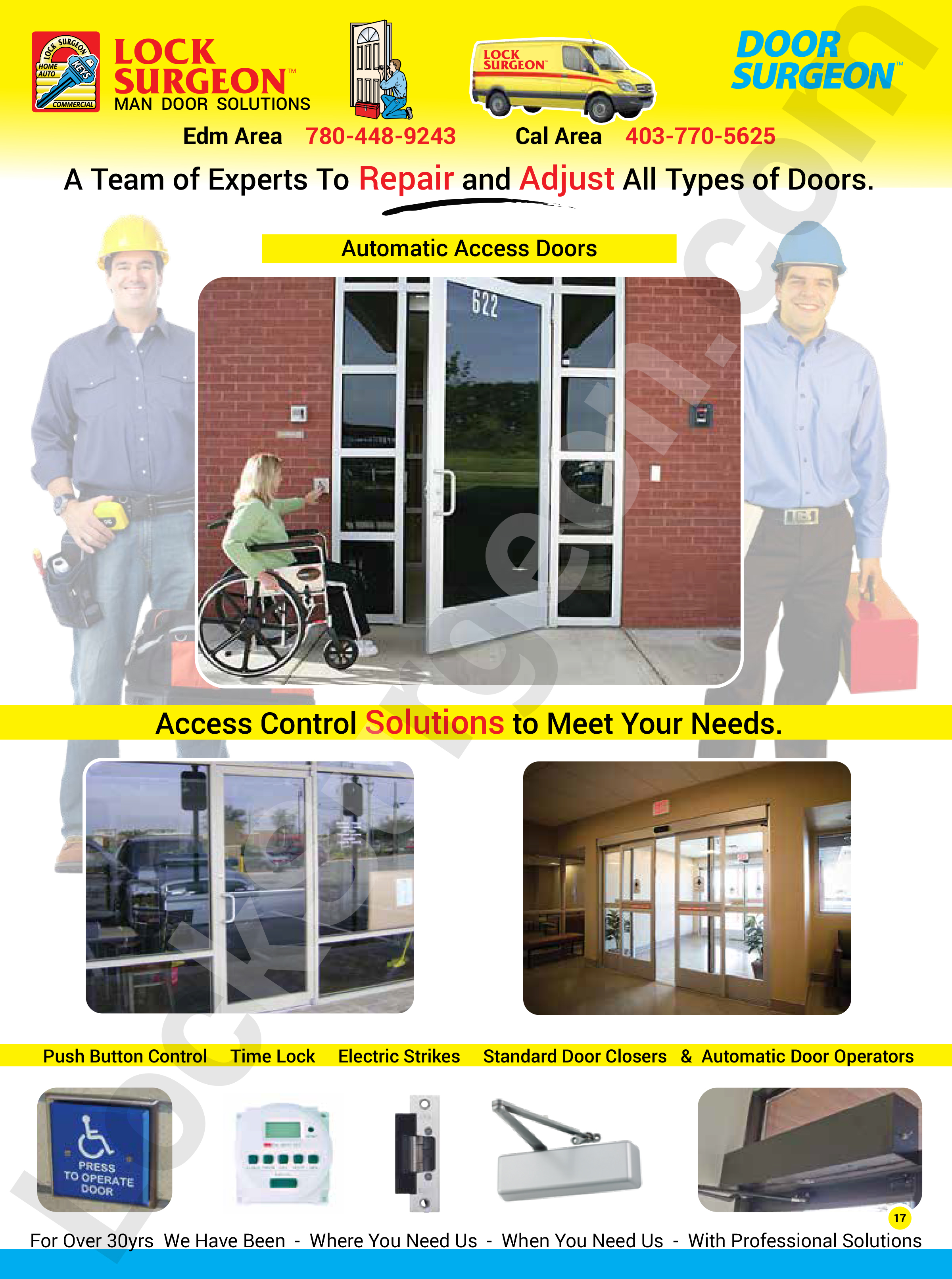 Team of Sherwood Park experts from Door Surgeon & Lock Surgeon to repair and adjust all types of doors
Automatic door repair by Sherwood Park Lock Surgeon or Door Surgeon. Access door repair specialists come to your site with the tools and parts to fix your automatic access door on the first visit. Automatic access doors, push-button control, time locks, electric strikes, standard door closers, automatic door operators. Access control solutions to meet your needs.
---
Sherwood Park Steel Door Repair and Installations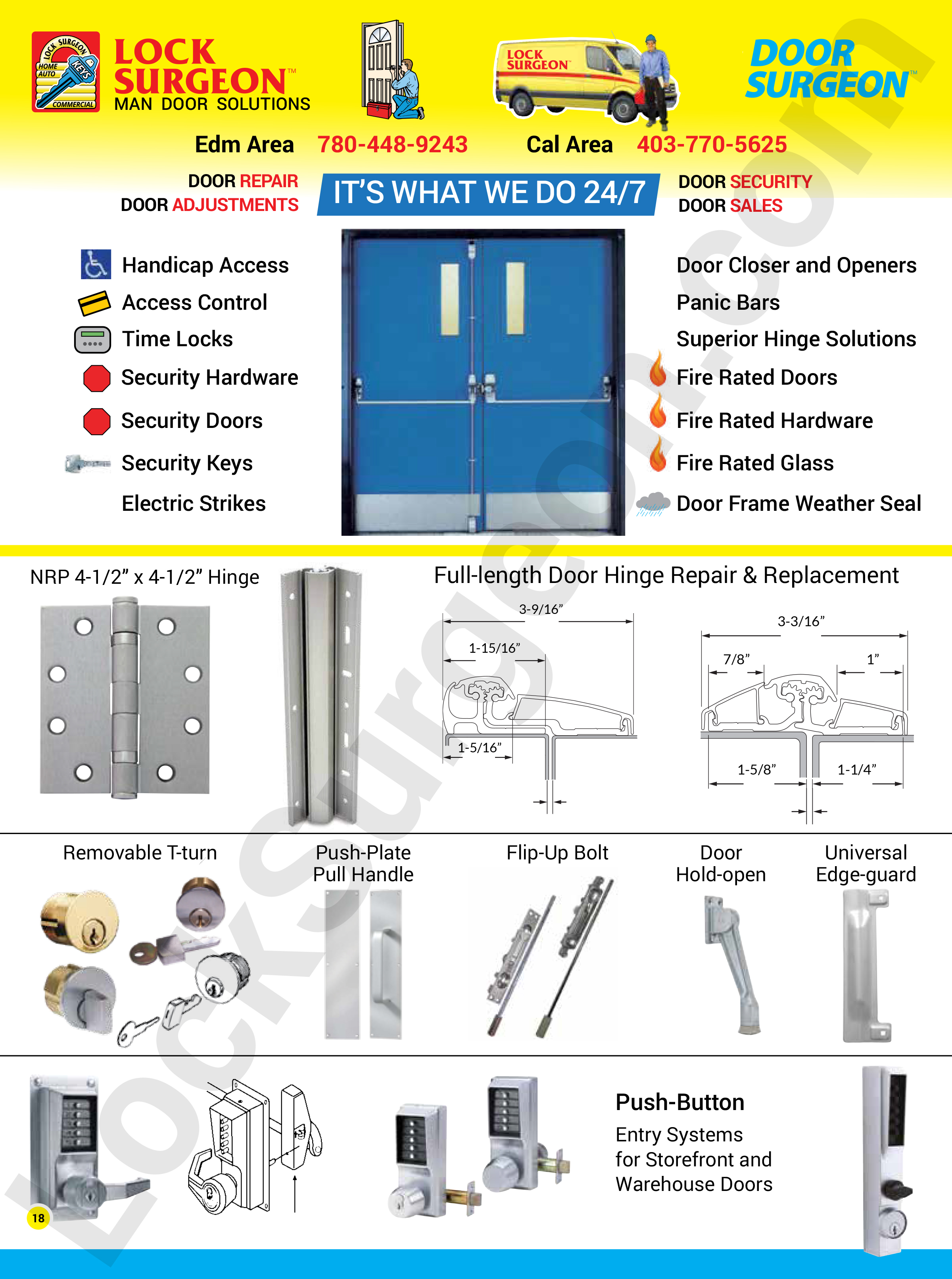 Lock Surgeon & Door Surgeon Sherwood Park install and repair steel doors and hardware
Steel doors for business and commercial properties. Repair and installation for steel doors, handicap access points, access control, time locks, security hardware, security doors, security keys, electric strikes, door closers, door openers, panic bars, superior hinges, fire rated doors, fire rated hardware, fire rated glass, door frame weather seals. Full length door hinge repair or replacement. Removable t-turns, push-plates, pull handles, flip-up bolts, door hold-opens, universal edge-guards; all installed and repaired by the door experts at Lock Surgeon & Door Surgeon Sherwood Park.
---
Commercial Bluetooth Access Control Sherwood Park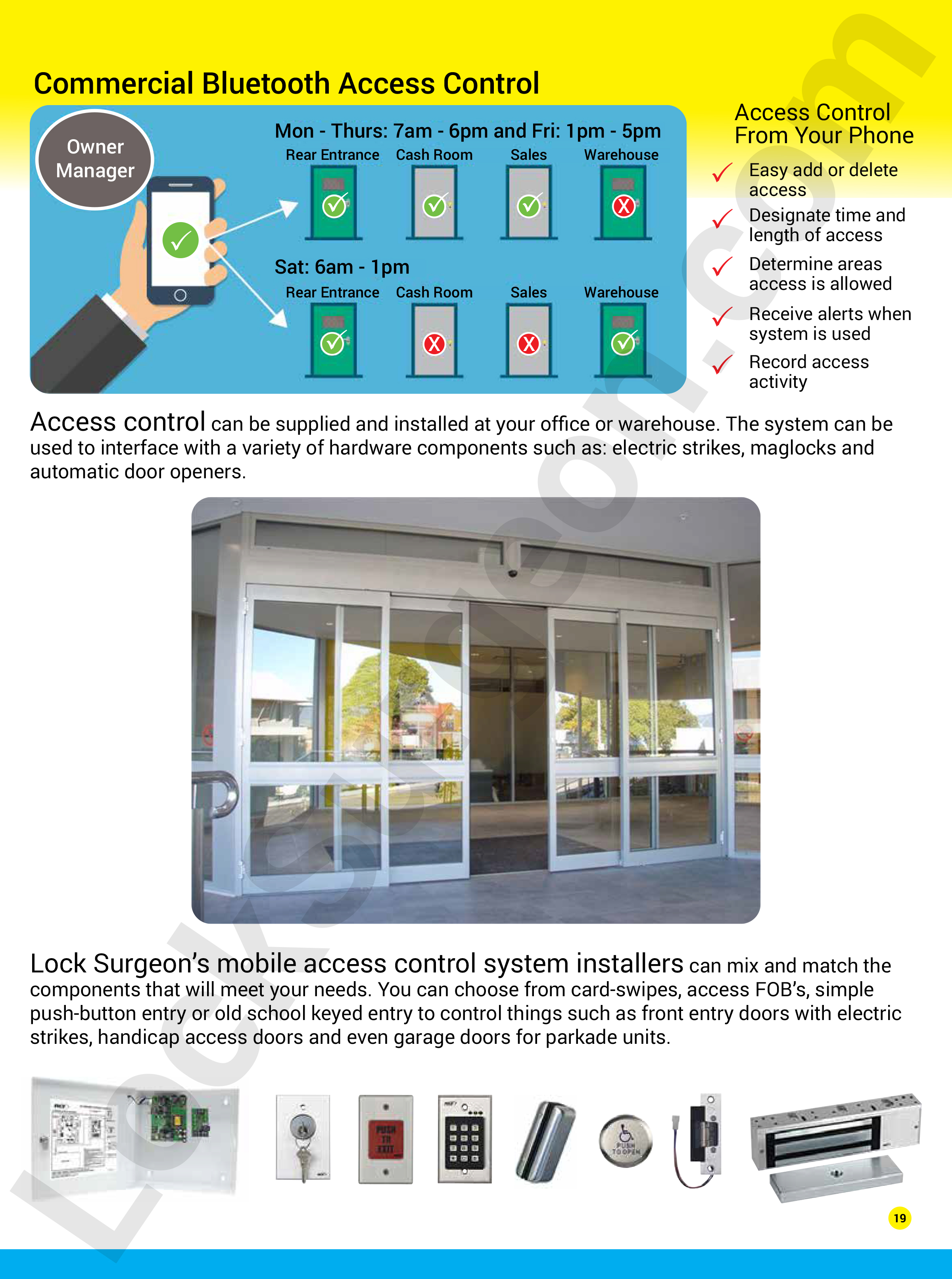 Bluetooth access control systems installed by professional technicians at Lock Surgeon or Door Surgeon Sherwood Park
Access Control from your phone. Easily add or delete access. Designate time and length of access. Determine areas access is allowed. Recieve alerts when system is used. Record access activity. Access control can be supplied and installed at your office or warehouse. The system can be used to interface with a variety of hardware components such as: electric strikes, maglocks and automatic door openers. Lock Surgeon's mobile Sherwood Park access control system installers can mix and match the components that will meet your needs. You can choose from card-swipes, access FOBs, simple push-button entry or old school keyed entry to control things such as front entry doors with electric strikes, handicap access doors and even garage doors for parkade units.
---
Sherwood Park Commercial Grade Panic Bars, Lever Handles & Ball Knobs In Stock Parts & Service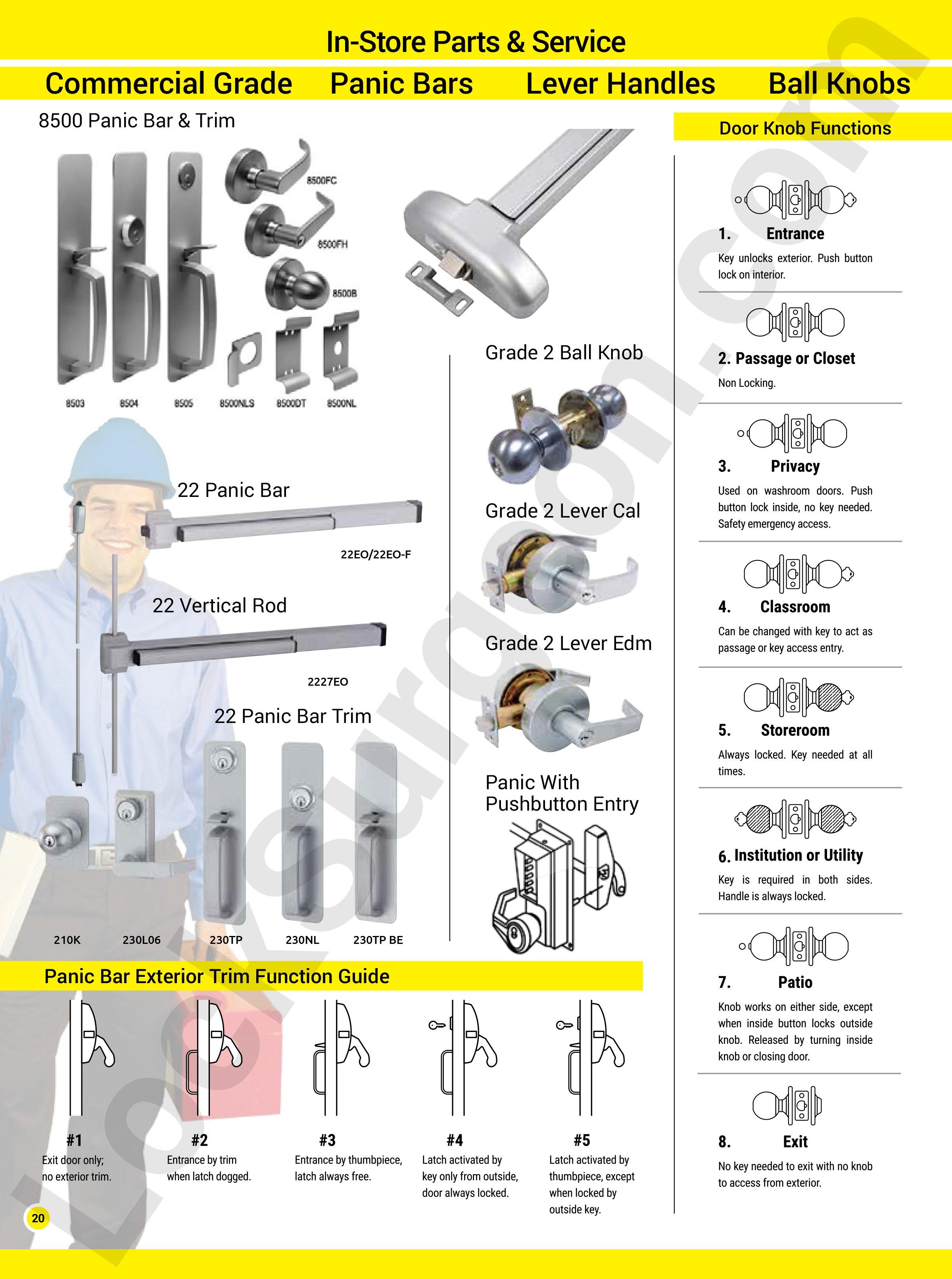 Lock Surgeon or Door Surgeon Sherwood Park mobile commercial grade hardware installation or repair servicemen
Commercial grade panic bars, lever handles and ball knobs in stock, parts and staffed trained locksmith technicians to help with customer needs. Door knobs for all functions: entrance, passage or closet, privacy, classroom, storeroom, institution or utility, patio and exit. Grade 2 ball knobs, lever handles in both Calgary and Edmonton styles. Panic bars with push-button entry. Lock Surgeon & Door Surgeon Sherwood Park servicemen stock new and parts for all of these items and can come same day when called for installation or repairs.
---
Commercial Grade Deadbolt Security For Steel Doors Installed or Repaired Sherwood Park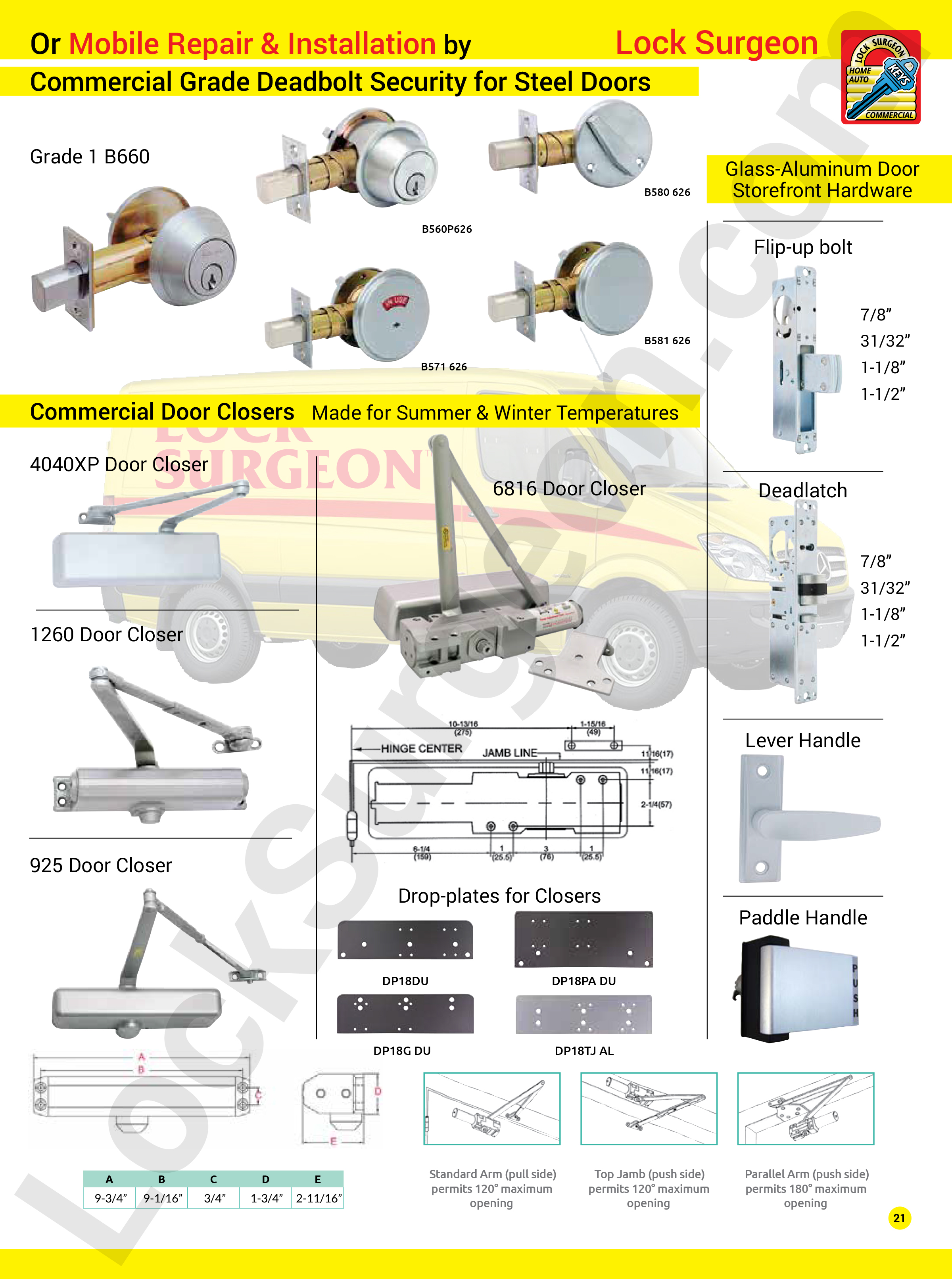 Commercial grade deadbolts, door closers and glass-aluminum door storefront hardware supplied and installed in Sherwood Park
Steel door commercial grade deadbolt security for commercial buildings, warehouses, office building & apartment complexes. Lock Surgeon or Door Surgeon Sherwood Park locksmith technicians can supply and install new security deadbolts or repair your broken ones. Deadbolts can be picked open and rekeyed, door closers repaired or replaced, glass-aluminum door hardware replaced or repaired. Lock Surgeon or Door Surgeon professional servicemen come to your site and evaluate the solution you need.
---
Sherwood Park Commercial Door Security & Hardware Installed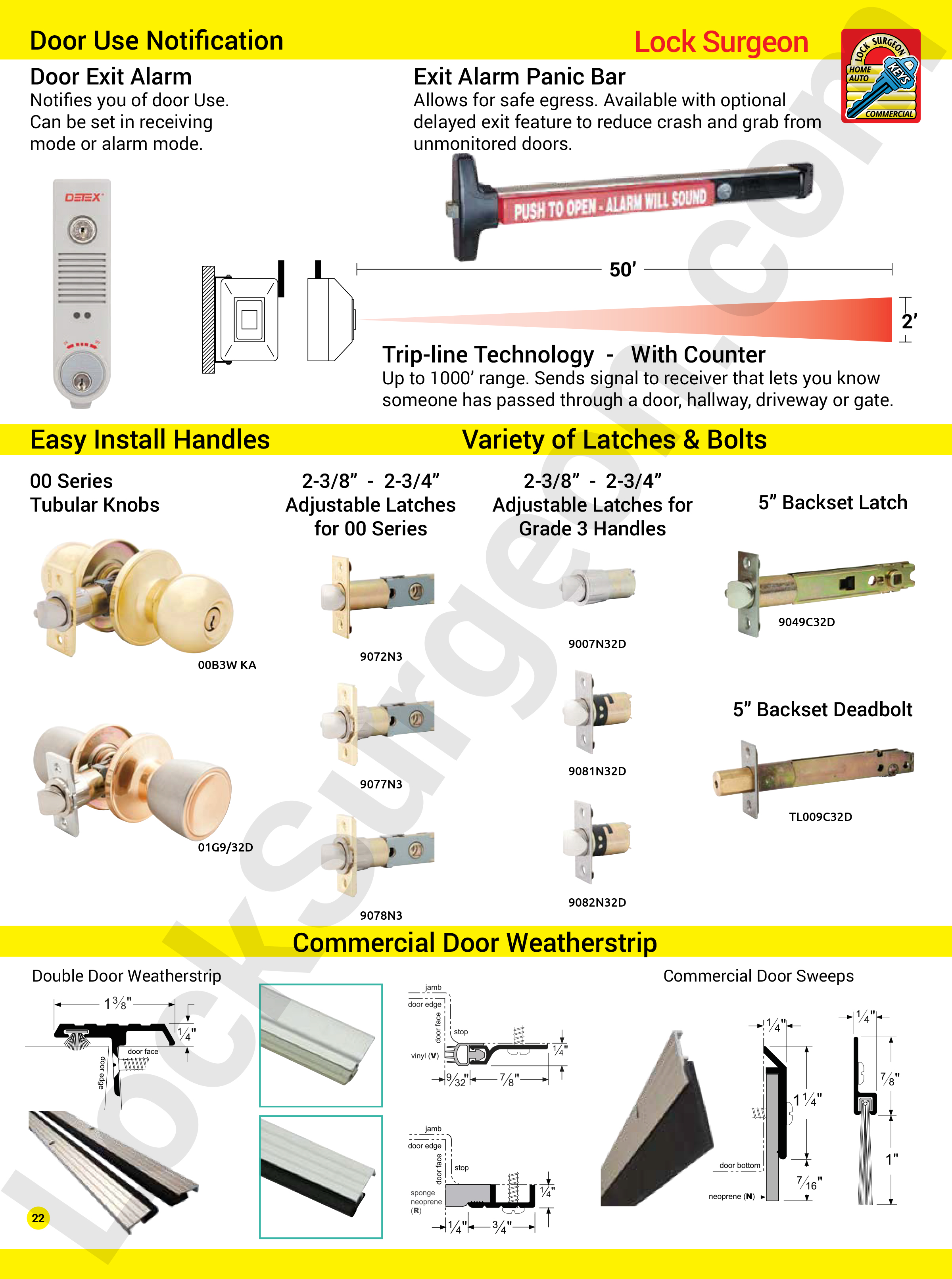 Security and hardware for commercial doors supplied and installed Sherwood Park
Security and Hardware products for commercial doors installed or repaired by Lock Surgeon or Door Surgeon trained Sherwood Park technicians. Lock Surgeon carry door exit alarms that notify you of door use, can be set in recieving mode or alarm mode. Exit alarm panic bars that allow for safe egress, available with optional delayed exit feature to reduce crash and grab from unmonitored doors. Trip-line technology with counters that have up to 1000' range, sends signals to receiver that let you know someone has passed through the door, made for hallway, driveway or gate. Easy install handles, door weatherstrip and a variety of latches and bolts.
---
Mailboxes, Toolbox, Desks & Showcase Locks Sherwood Park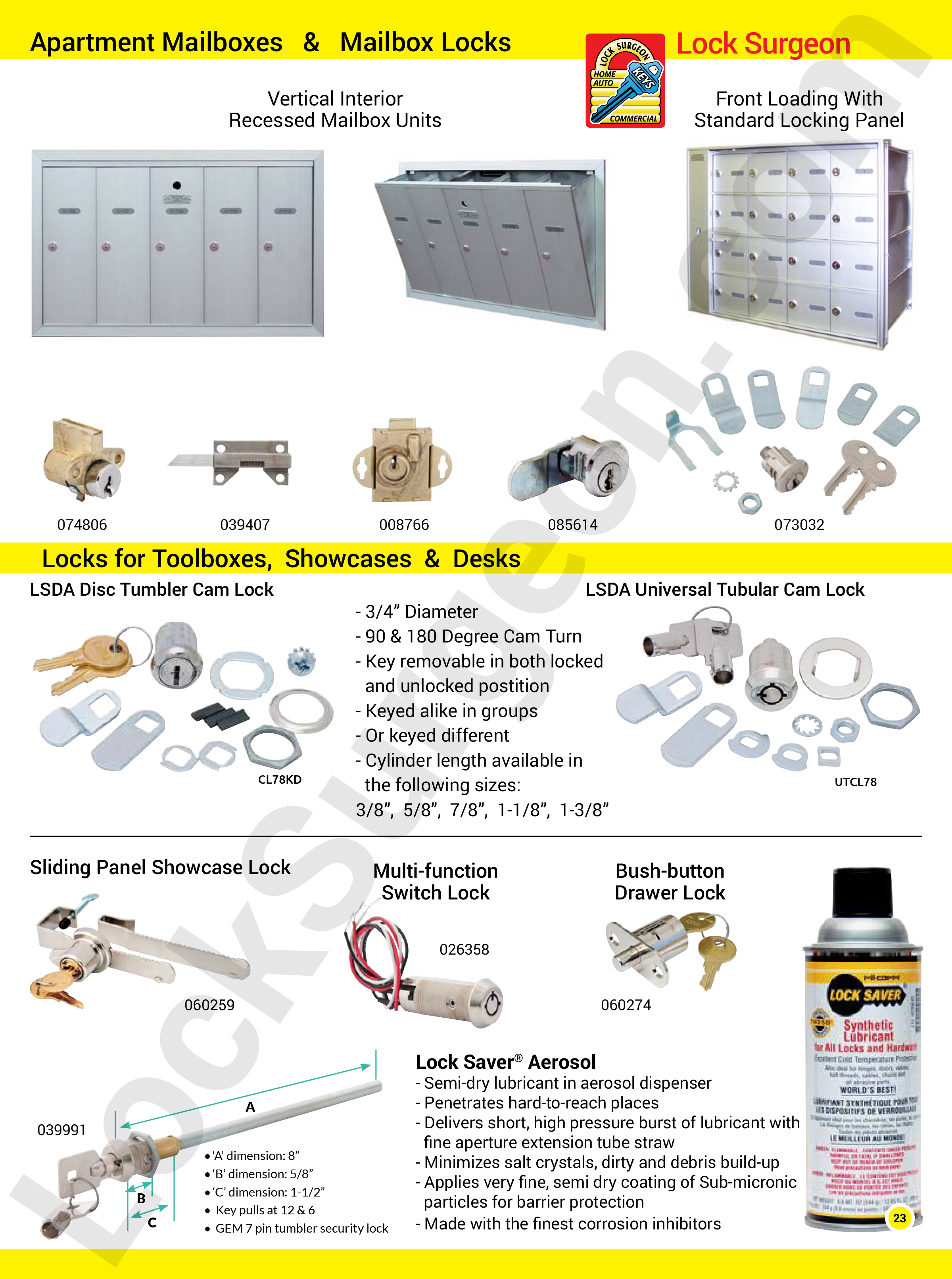 Lock Surgeon Sherwood Park carry mailbox units, toolbox locks, desk tumblers and showcase locks
Lock Surgeon Sherwood Park carry vertical interior recessed mailbox units, front loading with standard locking panel as well as replacement locks and keys. Tumbler cam locks for toolboxes, showcases and desks. Sliding panel showcase locks, multi-function switch locks, Push-button drawer locks for all your tumbler cam lock needs. LSDA universal tubular cam lock and disc tumbler cam lock, 90 and 180 degree cam turn. Key removable in both locked and unlocked positions. Keyed alike in groups or keyed different. Cylinder length available in multiple sizes.
---
Roll Shutters Supplied & Installed to Protect Your Sherwood Park Home or Business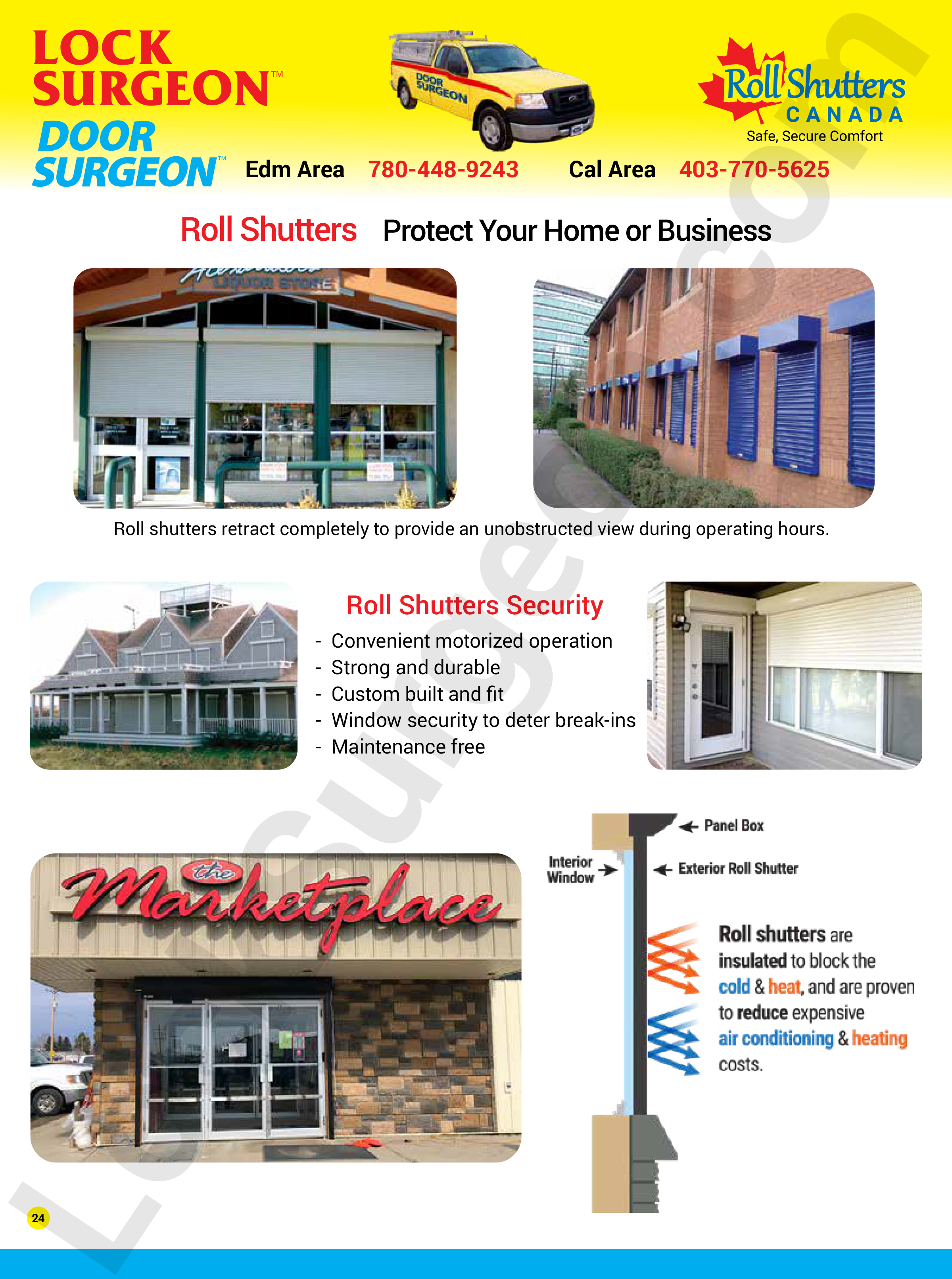 Custom built roll shutters to fit and protect your Sherwood Park building windows and access doors
Roll shutter security custom made to fit your Sherwood Park windows and doors supplied and installed by Lock Surgeon service technicians. Convenient motorized or manual operation. Strong and durable. Custom built to fit right. Window security to deter break-ins. Maintenance free. Roll shutters retract completely to provide unobstructed views during buisness hours and full protection during off hours. Roll shutters are insulated to block the cold & heat, and are proven to reduce expensive air conditioning & heating costs.
---
Sherwood Park Window Bar Solutions for Commercial Businesses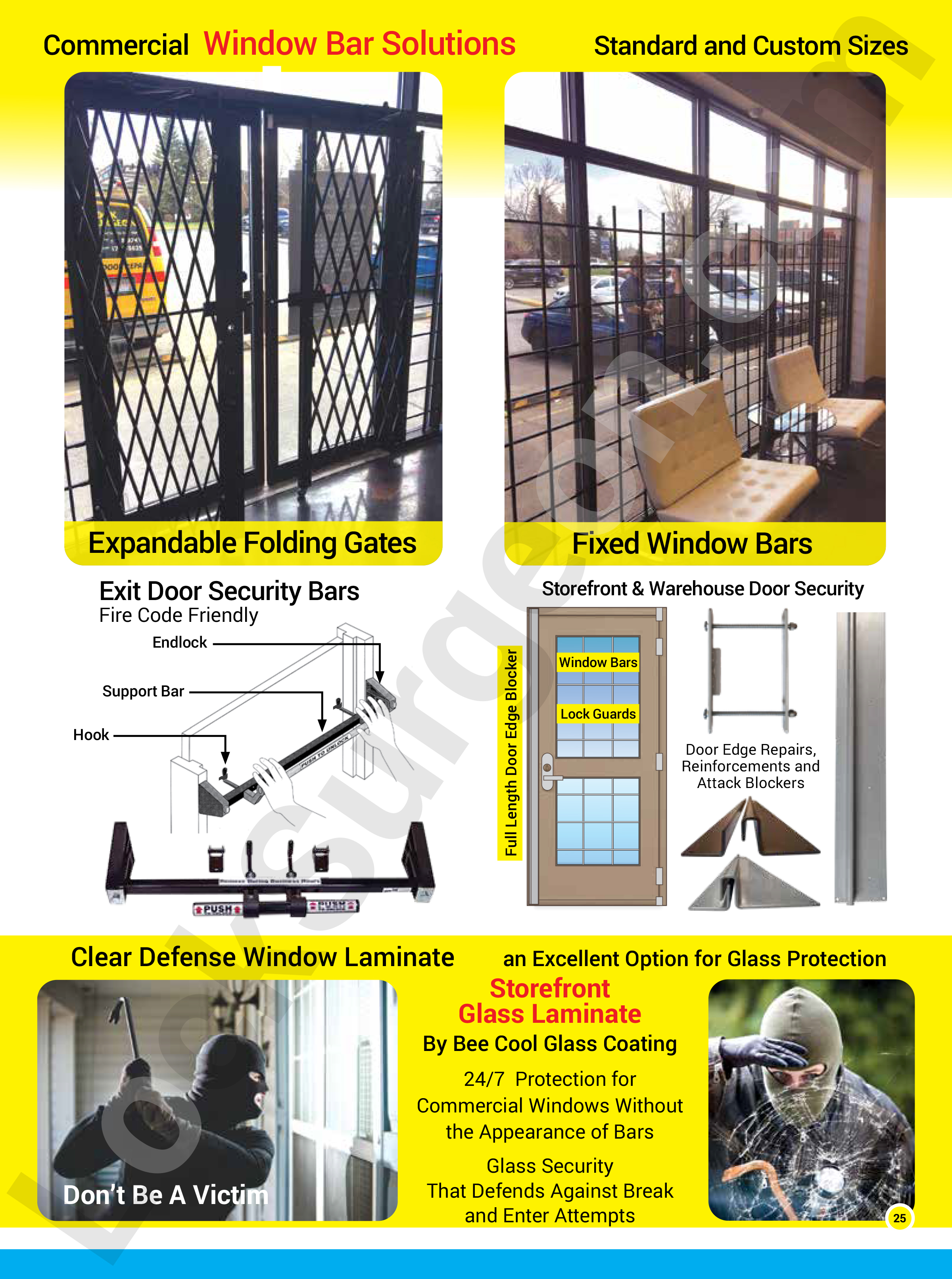 Protect your Sherwood Park business from break and enters due to exposed storefront doors and windows
Lock Surgeon carry commercial window bar solutions in standard and custom sizes. Storefront & warehouse door security with expandable folding gates, fixed window bars, exit door security bars. Door edge repairs and reinforcements and attack blockers to deter break and enters. Fire code friendly solutions. Lock Surgeon Sherwood Park carry and install Clear Defense window laminate, an excellent option for glass protection. Glass security defends against break and enter attempts.
---
Garage Door Repair or Replacement Services Sherwood Park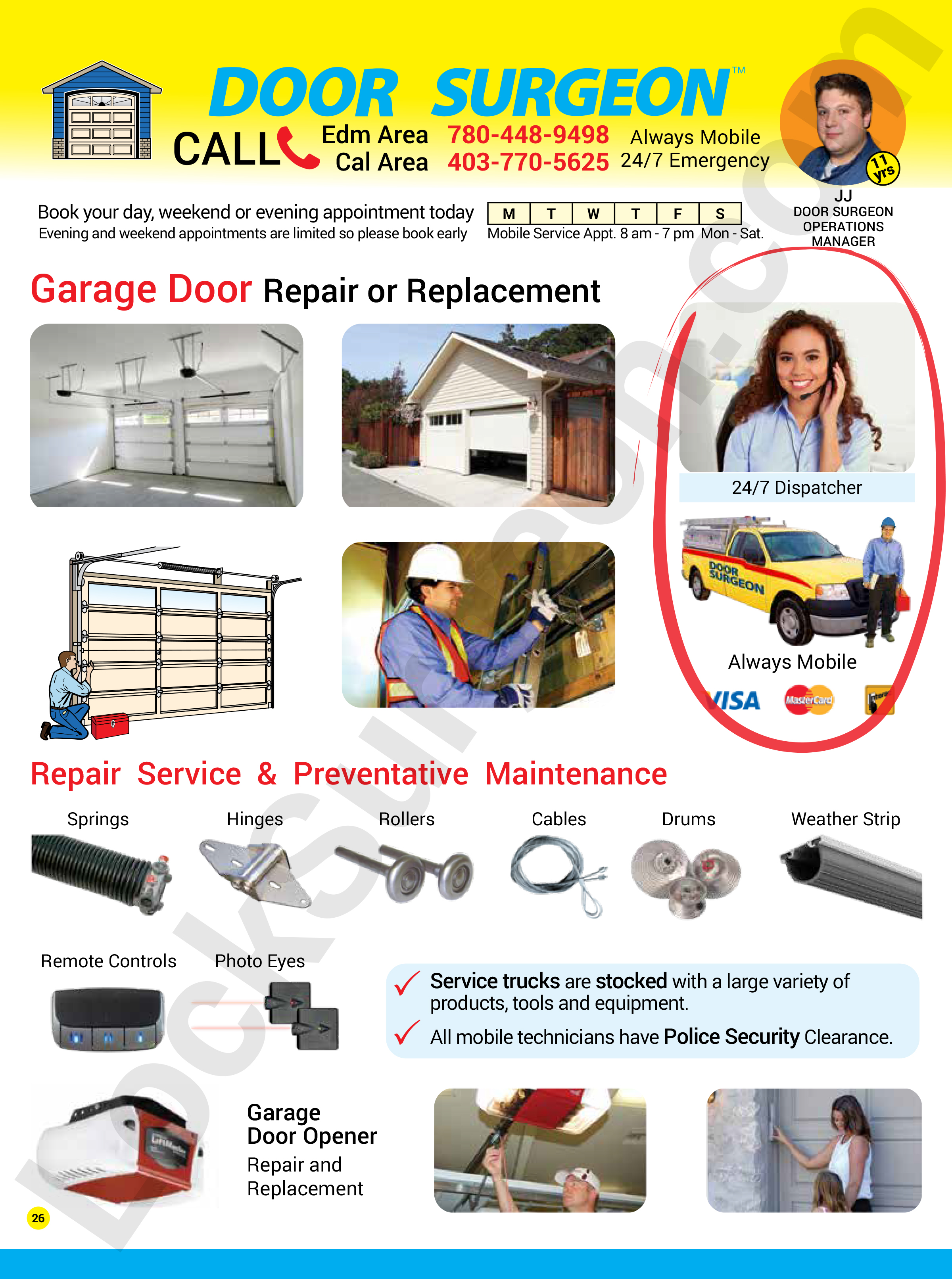 Lock Surgeon Sherwood Park Mobile repair or replacement of garage or overhead doors onsite
Lock Surgeon and Door Surgeon mobile Sherwood Park garage door repair or replacement services by trained, professional, expert garage door repair technicians. Preventative maintenance packages available. Service trucks are stocked with a large variety of products, tools and equipment allow Lock Surgeon and Door Surgeon technicians to complete the repair on the first visit. Repair or replacement of garage door springs, garage door hinges, garage door rollers, garage door cables, garage door drums, garage door weatherstripping, garage door remotes, garage door photo eyes and garage door openers.
---
Sherwood Park New Replacement Garage or Overhead Doors for Home or Business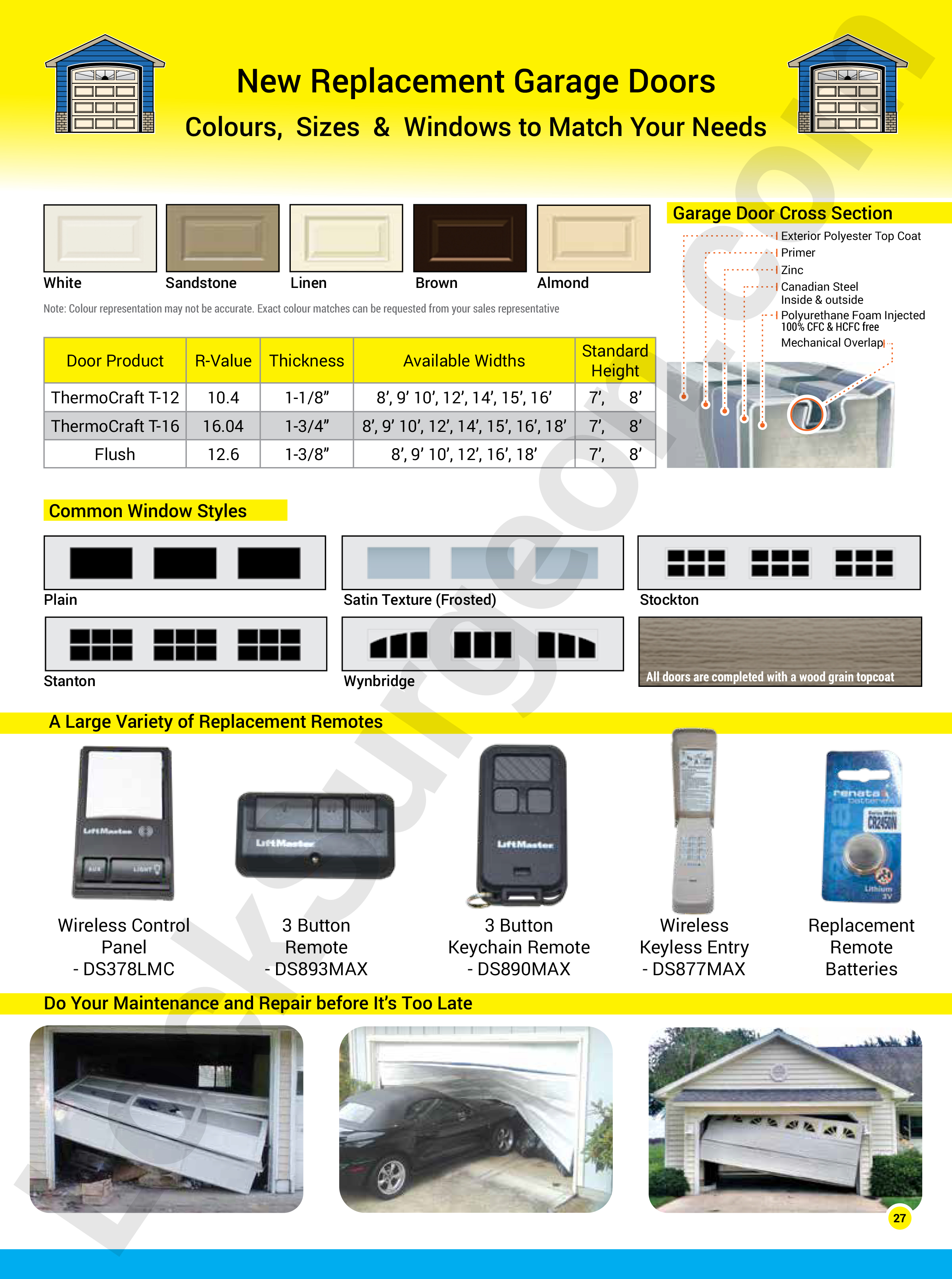 Lock Surgeon and Door Surgeon Sherwood Park supply and install new replacement garage door and overhead doors
New replacement garage door and overhead doors. Colours, sizes & windows to match your needs. Lock Surgeon carry a large variety of replacement remotes, openers, panels, hinges, cables, photo eyes, rollers, drums, and weathersripping. New garage doors come in a variety of sizes, shapes and material types. Lock Surgeon and Door Surgeon's Sherwood Park mobile residential new garage door installation serviceman can match your garage door renovation needs to a new garage door to improve the looks and insulation of your garage.
---
Residential Garage Door Parts Installation or Repair Sherwood Park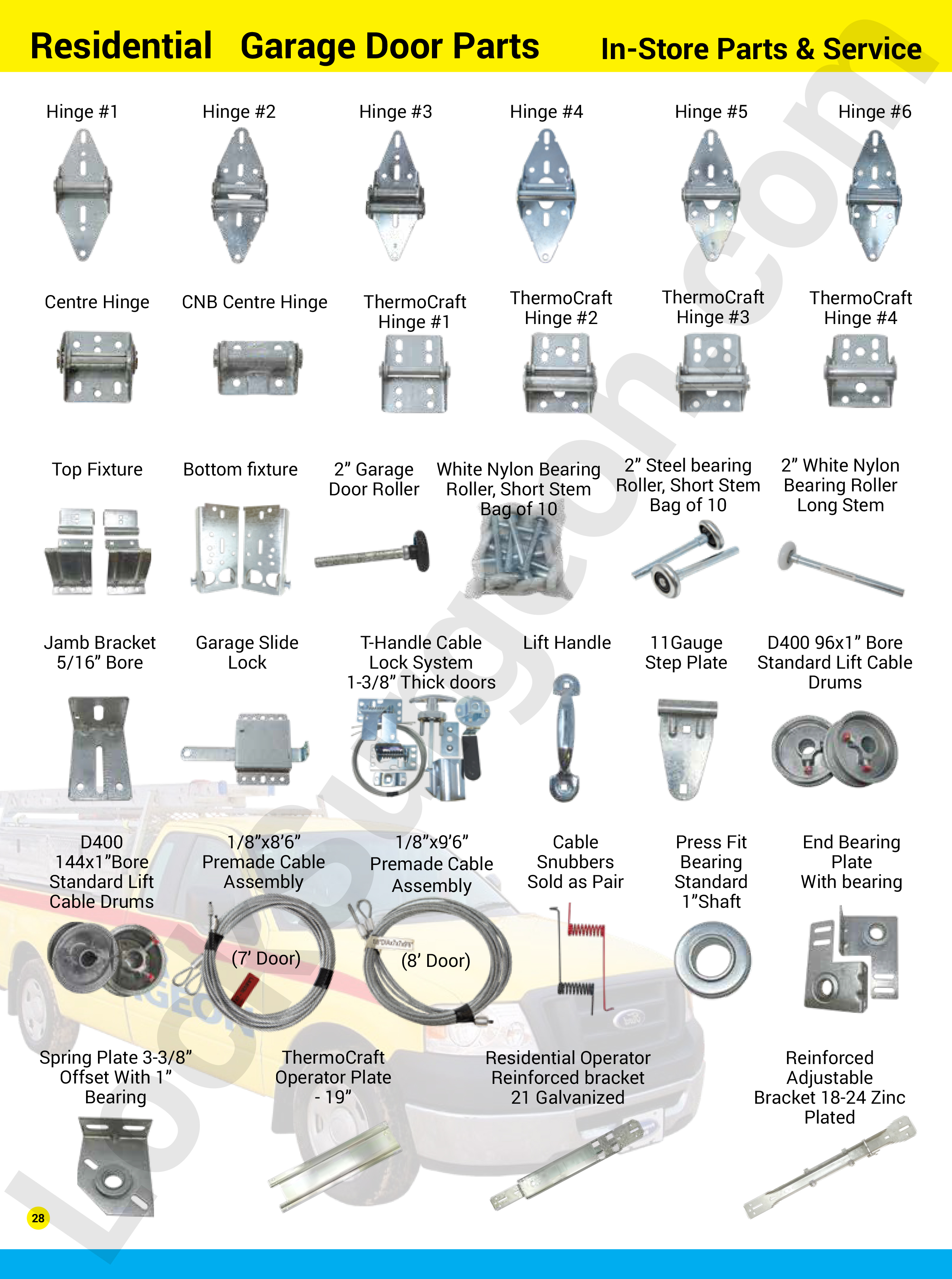 Mobile installation or repair for Sherwood Park residential home garage door parts
Sherwood Park Home residential garage door replacement parts in-store and stocked on Lock Surgeon service trucks. Lock Surgeon stocks many garage door parts, bring your broken hing, spring, cable, roller, handle, bracket, drum or other garage door part to have one of Lock Surgeon's trained locksmith technicians match with a replacement.
---
Sherwood Park Garage & Overhead Door Replacement Parts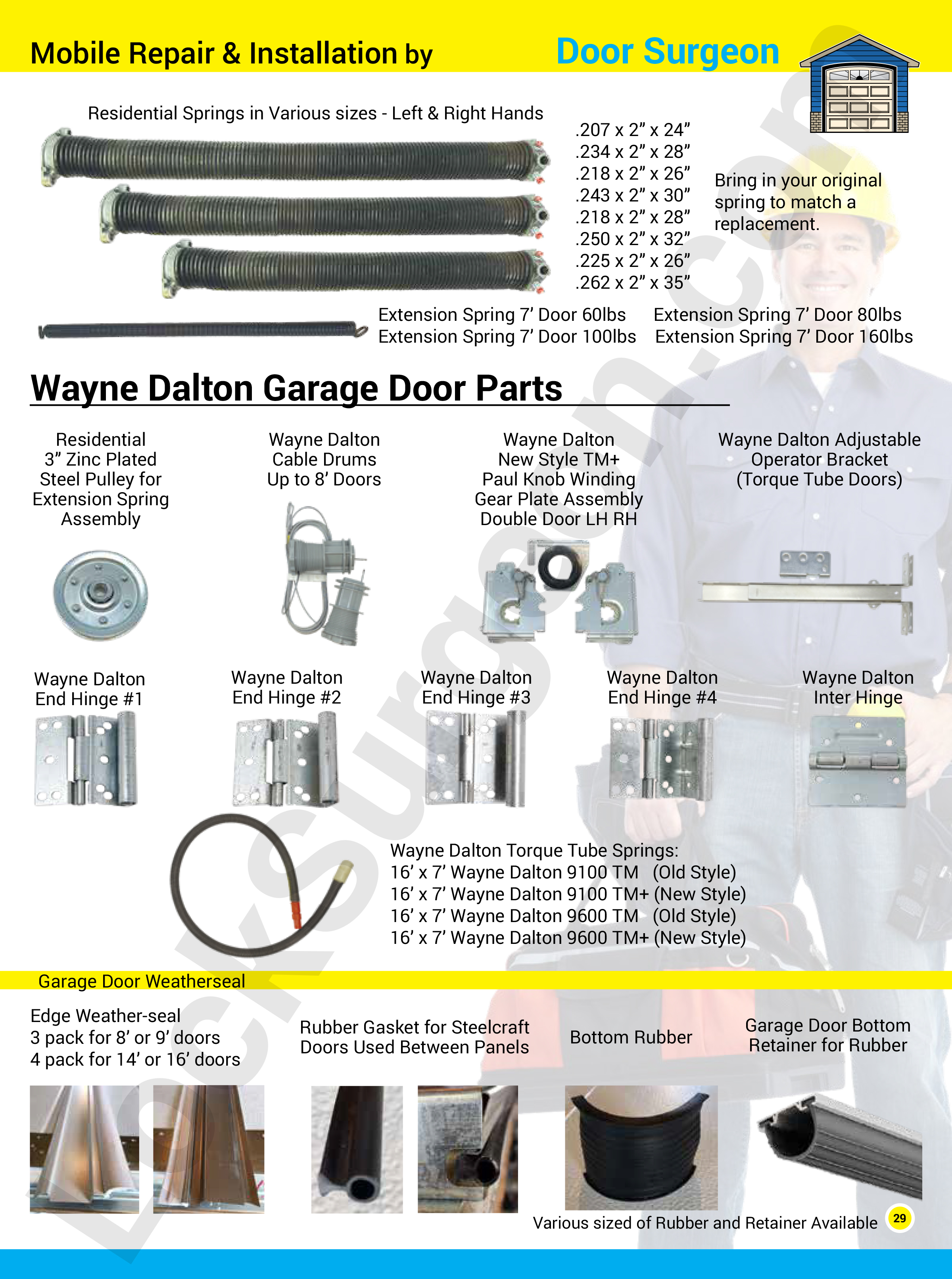 Garage door part solutions for Sherwood Park home, commercial, and trucks
Mobile garage door repair parts and installation. Residential springs and extension springs in various sizes can be matched to your broken spring. Lock Surgeon carry parts for Wayne Dalton doors: steel pulleys, springs, cable drums, both new style and old styles. Adjustable operator brakets, gear plate assemblies for double doors, hinges, torque tube springs, weatherseal, rubber gasket, bottom rubber and retainers.
---
Commercial Overhead Door, Loading Dock Levelers & Truck Roll-up Doors Repair or Replacement Sherwood Park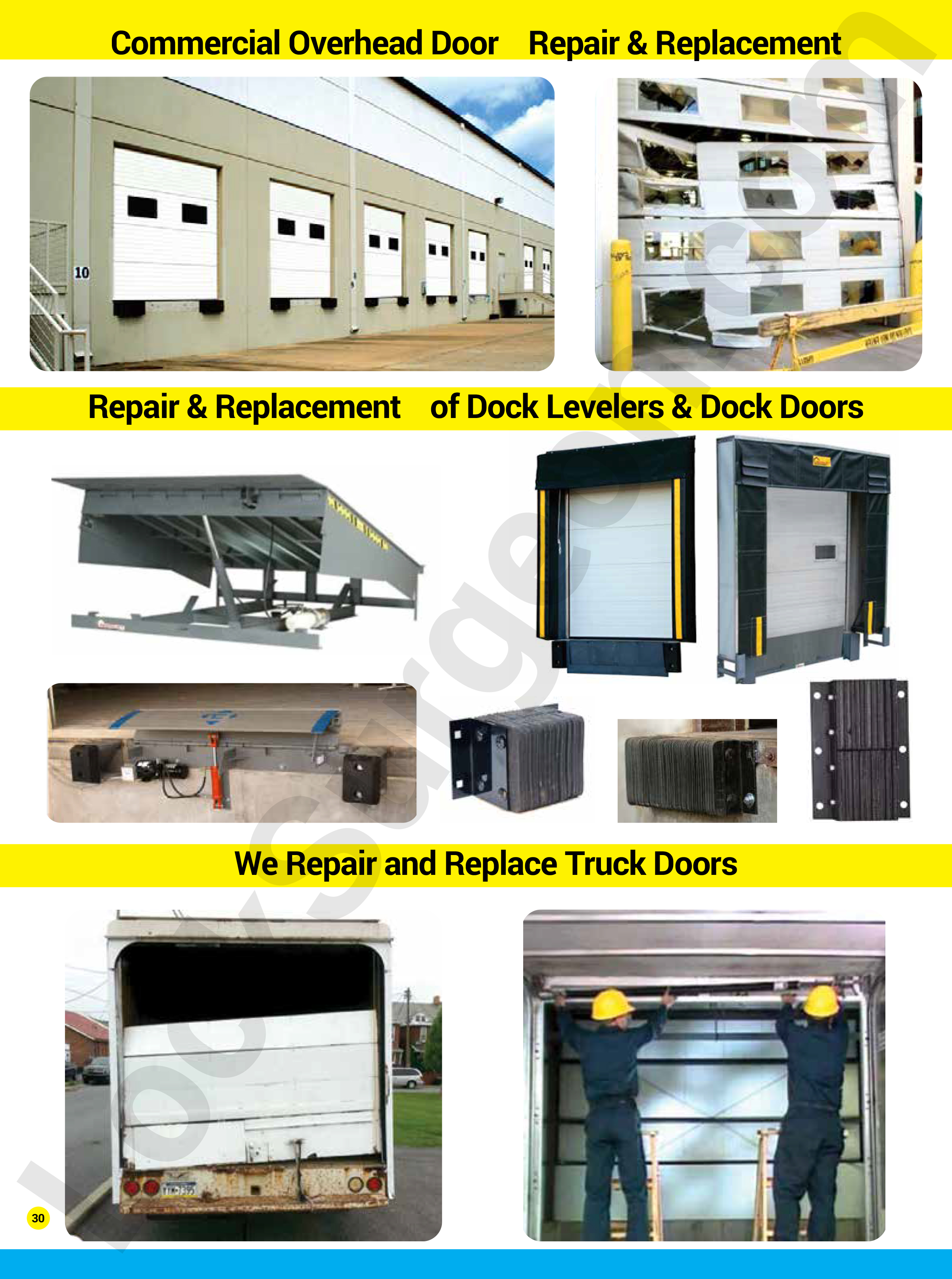 Mobile repairs Sherwood Park for loading dock levelers, loading dock doors, overhead garage doors and truck roll-up doors
Lock Surgeon Sherwood Park professional locksmiths provide mobile repair or replacement of commercial overhead doors, loading dock levelers and truck roll-up doors.
---
Lock Surgeon Sherwood Park Locksmiths installations, repairs & Hardware Family Owned & Operated for Over 30yrs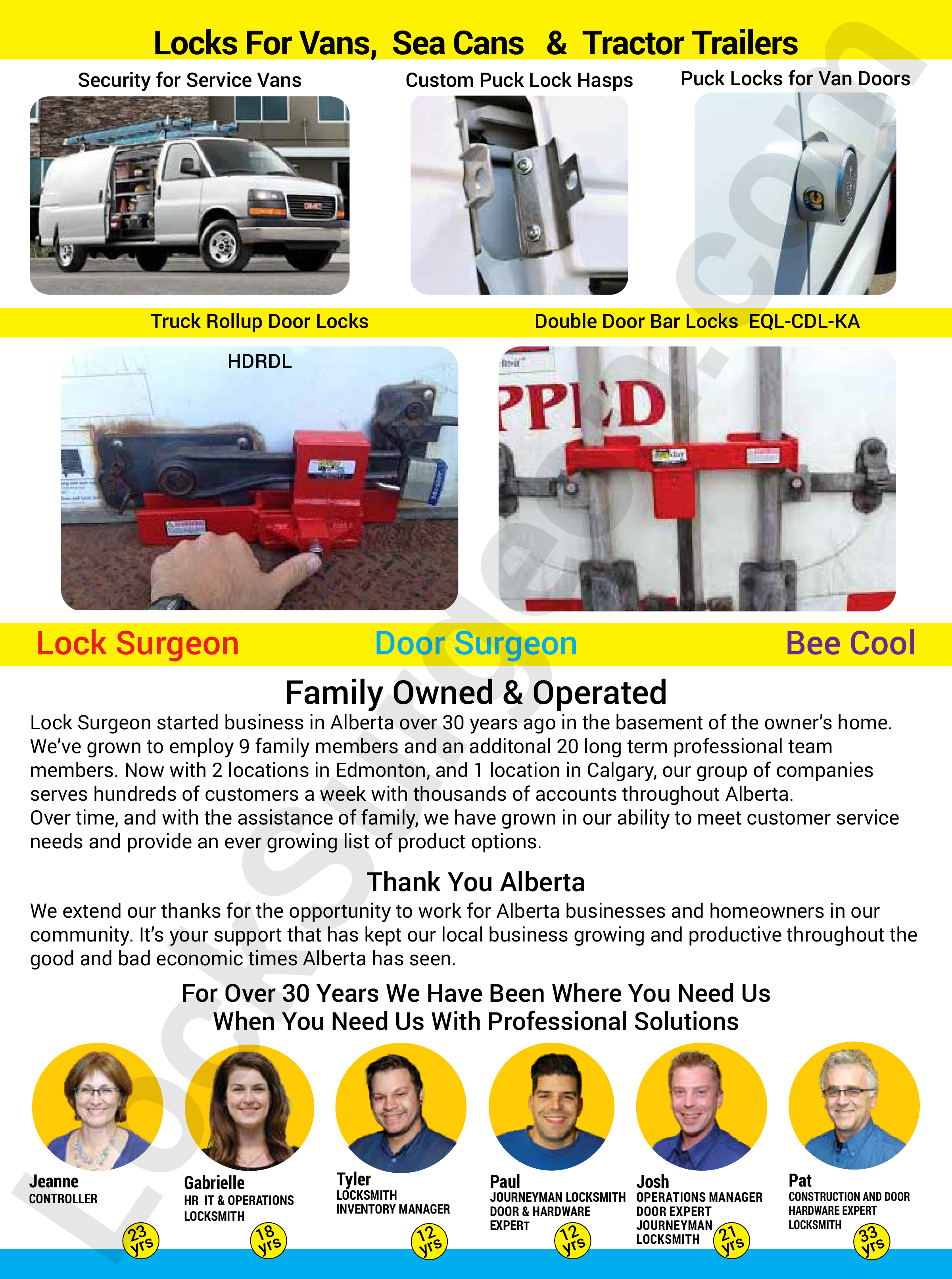 Lock Surgeon professional security solutions Sherwood Park
Lock Surgeon Sherwood Park mobile locksmith technicians provide superior custom security solutions for locking up service vans, sea cans, tractor trailers and many other lock-up security needs. Lock solutions for truck roll-up doors & double door bar locks.
---
Lock Surgeon & Door Surgeon Locksmith & Door Repair Security Solutions Sherwood Park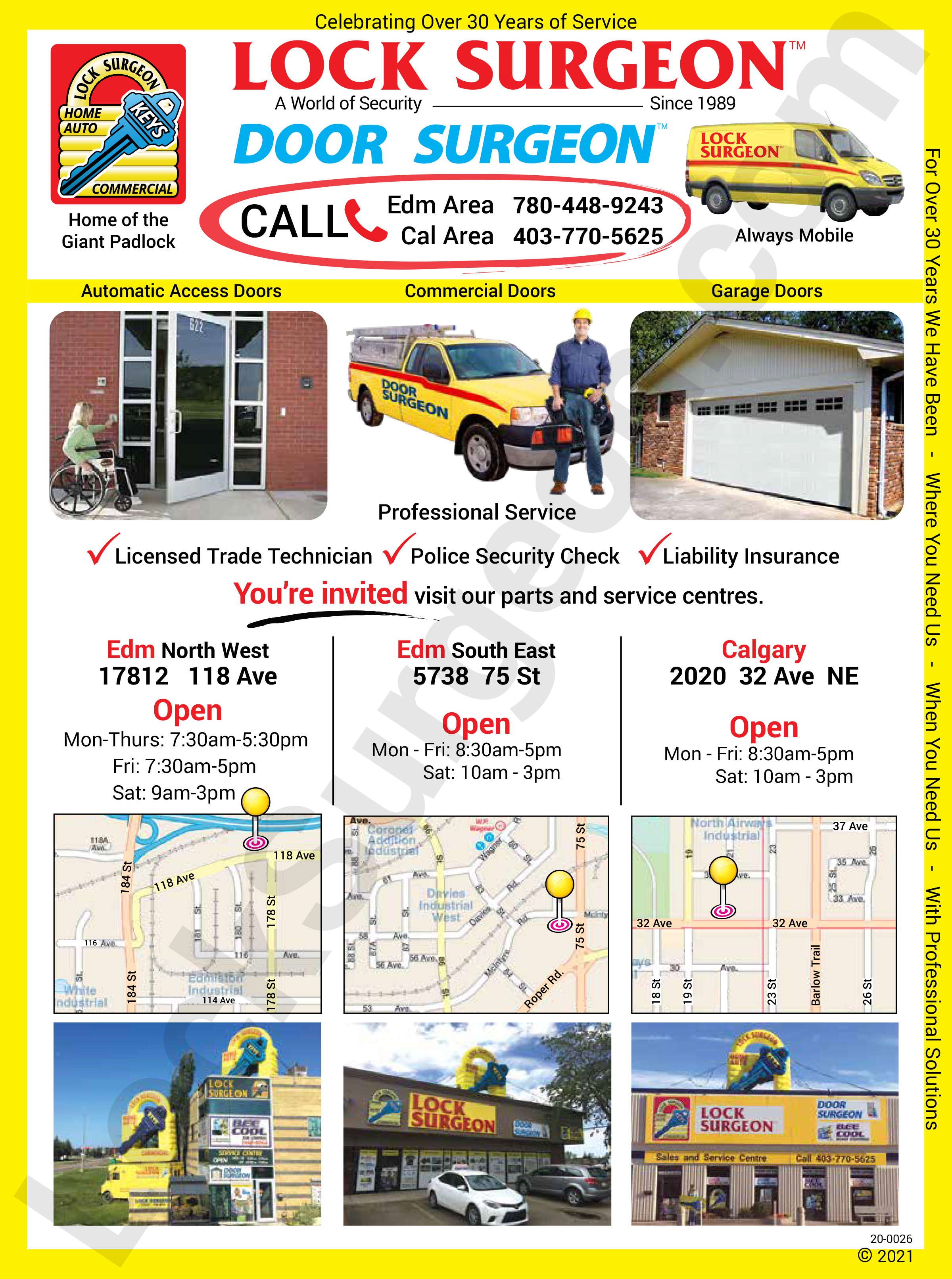 Door Surgeon and Lock Surgeon mobile Sherwood Park bring a team of mobile experts to your home or business
Lock Surgeon Sherwood Park, always mobile repair and service for automatic access doors, commercial doors & garage doors. Professional service, licensed trade technician, police security checks, liability insurance.
---