Storefront Door Hardware Product Listings
Product Presented in "Like" Groups For Easy Reference.
---
LSDA Aluminium-Glass Door Replacement Hardware-bolts, Deadlatches, Deadlatch Lever & Paddle Handles
Maximum security bolts, deadlatches, deadlatch lever handles and deadlatch paddle handles
These are the components most often used to solve storefront and apartment door locking needs. Door Surgeon's mobile locksmith handimen maintain a stock of this basic inventory on their trucks.
---
LSDA Dummy, Thumbturn & Rim Cylinders
Dummy mortise cylinders, thumbturn mortise cylinders, rim cylinders
Go-to components used for glass-aluminium doors stocked in Lock Surgeon's mobile service trucks for fast repairs and rekeys.
---
Adams Rite Deadbolts, Deadlocks & Hookbolts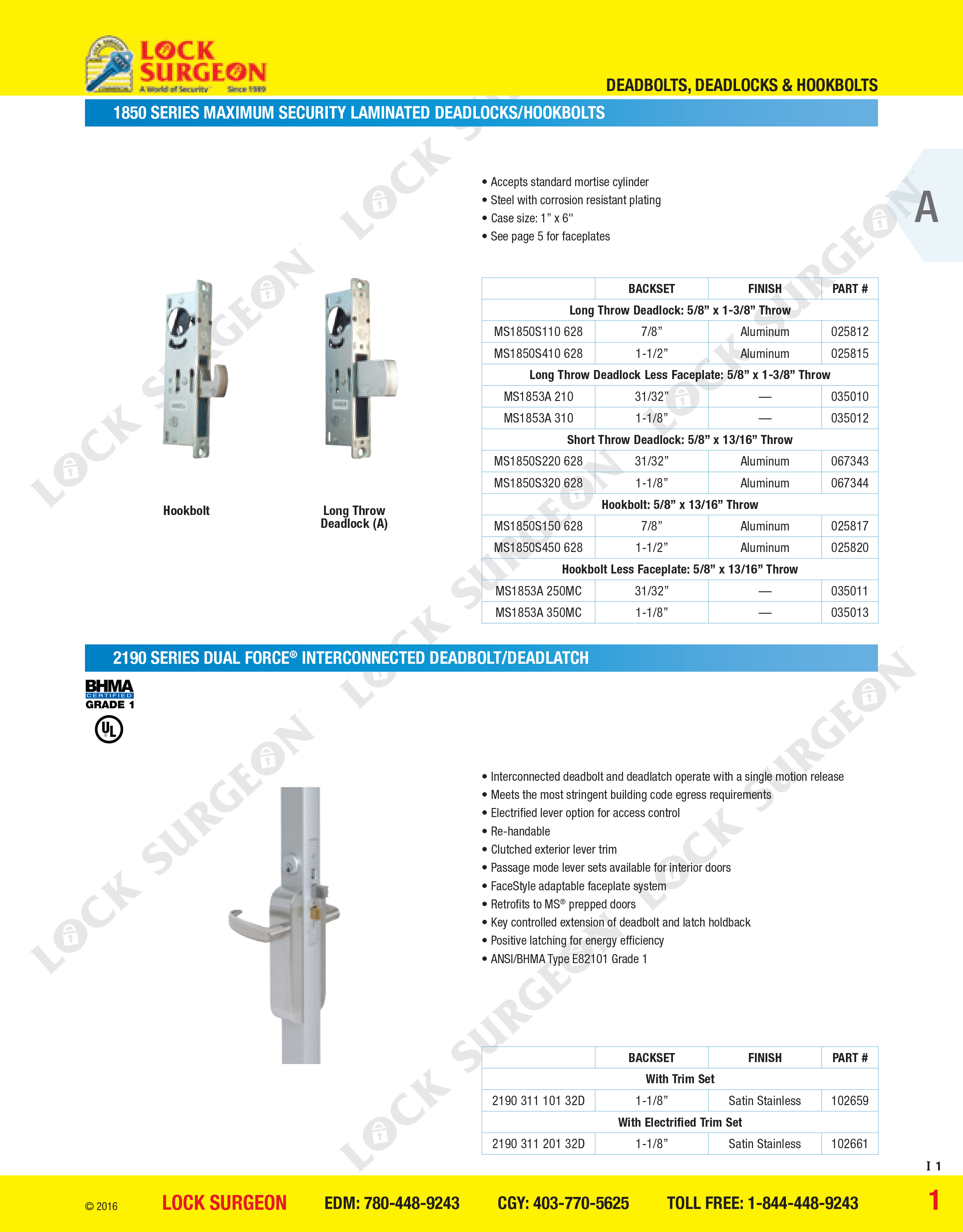 1850 series Maximum security laminated deadlocks/hookbolts & 2190 series dual force® interconnected deadbolt/deadlatches
---
Adams Rite Deadlatches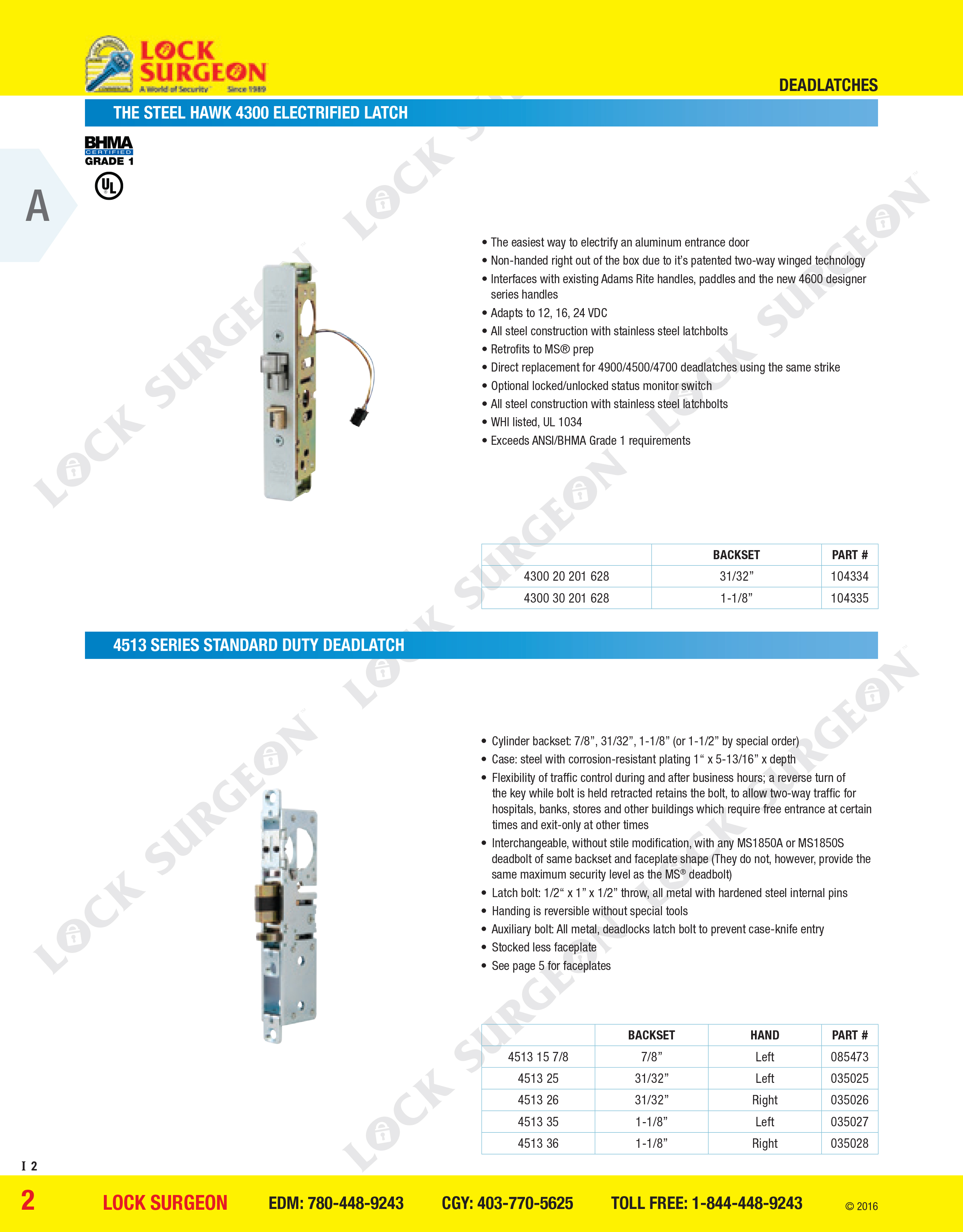 The Steel Hawk 4300 electrified latch & 4513 series standard duty deadlatch
---
Adams Rite Deadlatches & Paddle Handles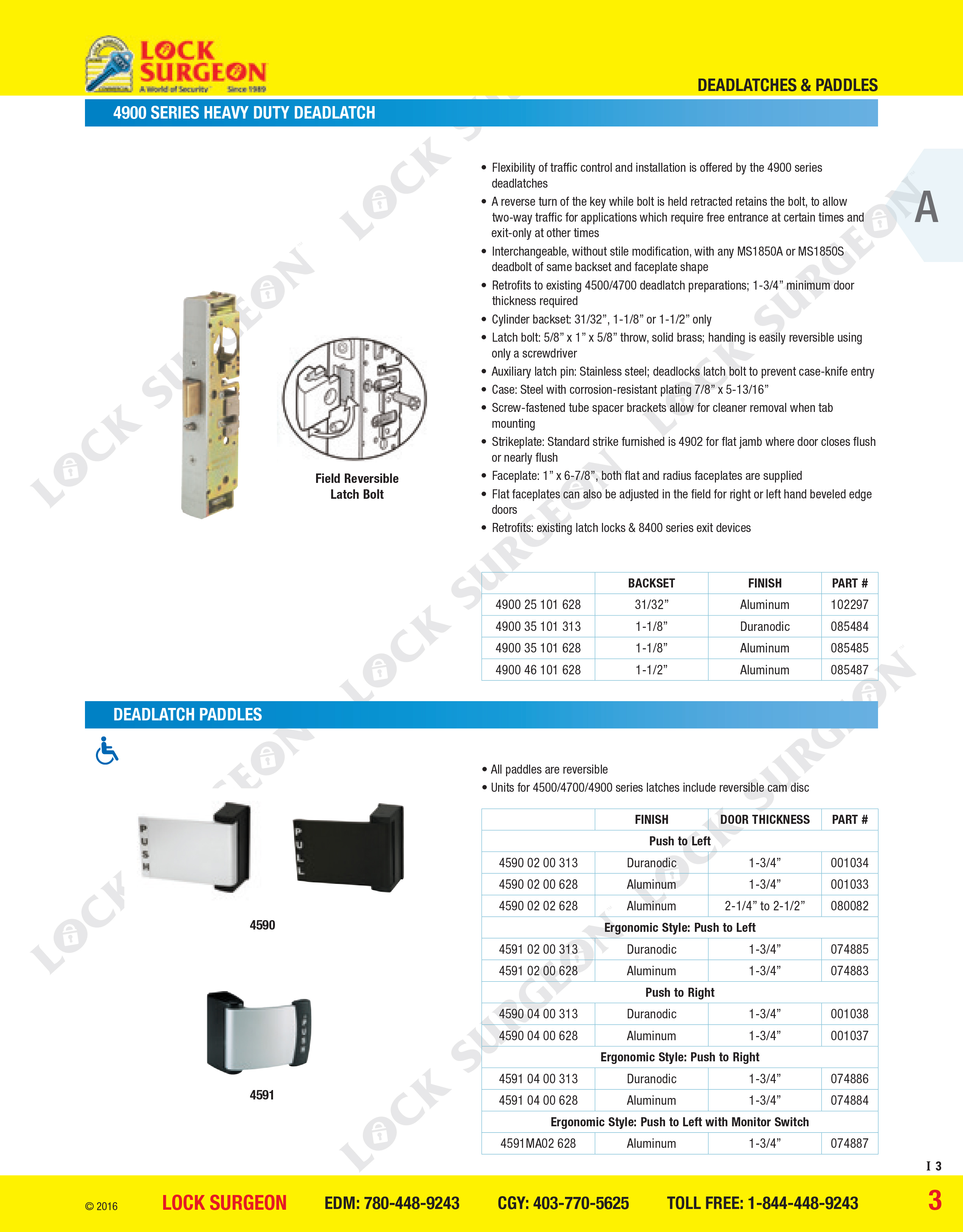 4900 Series heavy duty deadlatch & deadlatch paddles
---
Adams Rite Lever Handles, Paddle & Lever Parts, Bottom Rail & Deadbolt Options
Lever handles, 4590 Series paddle & 4560 Series lever parts, bottom rail & deadbolt options
---
Adams Rite MS Lock & Deadlatch Accessories
MS Lock & deadlatch accessories & parts
---
Adams Rite Sliding Door, Keyless Entry Locks & Reinforcing Pivot
Sliding door locks, Eforce keyless entry & full surface reinforcing pivot
---
Adams Rite Exit Devices & Parts
Exit devices & 8000 Series exit device parts
---
Camden Door Controls Key Switches & Handicap Push-buttons
Key switches & Handicap Operator Push-button switches
---
Detex Hinge Bolts, Fire Rated Alarmed & Delayed Egress Exit Devices
V40 Alarmed & delayed egress exit devices
Reduces internal and customer theft while meeting building code requirements. Alarmed 100 decibel exit device powered by standard 9volt battery. Controls foot traffic, deters unauthorized exit and prevents loss. The V40EE has a feature that delays egress, can be wired into fire alarm.
---
Don-Jo Deadbolt Security Strike, T-Strike & Door Hardware
Security strikes, T-strike & flip-up bolts for steel doors and glass-aluminium stationary doors
---
In-floor Closers & Door Holders
BTS80 In-floor door closer & Electromagnetic door holder
---
Falcon Single Cylinder Deadbolts & Accessories
Grade 2 single cylinder deadbolt with thumbturn, thumbturn deadbolt with indicator for washroom use
Deadbolt will accept IC-core and indicator lock commonly used on washrooms.
---
Gallery Elbow Catch, Cylinder Pull, Flush Bolt & Wall Stops
Cabinet elbow catch, cylinder pull, flush bolt & cast wall stops
---
Gallery Floor Stops, Door Pulls & Plates
---
Glynn-Johnson Door Holders & Door Stops
---
GMS Mortise & Rim Cylinders
Quality mortise and rim cylinders that are stocked on Lock Surgeon trucks to provicde the best lock-pinning product available in standard operation. Our sales and Service Centres also stock this item as it is very popular. Available in Schlage C, Weiser, Corbin 60, Schlage C-K, Yale 8, Corbin L4, Sargent RA, Sargent LA, Sargent LA-LD, Sargent L-DL, Schlage E, Schlage F and Yale GA.
---
GMS Knob/Lever/Deadbolt Cylinders, Restricted Keyway Cylinders & Key Blanks
Very common keyways available in this quality key and knob product that comes in 5-pin or 6-pin configurations. Keyways avaiable are: Corbin 60, Corbin L4, Corbin D1, Sargent LA-LD, Schlage C, Schlage E, Schlage C-K, Weiser, Yale 8, Sargent RA, Sargent LA, Schlage F and Yale GA. MX-11 series cylinders are a security keyway that is also available through Lock Surgeon.
---
ilco Removable Thumbturn, Turnknob & Keyed Mortise Cylinders & Accessories
---
Bump Halt Kits, Rim Locks, Chains & Patio Locks
A World of Security™ Home of the Giant Padlock!