Residential Home Handles, Deadbolts & Keyless Entry
Can be purchased and viewed at Lock Surgeon's Locksmith Sales and Service Parts Centres at the following addresses.
Lock Surgeon Store
Edm West
Lock Surgeon Store
Edm South
Lock Surgeon Store
Cal North East
---
Product Presented in "Like" Groups For Easy Reference.
---
DIY In-store Sales and Service Or Installation services Available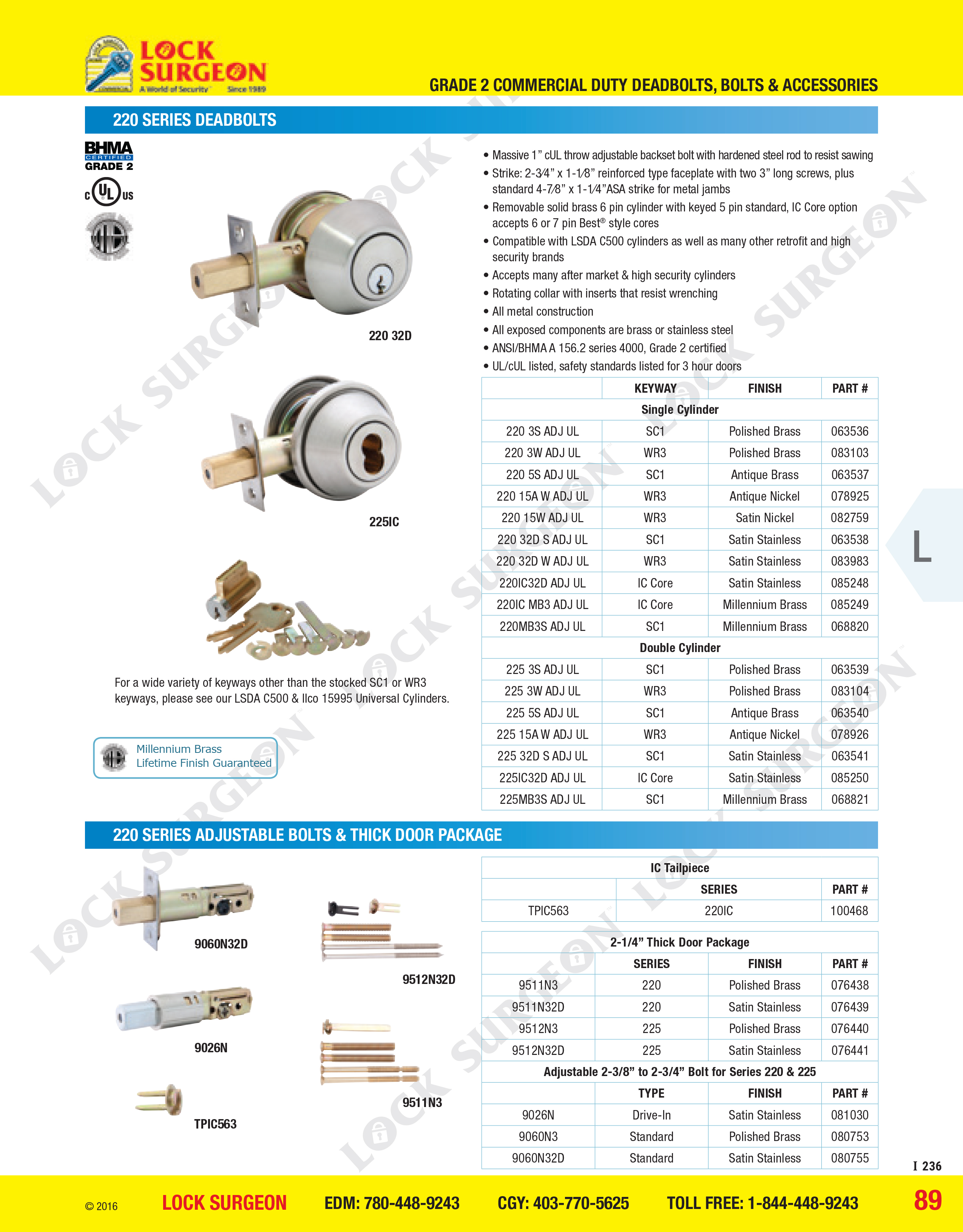 Upgrade your deadbolt to a superior quality
Lock Surgeon's mobile locksmith service can replace broken, worn or outdated lower-cost deadbolts with better quality, stronger deadbolts or visit one of Lock Surgeon's locksmith sales and service centre parts departments to view displays of deadbolts, handles and keyless entry and discuss your new door hardware needs with one of Lock Surgeon's lock smith sales and service centre parts department information providers.
---
Lever Handles to Meet Building Codes for Residential Applications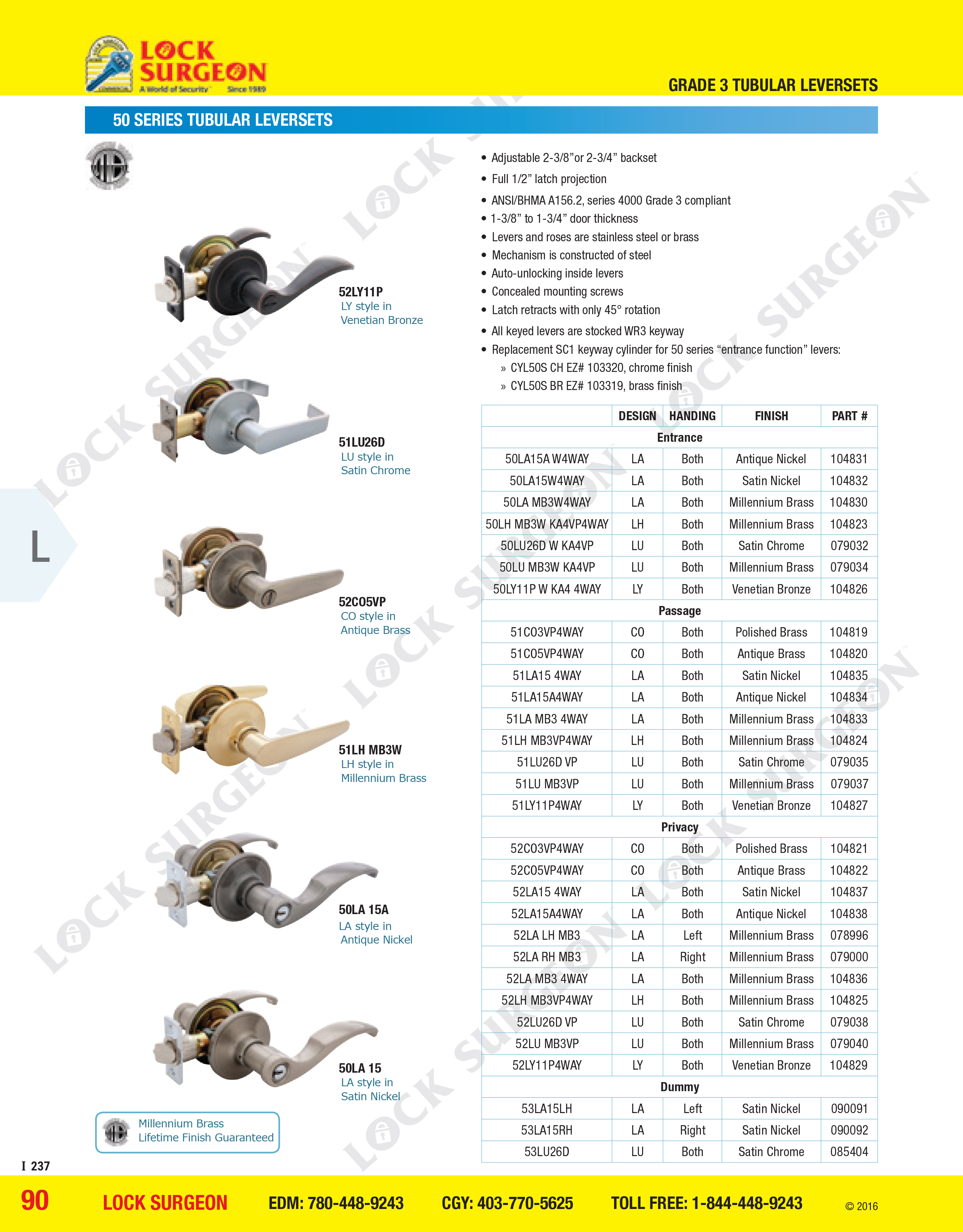 Choose lever handles from a variety of colours, styles and functions to meet your room, office or entry system needs
Lock Surgeon's mobile Locksmiths service man can review your current door hardware and supply and install new quality triple-springed lever handles in decorator styles and functions that will enhance your door appearance while adding security.
---
Ball Knobs/Door Handles With Adjustable Latch Lengths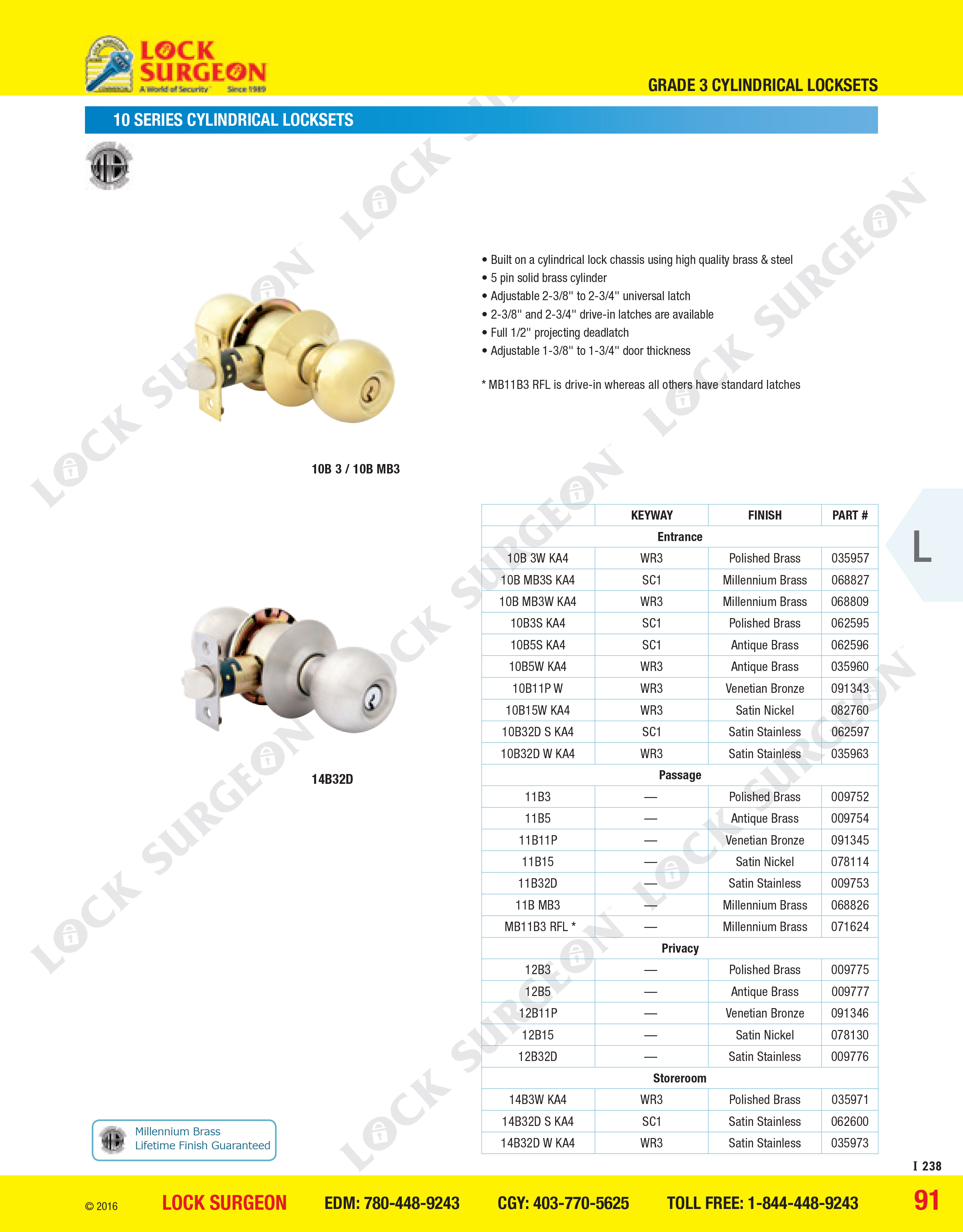 Ball knobs and door handles in a variety of colours, functions to meet your door lock requirements
Lock Surgeon's locksmith mobile service man can review your current door hardware and supply and install new standard ball knob design with quality components, steel and finishes. Available in functions to meet your room needs such as: entrance, passage, privacy or storeroom.
---
Door Handles for Easy Replacement of Older Home and Apartment Hardware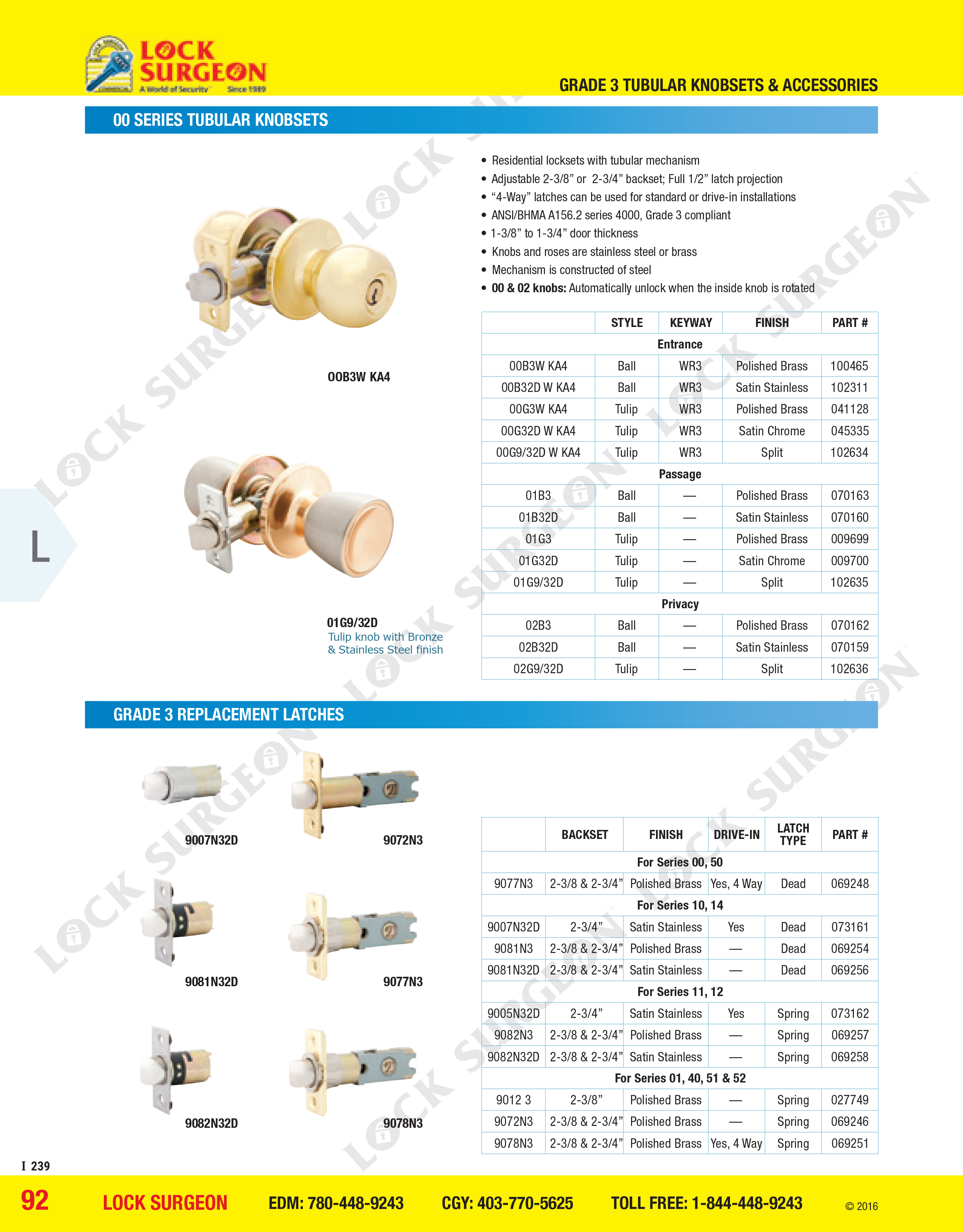 Easy install handles for the "Do-It-Yourselfer"
Do it yourself or have one of Lock Surgeon's mobile service repairmen do it for you, these handles retrofit into the older home and apartment door knob holes. Parts and service are always available at one of Lock Surgeon's Edmonton or Calgary locksmith sales and service centres.
---
Deadbolts for Home Residential Use That Provide Top of Grade Security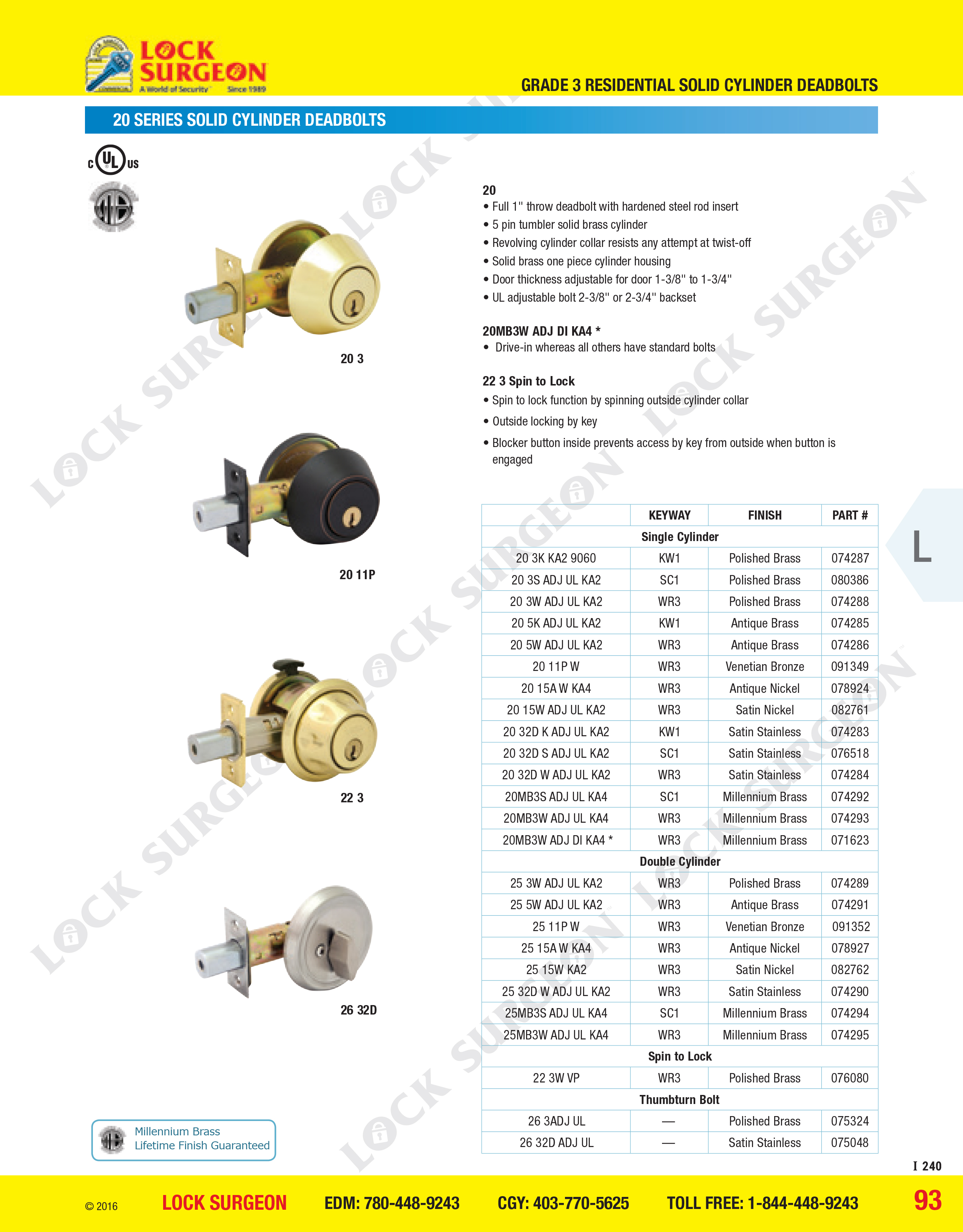 Deadbolts in designer colours, single-sided keyway or double-sided keyway
Do the retrofit install yourself or have it done by one of Lock Surgeon's mobile service handiman. These deadbolts are top of the grade quality with 1" throw, quality finishes and strong keyways. Visit one of Lock Surgeon's Locksmith stores near you for assistance in choosing the right quality grade deadbolt.
---
Deadbolt Built to Accept a Variety of Different Keyways to Match Your Building Keying Needs
Match your current key system to this deadbolt so all your locks work on one key
This deadbolt is designed to accept a variety of different key-type cylinders such as Schlage, Weiser, Yale, Sargent and security keyways. Lock Surgeon's mobile service man can repair or replace your current deadbolts or handles with quality replacement parts or consult with the lock smith parts and service desk at Lock Surgeon's.
---
Elegant Designer Grip-sets Complete With Deadbolt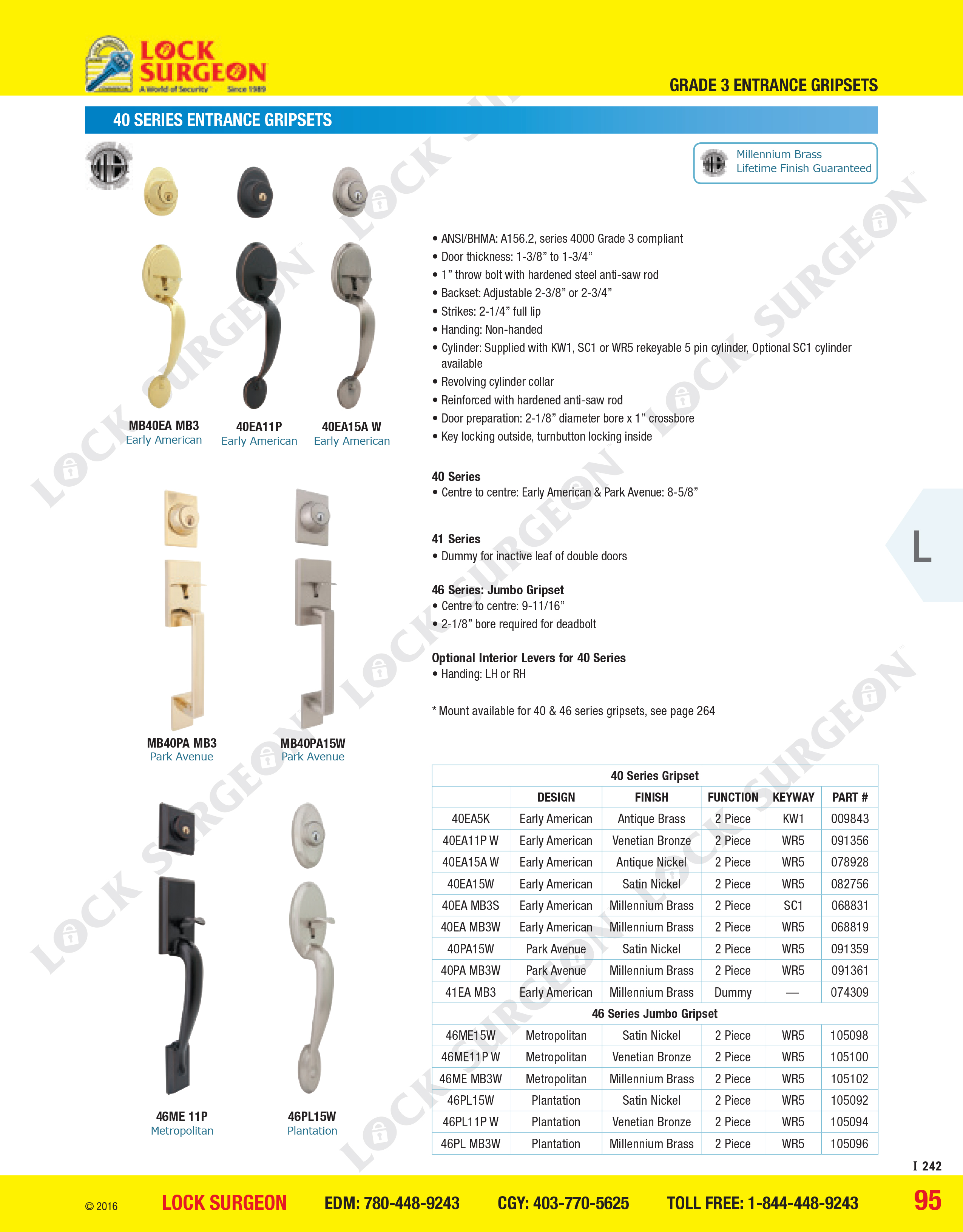 A look and colour to match your front door style requirements
These grip-sets come in a variety of sizes to match the current length and widths of your door handle. Strong thumb-latch, triple-spring action, quality finish make these the right choice to replace or renovate your current handles. Display handles can be viewed at the Lock Surgeon service centre.
---
Alternate Locking Cylinders and Lever Handles for Interior of Grip-sets
Match your key requirements with these cylinders and replace interior ball knobs with lever handles
Locking cylinder keyways can be provided in the Schlage profile so as to match other locking handles and deadbolts. Lever handles can replace interior ball knobs where lever handles are a preferred function for egress. Review product selection and receive Locksmith advice on which handle or cylinder will work best for your door hardware challenge at the Lock Smith service centre near you.
---
Push-button Entry Complete with Key Overide and Smartcard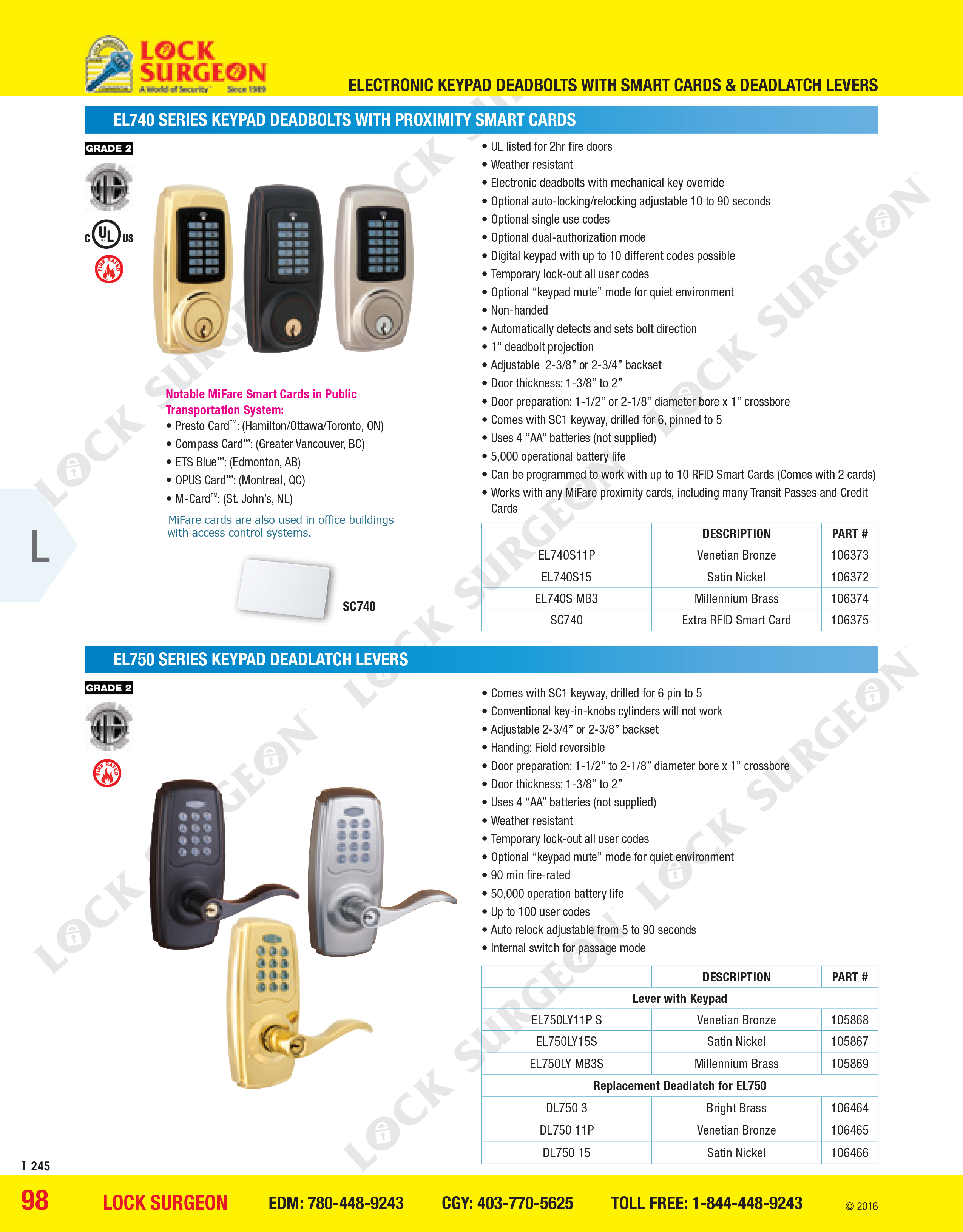 Digital entry made easy, key overide provides added convenience
Lock Surgeon's quality push-button entry with key-overide and smartcard makes this an excellent choice for home owners, office use, rental units, hotels and B&Bs. The key access makes it easy for housekeeping and maintenance staff to enter units even if the push-button code has been altered by renters, tenants and/or family members. Your locksmith serviceman will help you choose the right push-button entry system to meet your door access needs.
---
Weiser Deadbolt Replacement Latches and Grip-set Mechanisms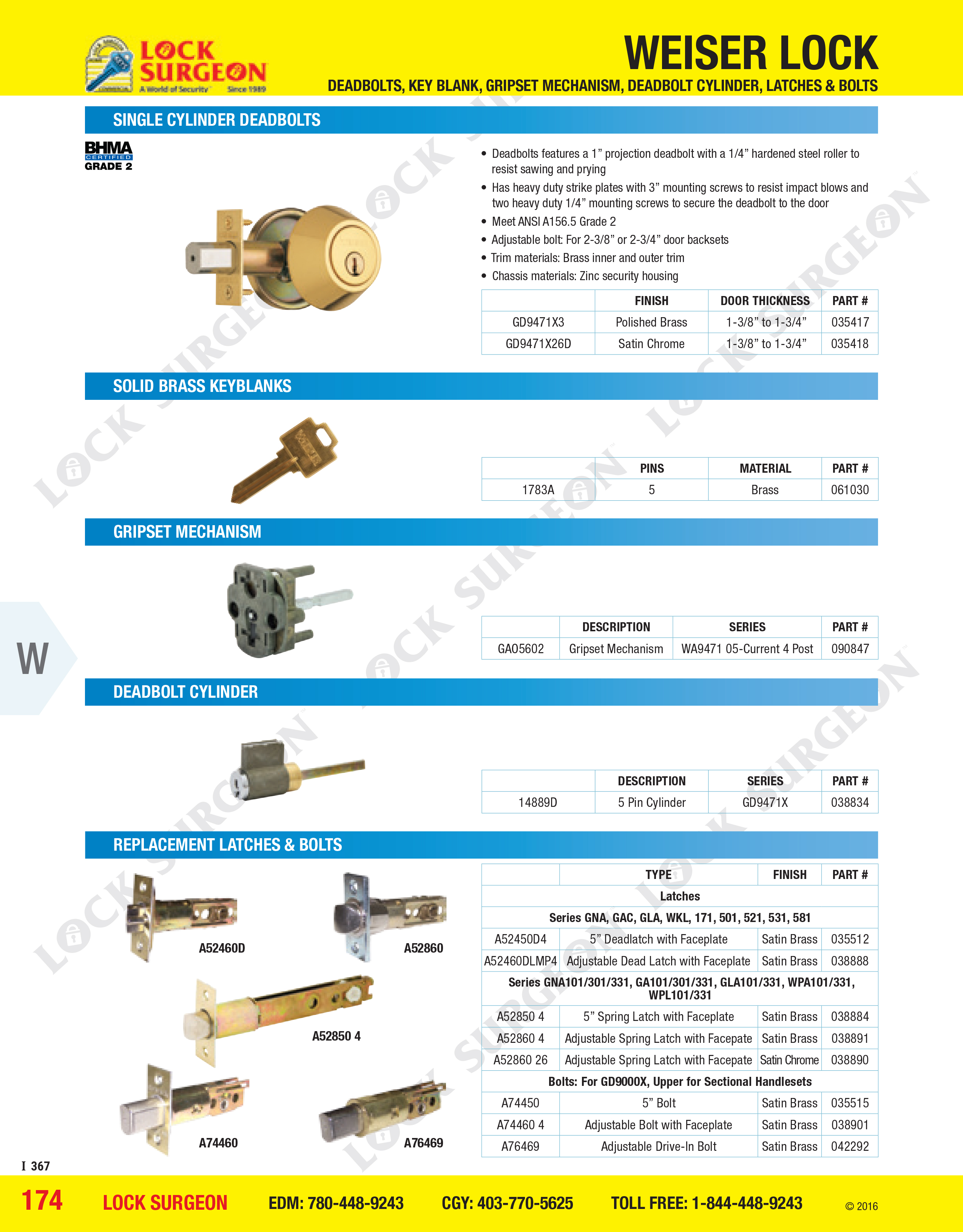 Hard to find, easy to replace components for your Weiser locks
Ask the Lock Surgeon's sales and service centre parts counter staff for help finding the correct part to replace broken or worn handle latches, bolts for deadbolts or grip-set mechanisms.
---
Elegant Designer Deadbolts and Handles by Schlage
Residential Schlage deadbolts and grip-sets. Patio door locking bolts
Need to match a style or keyway? Let Lock Surgeon's service counter shop locksmith know what your needs are. Patio door bolts are a keyed secondary locking device.
---
Old Style Mortise Locks With Skeleton Key and Glass Knobs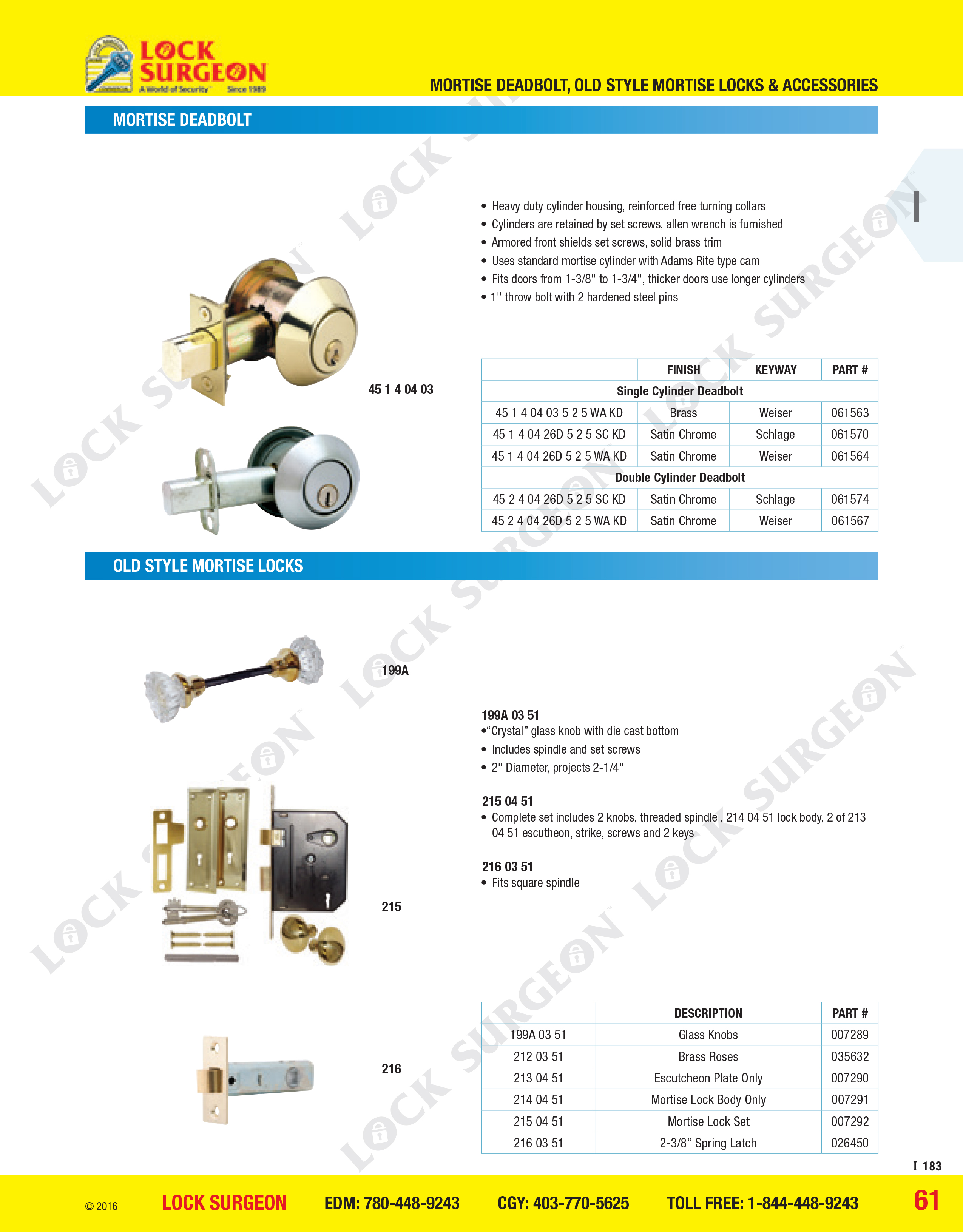 Replacement hardware for older character homes complete with skeleton key, mortise lock and glass knob
These old-style locks were popular in the 30s, 40s, 50s and 60s in old-style character homes for locking front and back doors.
---
Residential Home, Office, or Apartment Push-button Entry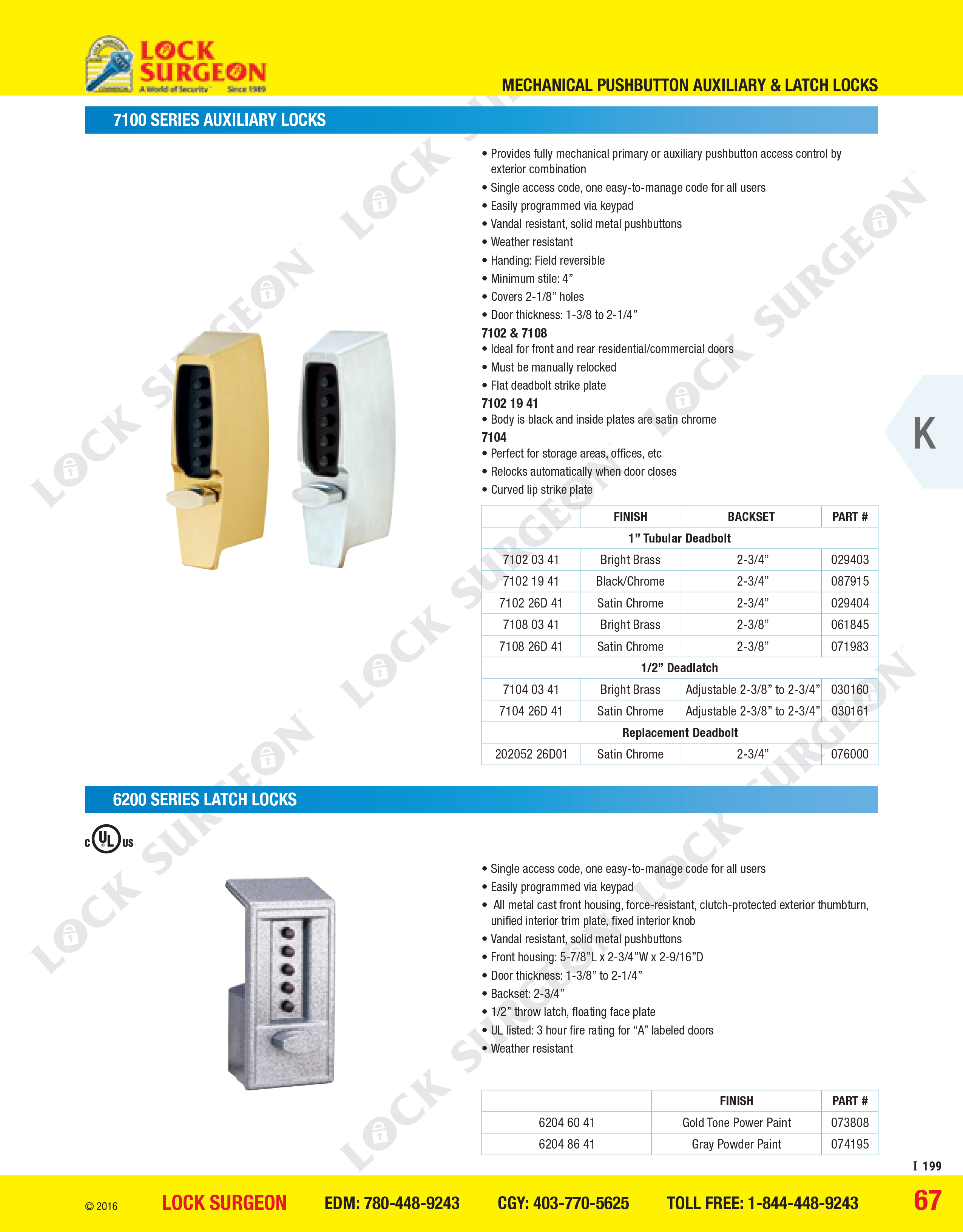 Push-button digital entry available in deadbolt for security or deadlatch for convenience
These hardworking, durable, all metal mechanical push-button entries have no batteries or plastic parts. This is Lock Surgeon's locksmith professionals choice in push-button digital entry. Available in brass and silver. Come to Lock Surgeon's sales and service centre in Calgary or Edmonton to review styles and functions of these superior push-button entry systems.
---
Mini-push-button Entry and Push-button Cabinet Lock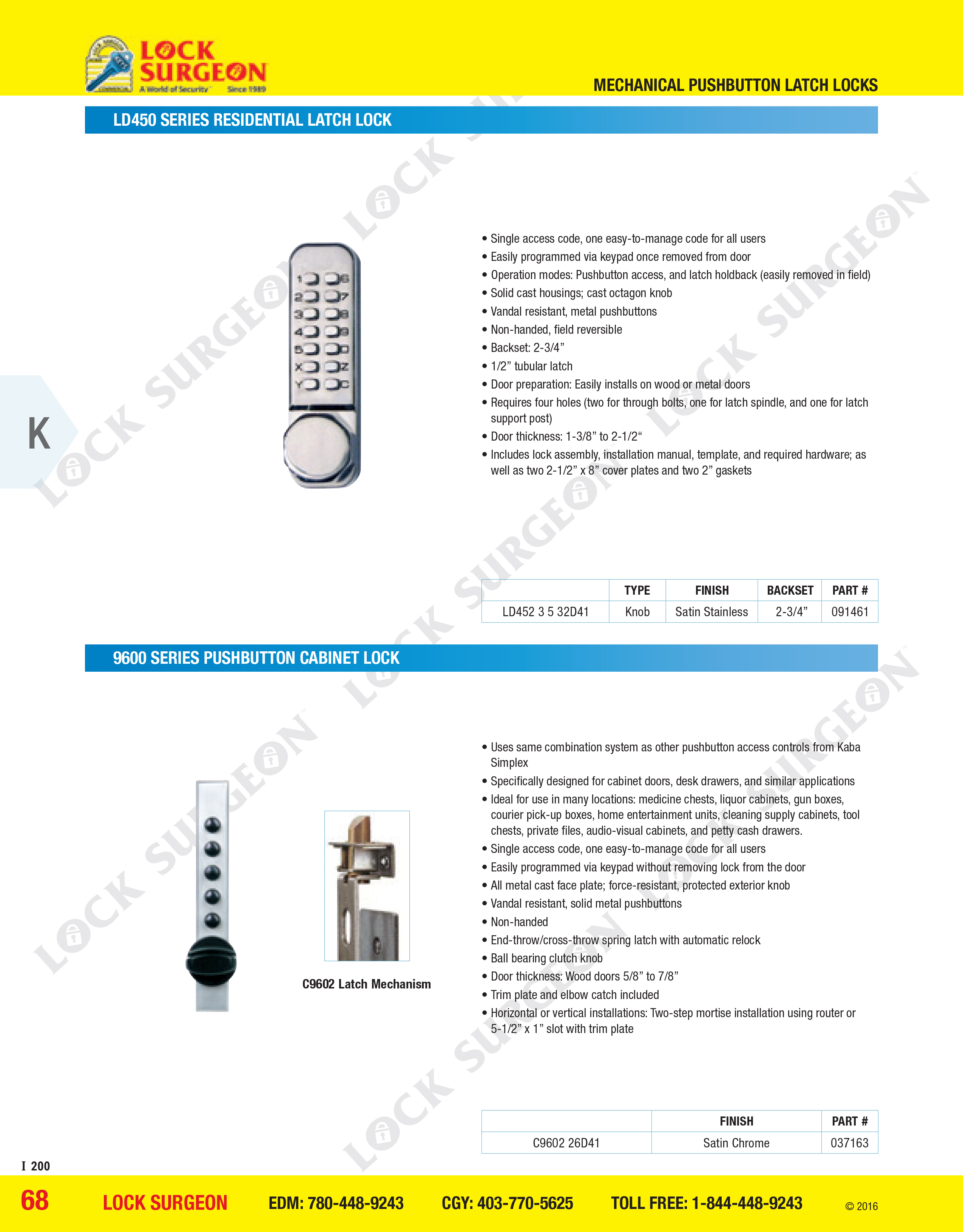 Push-button digital entry to secure cabinets
---
Door Viewers and Peepholes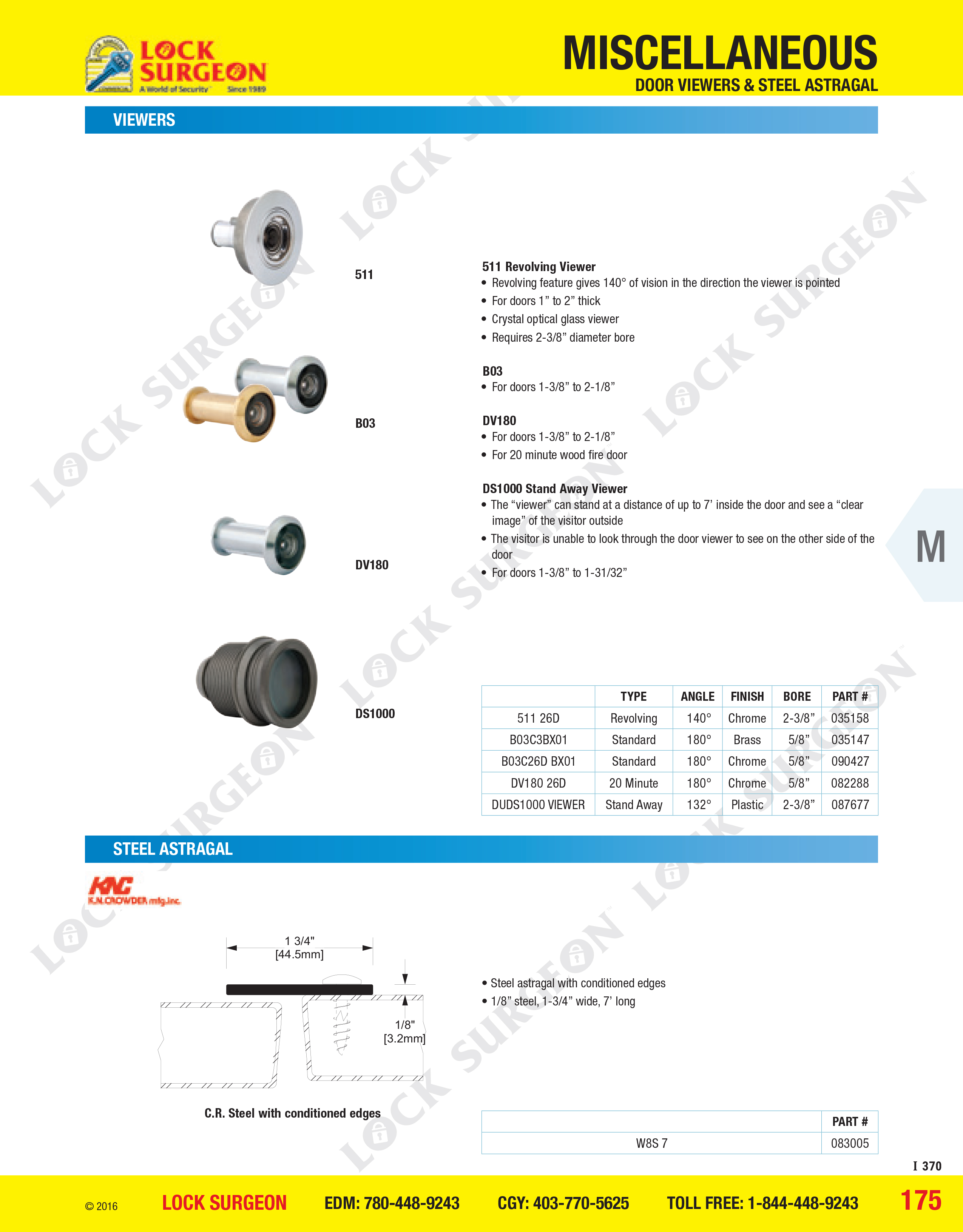 Standard door peephole, fire-rated peephole, angle-view and stand-away door viewers
---
Residential & Commercial Door Weatherstrip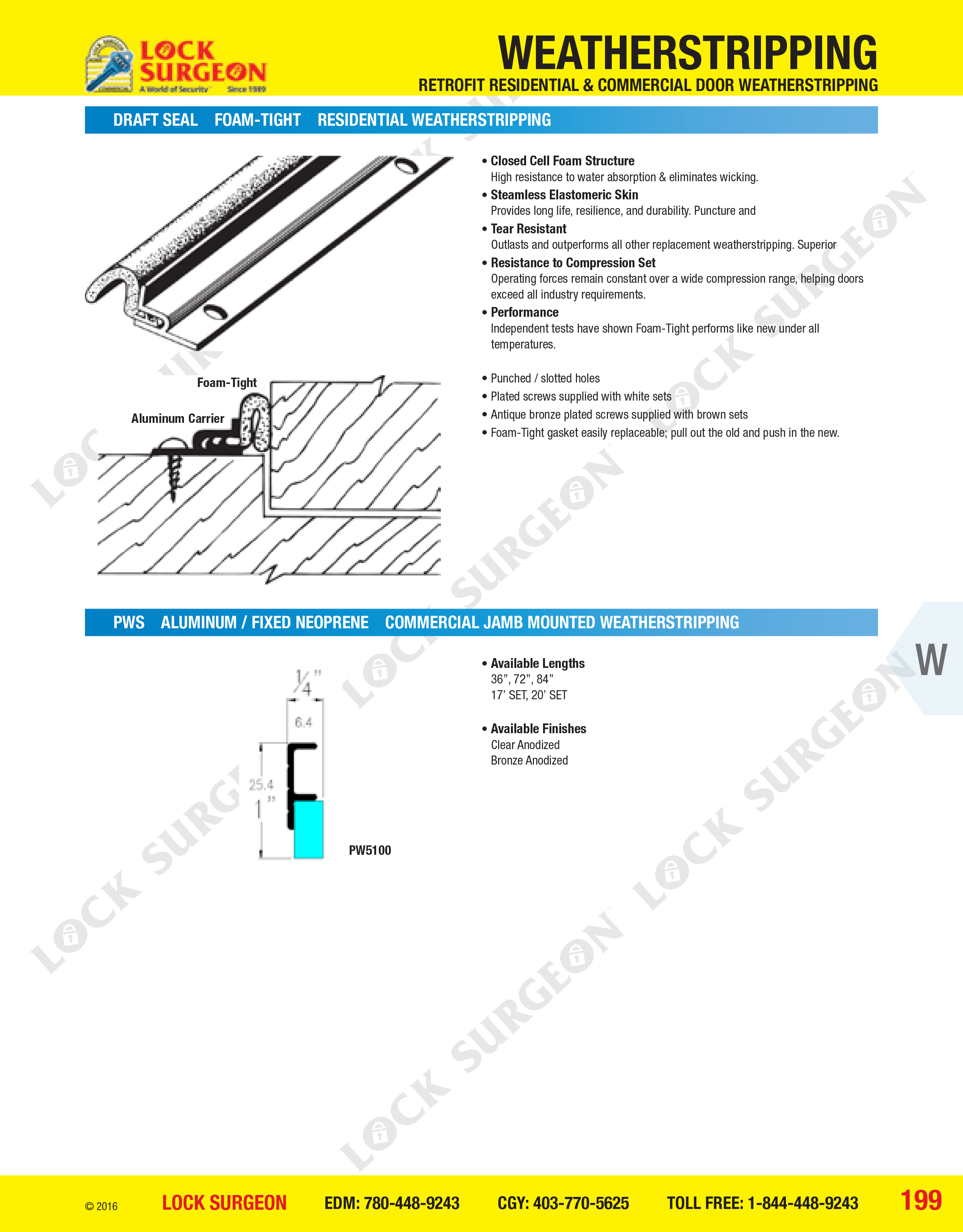 Weatherstrip for home, warehouse or business
Secondary replacement weatherstrip that seals door from cold, wind and rain. Used in homes, commercial buildings and apartments. Ask our shop service help to match your needs with the correct product to solve your weather-shield needs.
---
reference Chart for Colours Available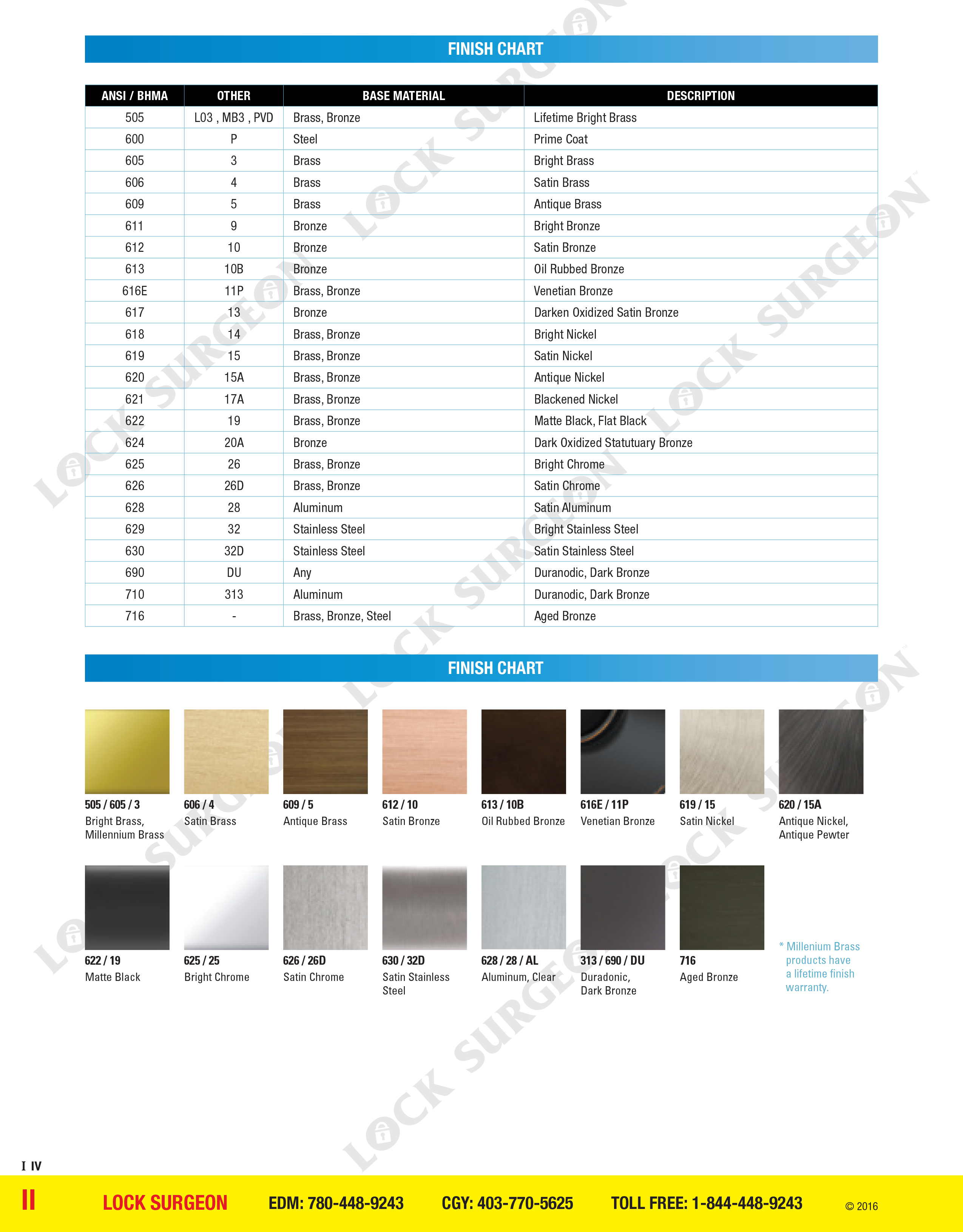 Product finish chart allows you to accurately request the colour that you wish to have on your chosen handle or deadbolt hardware
---
Door Hardware - 6 min
Quality Door Handles, Knobs, Lever Handles, Deadbolts and Front Entry Grip Sets.
So what we have here is our basic ball-knobs, they come in a variety of colours and functions. By functions I mean some come with a key and some come without a key so that would be a passage set for bedroom or possibly a washroom set and a set for your front door. They come in a variety of colours so we have brass, silver, antique brass, venetian and another type of silver that is popular today which is nickel or pewter. The old handles were quite cheap, insecure, you can see how cheap that housing is there. Our current brand of handles come with a more solid interior, it's called a tubular interior so its going to the handle hole area better then it has and then we have this dead-latch area so that when that presses against your latch that latch will no longer retract. So you can't "credit card" that door open, that's something our technician can show you as well. These are a little tricker to put together but the technician will do his part to make that all work for you and get the appropriate function for your entranceway.
The deadbolts we have also come in a variety of colours so again you have the brass the silver the venetian a brushed silver and we can get these ordered up in the colour that you need. The technician will have a variety of these on his truck and we have a variety here in the shop. There is a variety of qualities the deadbolts as well, so here we've got a typical residential deadbolt and as you can see the inside is hollow it's a spin collar that is hollow, that's our minimum grade project and all the product we sell is at the top of the line grade 3 spectrum, so we have the top of the line grade three which is residential. We do like to put a good deadbolt in, this is a grade 2 bolt so that is a better bolt than you'd find on any residential grade that you would pick up at the box store. Then we move up to a grade 2 deadbolt itself. As you can see the housing is solid so it's not going to get crushed and will fill in that door hole nicely. The bolt itself is a little bit superior bolt again so that's going to be a stronger bolt in your doorway. This Mul-T-Lock deadbolt, it's a very heavy duty deadbolt with key control, anti-drill, anti-pick with a spin collar on the outside, this is the best of the best its a grade 1 deadbolt, it has the ballbearing that interlocks with your strike and another one that interlocks with the faceplate so that your door can't be pried apart. You have 5/8 of an inch left inside the tube, hardened tube, excellent unit it is our best and really you can't get better than that.
Now these are levers, and lever handles have become the new standard, in fact in some provinces and or cities these are now mandatory, creating an environment so that a handicapped person or a person with a handicap in their hands like Rheumatoid arthritis or some other issue you can open it up with your fist, your elbow or you could open it up with your forehead if you really had to. They come in different functions or in different styles and often we can match it to whatever is on your door or change it to something a little more elegant. They can be put on the interior or exterior its a very nice product line. The springs in these are extraordinarily good they are very strong. You can pull it down and let it go and it doesn't get lazy it pops right back to where it was. The cheaper ones over time will start to droop but these won't they have double springs in the handle and a spring in the dead-latch are so it's going to spring back very nice and be there for years to come. The finish, like all of our brass, is whats called a millennium brass which is a lifetime finish on that, it won't tarnish from use or acid rain. Great finish on the lifetime millennium brass, great finish on our other products, excellent product line that is only made for locksmiths, so it's the Locksmith Dealers of America that create these. Only locksmiths can buy and sell them, you can't get it anywhere else and we want to do that to deliver the service to you and have a product that isn't going to fail you.
Whether it's handles, ball-knobs, lever handles or grip-sets these are top quality, and in this particular grade you have a grip-set where we find the most challenge is the break right in that area in the thumb-press area, the rest of the handle will look great and it's broken down in there. These have heavy duty springs in them and the thumb-press itself has superior higher grade steel and I've been putting these in for twenty to twenty-five years and we've never had a problem with them. We've replaced other a lot of other peoples, competitor hardware but not these. Again, superior finish, superior grade, superior quality in a variety of colours, the grip-set elegant handles in a variety of colours to match your decor and we even have some large ones. We can replace what you have or put something elegant on that will replace a ball-knob with a lever.
---
4 Min Push Button Entries - 4 min
Push Button Entry Systems
Solid quality, convenient push button entry systems for garage, office, home or business. All metal - no plastic parts, all mechanical - no batteries. You can choose from a wide variety of Locksmith grade push button entries. Some even come with key override.
A World of Security™
Home of the Giant Padlock!